Steady Dividends From This Rare 12% Yielder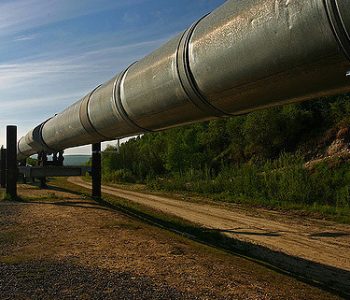 rickz/Flickr
A 12% Yield with an "A" Rating
I rate the majority of the high-yield names that cross my desk below junk. You don't find too many safe double-digit payouts.
But today's stock should inspire confidence, at least as far as its distribution is concerned. Energy Transfer Partners LP (NYSE:ETP) is a master limited partnership (MLP) that owns about 33,000 miles of natural gas pipeline. And with a long history of steady cash flow, it's one of the few 12% yielders worth investigating further.
The nature of the pipeline business results in reliable returns.
Profits don't depend on oil or gas prices. Rather, its business relies on the volume of energy shipped through the network.
The more gas shipped, the more income Energy Transfer Partners makes. Since 2005, higher volumes have allowed the business to raise its distribution every single year. Even at the height of the financial crisis, executives managed to raise the payout in both 2008 and 2009.
That trend looks likely to continue.
Through the first nine months of the year, Energy Transfer Partners generated $2.9 billion in distributable cash flow. Over the same period, management paid out $2.5 billion in distributions.
In other words, Energy Transfer Partners paid out $0.86 in dividends for every $1.00 generated in cash flow. As a rule of thumb, I like to see a bit more wiggle room to survive a bad year or two. But given the partnership's steady profits, cash cow business, and ample access to liquidity, investors shouldn't expect too much trouble.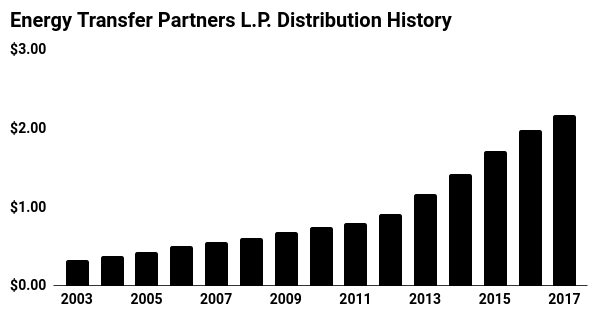 Source: "Distribution History," Energy Transfer Partners L.P., last accessed February 14, 2018.

Debt represents the only issue here.
Energy Transfer Partners has $32.0 billion in debt to fund its expansion. This includes new pipelines, new terminals, and new processing facilities.
These investments will likely pay off. Thanks to booming U.S. energy production, the industry has a desperate need for new infrastructure. But when you've borrowed this much money, any unexpected event could throw a wrench into the financials.
Investors will need to keep an eye on these numbers from quarter to quarter. But for now, the company's cash flow remains well above its distributions paid. Energy Transfer Partners looks like one of the few high-yield names investors can count on.