Starwood Property Trust, Inc.: 10.4% Dividend Yield Hard to Ignore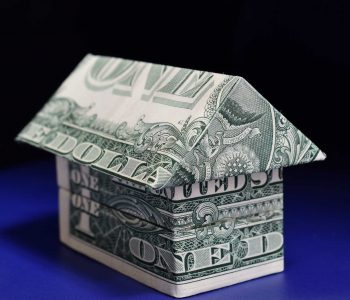 Starwood Property Stock: One of the Best Income Investments Just Got Better
Many investors have turned their backs on Starwood Property Trust, Inc. (NYSE:STWD) because of the coronavirus pandemic. And their reasoning may have made sense in 2020. Because of COVID-19, many businesses were laying off employees, travel was down, hotels were ghost towns, and there was fear that the housing market would crumble. Not the best scenario for a mortgage real estate investment trust (mREIT).
Like the broader market, STWD stock cratered approximately 70% during the coronavirus-fueled sell-off in February and March. But thanks to the company's strong cash position, it was able to keep its quarterly dividend payout at $0.48 per unit, or $1.92 per year.
When Starwood Property stock bottomed in March, its annual dividend yield was an eye-watering 25.3%. With a dividend yield that high, there's usually a catch. More often than not, it's that the stock is risky.
That isn't the case with STWD stock, however. It was an excellent stock before the pandemic, and it remains one. The steep discount simply provided savvy investors with a steady stream of cash during an incredibly volatile period—and the chance to ride Starwood Property stock higher.
And the company certainly has a history of strong capital appreciation. Between 2010 and 2019, Starwood Property Trust, Inc.'s share price expanded at a compound annual growth rate (CAGR) of approximately 14%.
Today, STWD stock is down 25.2% year-over-year but up 141% since March 2020, and it still needs to climb an additional 25% just to get to its record pre-pandemic level.
The same reasoning that saw investors kick Starwood Property stock off a cliff doesn't hold water today. In fact, STWD stock could experience strong growth in the post-COVID-19 world. This translates into both near-term capital gains and a seriously high 10.4% dividend yield.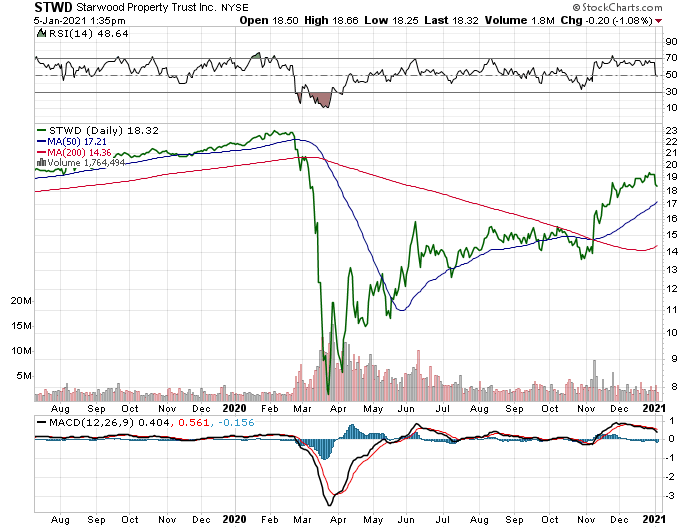 Chart courtesy of StockCharts.com
About Starwood Property Trust, Inc.
As mentioned earlier, Starwood Property is an mREIT. That means it lends money to commercial real estate developers and landlords.
The company is actually an affiliate of global private investment firm Starwood Capital Group. As the largest commercial mREIT in the U.S., Starwood Property has a market cap of approximately $5.5 billion. (Source: "Investor Presentation: November 2020," Starwood Property Trust, Inc., last accessed January 7, 2021.)
Whereas some mREITs focus on one specific sector of the market, Starwood invests in a number of opportunities: commercial lending (60% of its portfolio), property (14%), infrastructure lending (10%), residential lending (eight percent), and real estate investing and services (eight percent).
As a diversified real estate finance company, Starwood's $17.0-billion global property portfolio consists of:
50,000 residential lots
170,000 multifamily units
310,000 hotel keys
44 million square feet of industrial space
56 million square feet of retail space
89 million square feet of office space
With total capital deployed since inception of more than $63.0 billion, Starwood Property Trust, Inc. continues to build its position as one of the world's leading diversified real estate finance companies.
And there's the rub. Because it's a private financial institution, it doesn't need to waste money on branches, tellers, etc. Little to no overhead means the company keeps most of its interest income, which it gives to its investors in the form of a high-yield dividend.
Since 2010, the company's quarterly dividend payout has increased 140% from $0.32 per unit to the current $0.48.
And by all accounts, the company's frothy 10.4% dividend yield remains safe. During the third quarter, Starwood Property reported core earnings of $148.5 million, or $0.50 per share. That's pretty solid, especially when you consider that it's only a year-over-year contraction of 2.6%.
That's more than enough to cover its $0.48 quarterly dividend. (Source: "Starwood Property Trust Reports Results for the Quarter Ended September 30, 2020," Starwood Property Trust, Inc., November 5, 2020.)
Admittedly, Starwood Property isn't known for raising its dividend very often. It has kept its quarterly payout at $0.48 per unit since 2014. At the same time, it hasn't lowered its payout either.
But because of a number of catalysts, that situation could change in the near term. Thanks to the rollout of COVID-19 vaccines, we should be able to get the pandemic under control in 2021. That would result in businesses opening back up, the economy getting back to normal, and a rebound in the travel industry.
The Lowdown on Starwood Property Stock
Starwood Property Trust, Inc. is a financially robust company with a huge global portfolio. STWD stock took a dive during the March 2020 sell-off, but by all accounts, that was seriously overblown. The share price has rebounded, but it still has a long way to go.
Until it returns to its market-trouncing ways, investors can always take solace in Starwood Property stock's juicy yield.