Starbucks Corporation: My Top Dividend Stock Isn't What You'd Think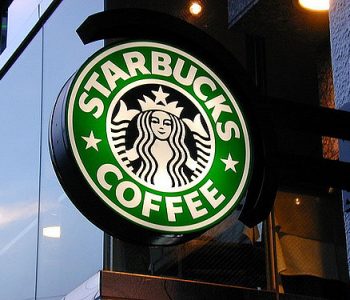 Marco Paköeningrat/Flickr
One Top Dividend Stock
From the early 1990s through the late 2010s, Starbucks Corporation (NASDAQ:SBUX) represented the textbook definition of a top growth stock. The company expanded across the country and eventually around the world, becoming the largest purveyor of caffeinated goodness in the world. Year after year, Starbucks managed to grow earnings at a 20%-plus annual clip.
Nowadays, analysts looking at the coffee chain don't see a growth stock anymore, and they shouldn't. Starbucks has transitioned into a cash cow business, which should be milked for steady ongoing income. And that's why I think it's now time to look at Starbucks as a top dividend stock.
The Growth Days Are Over…And That's Fine
Starbucks has focused almost entirely on expansion from the time it went public in 1992. Throughout that period, the company plowed almost every dollar of profit back into building new stores. But with a cafe now on almost every corner, Starbucks has entered the next phase of the corporate lifecycle: a more mature, slower-growing business.
For this reason, the key performance metrics that investors need to watch have changed. Instead of sales growth, we now focus on cash flow generation and, ultimately, what's returned to shareholders.
Last year, Starbucks generated $5.1 billion in earnings before interest, taxes, depreciation, and amortization (EBITDA), a proxy for cash generated from sales. That's an enormous amount of cash flow for a coffee shop and way more than management could ever profitably invest. So, instead of blowing cash on side projects, executives have opted to funnel most of those profits to shareholders through dividends and share buybacks.
Management has increased the quarterly dividend to $0.36 per share, which brings the yield up to 2.7% at today's stock price. That comes out to about one-third of profits being paid out in dividends, leaving ample room for other purposes—like stock buybacks, which executives have ramped up in recent years.
And the amount of money paid out to shareholders will likely only grow in the coming years. In May, the company announced plans to accelerate its capital return program. Over the next two years, executives expect to pay out $20.0 billion in dividends and share buybacks. (Source: "Starbucks Accelerates Buybacks, Targets $20 Billion Cash Returns After Nestle Deal," Investors' Business Daily, May 7, 2018.)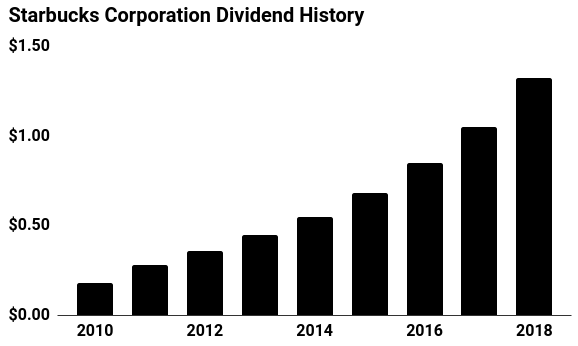 (Source: Yahoo! Finance, last accessed August 28, 2018.)
In the same way real people age, so too do companies. So, what do you do when you hit late adulthood? Do you start exercising, eating right, and proudly wearing that salt-and-pepper hair? Or do you hit the nightclubs every evening and start wearing the same T-shirt brands as the high-school kids? Clearly, the former is the better way to go. By paying out bigger dividends to shareholders, Starbucks has opted for the more mature path, too.
Why Starbucks is My Top Dividend Stock
None of this is meant to imply that Starbucks doesn't have some growth left in it. The company still has a long expansion runway in China and the rest of Asia. Furthermore, management still finds ways to squeeze sales out of existing stores through new products and innovations.
But the company's days of double-digit profit growth are probably numbered. And that's okay. With more cash rolling in than management could possibly know what to do with, more of those dollars will get paid out to shareholders. Over the next decade or so, this dividend stock could become an unexpected raging river of cash flow.