Starbucks Corporation Brewing Tall Returns for Dividend Investors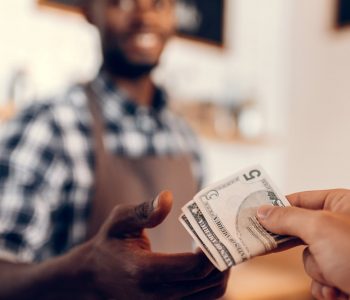 Starbucks Corporation Bouncing Back from COVID-19 Pandemic?
Starbucks Corporation (NASDAQ:SBUX) has struggled this year with a recession, rolling shutdowns due to COVID-19, and plunging revenues. But management, it seems, isn't too concerned.
In a recent press release, executives announced they would boost the company's quarterly dividend 10% to $0.45 per share. The move raises the forward yield on Starbucks stock to more than two percent and represents an enormous vote of confidence in the underlying business on the part of management.
"The Board's decision to raise our quarterly dividend demonstrates confidence in the strength of our recovery and the robustness of our long-term growth model," wrote the company's president and chief executive officer, Kevin Johnson, in a note to shareholders. "Our cash flow generation is strong, and we remain committed to reducing our financial leverage while continuing to invest for future growth." (Source: "Starbucks Announces 10% Increase in Quarterly Cash Dividend," Business Wire, September 30, 2020.)
Income investors may want to take notice.
Admittedly, the pandemic has hammered restaurant businesses like Starbucks Corporation. With governments shutting down indoor gathering places to prevent the spread of COVID-19, the industry reported a more than 52.4% plunge in overall revenues at the height of the pandemic. This has triggered a wave of layoffs, closures, and bankruptcies. (Source: "Dining out: Restaurant Sales Warm in September but Lack Heat of Previous Months," S&P Global Market Intelligence, October 16, 2020.)
Starbucks Corporation got hit especially hard in the beginning. It was one of the first chains to close stores and limit hours, resulting in over $3.1 billion in lost sales during the third quarter. Executives also invested heavily in employee safety measures, including training, sick leave, and cleaning supplies, which took a big bite out of profit margins. (Source: "Starbucks Logs Another Sales Hit From Coronavirus," The Wall Street Journal, July 28, 2020.)
But Starbucks Corporation has started bouncing back. In the company's latest conference call, management said more than 96% of its U.S. locations have reopened. And while its urban locations have continued to see a sharp drop in sales, management says that business has simply shifted to suburban locations. (Source: "Starbucks Reports Q3 Fiscal 2020 Results," Starbucks Corporation, July 28, 2020.)
And after being cooped up inside the house for months, customers are eager to spend. The company reported that average orders have actually increased 25% as more customers get drinks and food for their families. (Source: The Wall Street Journal, op. cit.)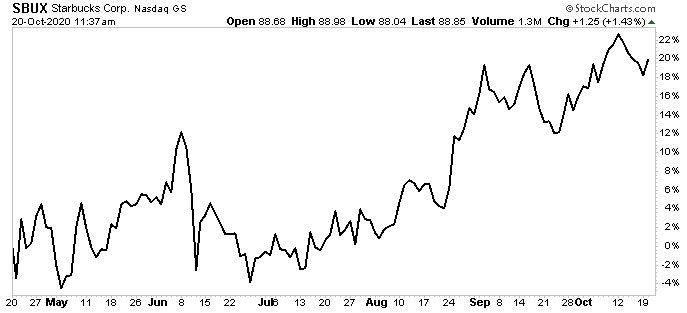 Chart courtesy of StockCharts.com
For shareholders, the growing certainty around the impact of COVID-19 has allowed management to reissue forward earnings guidance. For the fourth quarter, executives forecast a global comparable-store sales decline of 12%. Not great, but that's far better than what analysts had initially forecast. (Starbucks Corporation, op. cit.)
With the worst apparently behind it, Starbucks stock may generate solid returns for investors.