Star Bulk Carriers Stock: Market-Crushing 24.5%-Yielder Too Good to Ignore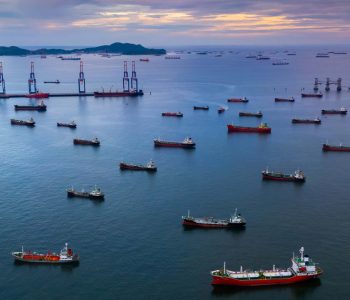 Why SBLK Stock Should Be on Investors' Radar
The world's largest marine shipping companies are on course to generate record profits in 2022. Thanks to logistics and labor shortages, their earnings for this year are expected to top last year's record by a whopping 73%. (Source: "Container Lines Are Set to Smash Year-Old Profit Record by 73%," Bloomberg, August 9, 2022.)
According to one forecast, the industry's full-year 2022 net income will reach $256.0 billion. That's up by $36.0 billion from an April estimate. While spot rates have actually declined this year, they represent a small fraction of seaborne freight costs. Marine shipping companies' profits are being juiced by ongoing increases to the rates they charge for the majority of loads.
Two years of pandemic-related economic disruptions have transformed the marine shipping sector (which is responsible for 80% of global merchandise trade) from a financial have-not industry to one of the biggest moneymakers. Meanwhile, most marine shipping companies have been investing in new vessels. They've also been rewarding buy-and-hold investors with eyewatering dividends.
Passive income hogs who want dividend stocks that provide high income and share-price growth might want to take advantage of Star Bulk Carriers Corp. (NASDAQ:SBLK).
The Athens, Greece-based company is one of the largest dry bulk shipping firms listed on the Nasdaq. Star Bulk Carriers owns a diverse fleet of 128 bulk carriers ranging from Supramax to Newcastlemax vessels. (Source: "Financial Results Q2 2022: August 2022," Star Bulk Carriers Corp., last accessed August 16, 2022.)
With an average age of 9.9 years, the company's vessels give it exposure to all cargo types and trade routes. Its Capesize vessels are mainly responsible for transporting minerals from the Americas and Australia to East Asia. Its Supramax vessels carry minerals, grain products, and steel between the Americas, Europe, Africa, Australia, and Indonesia—and China, Japan, South Korea, Taiwan, the Philippines, and Malaysia.
Star Bulk Carriers Corp. Reports Best Q2 Results in Its History
For the second quarter of this year, Star Bulk Carriers announced that its voyage revenue increased by 34% year-over-year to $417.3 million. (Source: "Star Bulk Carriers Corp. Reports Net Profit of $200.1 Million for the Second Quarter of 2022 and Declares Quarterly Dividend of $1.65 per Share," Star Bulk Carriers Corp., August 4, 2022.)
The company's time charter equivalent revenues in the second quarter of 2022 were $337.5 million, compared to $254.9 million in the second quarter of 2021. Its time charter equivalent rate in the second quarter of this year was $30,451, up by 33% year-over-year and 11% sequentially.
Star Bulk Carriers Corp.'s net income jumped by 61% year-over-year in the second quarter to $200.2 million, or $1.96 per share. Its adjusted net income in the quarter was $204.5 million, or $2.00 per share. The company's earnings before interest, taxes, depreciation, and amortization (EBITDA) went up by 40% year-over-year to $251.4 million. Its adjusted EBITDA advanced 41% to $258.3 million.
Star Bulk Carriers ended the second quarter of 2022 with $385.6 million in cash.
Management Declares Q2 Dividend of $1.65
Star Bulk Carriers' solid cash flow has allowed the company to provide SBLK stockholders with ultra-high-yield dividends. The company recently declared a quarterly cash dividend of $1.65 per share, for a yield of 24.5%. The dividend is payable on or about September 8 to all Star Bulk Carriers Corp. shareholders of record as of August 25. The ex-dividend date is expected to be August 24.
Of course, Star Bulk Carriers stock's dividend fluctuates based on the company's cash flow. As you can see in the chart below, the dividend can also get suspended. The company only started paying dividends in late 2019.
In hindsight, that wasn't the best time to start doling out money. After paying two quarterly dividends, Star Bulk Carriers Corp. suspended SBLK stock's payout after COVID-19 crippled the global economy.
That was then; this is now. Star Bulk Carriers stock's dividend has soared past its pre-pandemic levels and the company's outlook remains bright. Management could raise the amount of the dividend again this year. As of this writing, SBLK stock's payout ratio is just 64.1%.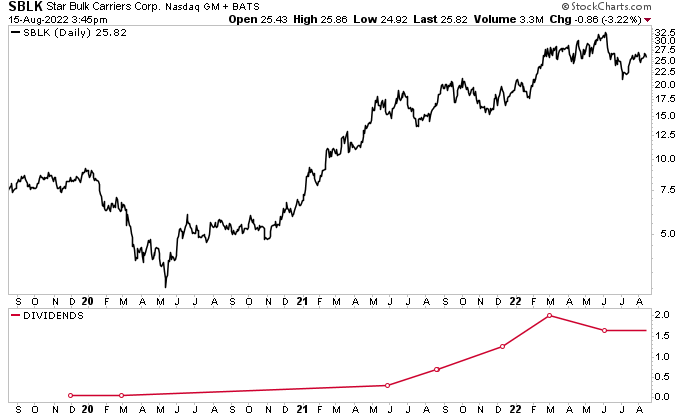 Chart courtesy of StockCharts.com
In addition to providing investors with juicy dividends, shares of Star Bulk Carriers Corp. have, not surprisingly, been crushing the broader market. As of this writing, Star Bulk Carriers stock is up by:
Eight percent over the last month
Seven percent over the last six months
28% year-to-date
60% year-over-year
Those are strong gains, but better days could be ahead. Of the analysts providing a 12-month share-price target for SBLK stock, their average estimate is $33.50 and their high estimate is $40.00, for potential gains in the range of 30% to 55%.
The Lowdown on Star Bulk Carriers Stock
The demand for marine shipping companies is strong, with Star Bulk Carriers Corp. recently reporting the strongest second-quarter results in its history.
And the good times are expected to continue. For the next quarter, the company has covered 61% of its available days at a daily time charter equivalent of approximately $29,000 per vessel. For SBLK stockholders, this should translate into another ultra-high-yield quarterly dividend.