Star Bulk Carriers Corp: 18.8%-Yielder Has Raised Payouts for 3 Straight Quarters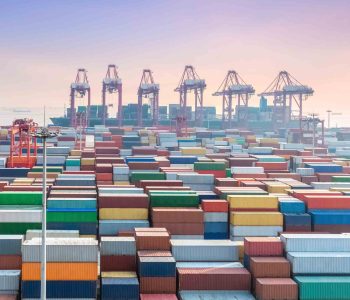 Star Bulk Carriers Stock Up 153% Year-Over-Year & Still Bullish
There are few things more beautiful on Wall Street than an ultra-high-dividend stock steadily trending higher when volatility is weighing the rest of the market down. If you're looking for growth and income, you can't do much better at the moment than Star Bulk Carriers Corp. (NASDAQ:SBLK).
Admittedly, with supply chain issues hamstringing the global economy, the entire marine shipping industry is doing great right now. Although the COVID-19 pandemic tailwinds will eventually slow, the long-term growth prospects for the marine shipping industry are solid. In addition to the organic demand for imports and exports, e-commerce (which was accelerated by the pandemic) has transformed people's shopping habits and should present the shipping industry with long-term tailwinds.
Moreover, global gross domestic product (GDP) forecasts point to continued healthy demand for seaborne dry bulk shipping. The International Monetary Fund (IMF) forecasts that global GDP will grow at a 4.4% clip in 2022, led by 5.1% growth in emerging economies. Rising demand in all commodity groups has led to a 2.2% growth in dry bulk shipping demand. (Source: "The IMF Cuts its Global Growth Forecast for 2022," The Economist, January 25, 2022.)
Star Bulk Carriers Corp. has been doing well in this economic environment. The Greece-based corporation is the largest dry bulk shipping company listed in the U.S. and Europe. In addition to having the largest market cap among its U.S. peers, Star Bulk Carriers has the greatest liquidity. (Source: "Investor Presentation: January 2022," Star Bulk Carriers Corp., last accessed February 11, 2022.)
The company's 128 bulk carriers, which range from Supramax to Newcastlemax vessels, have an average age of just 9.6 years. The company's diverse fleet provides it with exposure to all cargo types and trade routes.
Star Bulk Carriers Corp.'s Capesize vessels primarily transport minerals from the Americas and Australia to East Asia, particularly China, but also Japan, South Korea, Taiwan, Indonesia, and Malaysia.
The company's Supramax vessels carry minerals, grain, and steel between the Americas, Europe, Africa, Australia, and Indonesia—and from those areas to China, Japan, South Korea, Taiwan, the Philippines, and Malaysia.
In terms of share price, SBLK stock has been on fire lately. As of this writing, Star Bulk Carriers stock is up by:
20% over the last month
55% over the last six months
155% over the last year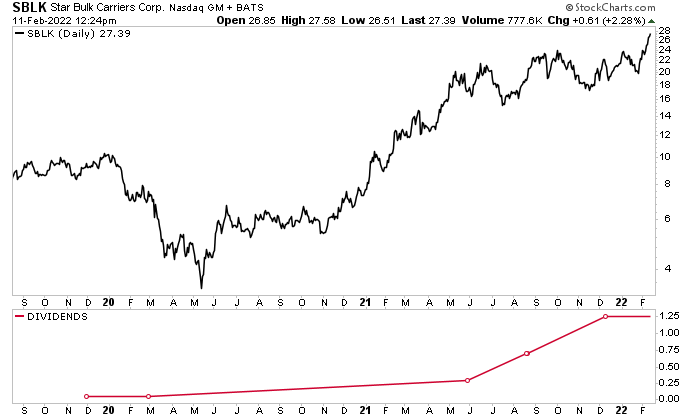 Chart courtesy of StockCharts.com
Q3 Net Profit Soars 850% & Voyage Revenue More Than Doubles
For the third quarter ended September 30, 2021, Star Bulk Carriers announced that its voyage revenue jumped by 107% year-over-year to $415.7 million. (Source: "Star Bulk Carriers Corp. Reports Net Profit of $220.4 Million for the Third Quarter of 2021 and Declares Quarterly Dividend of $1.25 Per Share," Star Bulk Carriers Corp., November 16, 2021.)
The company's time charter equivalent (TCE) revenues in the third quarter of 2021 went up by 153% year-over-year to $349.3 million. The fleet's daily TCE advanced 335% to $30,626. The company's net income in the third quarter soared by 850% to $220.5 million, or $2.19 per share.
In October 2021, Star Bulk Carriers repurchased 466,268 of its common shares in open market transactions, at an average price of $22.01 per share, for aggregate consideration of $10.3 million.
Star Bulk Carriers Corp. Raises Quarterly Dividend to $1.25
Thanks to healthy operating margins, Star Bulk Carriers Corp. has raised its quarterly dividend to $1.25 per share. This is up by 78.5% over the $0.70 payout in the second quarter of 2021 and up by 316.6% over the $0.30 payout in the first quarter of 2021.
The payout ratio is a paltry 14.2%, which is way below the 90% threshold I'm willing to stomach. This gives the company more than enough financial wiggle room to keep increasing its dividends.
It hasn't always been that way, though. Like with any ultra-high-yield dividend stock, there are risks with SBLK stock. As you can see in the chart above, Star Bulk Carriers Corp. initiated its dividend in December 2019. It was, unfortunately, the worst timing. Little did the company know that the worst economic crisis in 100 years was just around the corner.
Star Bulk Carriers Corp. paid another dividend in March 2020 and then suspended its dividends because of the pandemic. It resumed paying dividends in June 2021, once the company's cash needs met its minimum requirements to support the payouts.
Things have been all uphill since then, but the COVID-19 pandemic should be a gentle warning that investors need to pay attention to their dividend stocks.
The Lowdown on Star Bulk Carriers Corp.
Marine shipping stocks are hot these days, and Star Bulk Carriers stock is no exception. As mentioned earlier, Star Bulk Carriers Corp. reported record third-quarter results and increased its dividend for the third straight quarter.
Despite short-term volatility, the outlook for the dry bulk market is robust, with expectations of strong global growth and increased infrastructure spending leading to a significant increase in demand for commodities. That bodes well for SBLK stock.