Spire: Little-Known Company Has Been Paying Rock-Solid Dividends for 73 Consecutive Years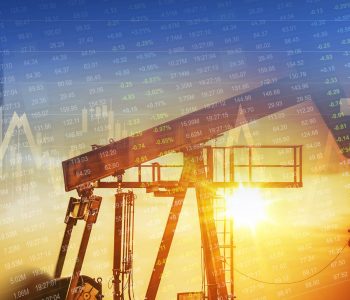 iStock.com/welcomia
Collect Rising Income That's Also Recession-Proof
Most people have never heard of this company, yet it offers one of the safest income streams in the stock market.
I'm talking about Spire Inc (NYSE:SR), a natural gas utility company headquartered in St. Louis, Missouri. Serving approximately 1.7 million customers in Alabama, Mississippi, and Missouri, Spire is the fifth-largest publicly traded natural gas company in the U.S.
Because of its regional presence, Spire doesn't really make headlines in mainstream financial media these days. However, the company stands out due to its long history. Spire was one of the original 12 companies that made up the Dow Jones Industrial Average (DJIA). And, while it is no longer a Dow component, the company still deserves income investors' attention due to its ability to consistently return value to shareholders.
Take a look at SR stock's dividend history and you'll see what I mean. The company has been paying uninterrupted dividends for 73 years. It has also raised its payout in each of the last 15 years.
Spire Inc Annualized Dividend Per Share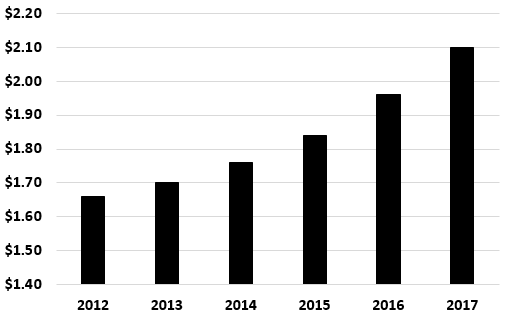 (Source: "Dividends and Splits," Spire Inc, last accessed November 20, 2017.)
In Spire's fiscal-year 2012, its annualized dividend was $1.66 per share. In fiscal-year 2017, the amount had grown to $2.10 per share, for an increase of 26.5%.
Earlier this month, the company announced another dividend increase. Starting in fiscal-year 2018, Spire will be paying quarterly dividends of $0.5625 per share, representing a 7.1% increase from its current payout.
At today's price, Spire stock offers an annual dividend yield of 2.88%.
While there are plenty of higher-yielding stocks trading in the stock market, Spire Inc stands out due to its dividend safety and growth.
Think about it: our economy has had plenty of ups and downs over the last 73 years. But none of those disruptions stopped this company from returning cash to investors on a regular basis.
What's more, despite being a century-old company, Spire is still growing its business. In the last five years, the company has significantly increased its scale and greatly expanded its geographical footprint. From serving 630,000 customers in 2012 to serving 1.69 million today, Spire's total utility customer base has grown by 168%. (Source: "Year end fiscal 2017 Earnings conference call," Spire Inc, last accessed November 20, 2017.)
Growth in the natural gas utilities business often involves heavy capital expenditures. Indeed, in fiscal-year 2017, Spire invested $413.0 million in its gas utilities, representing a 42% increase from fiscal-year 2016. These investments are certainly expensive, but they are critical to the company's growth strategy and could lead to higher profits in the years to come.
Final Thoughts on Spire Inc
At the end of the day, keep in mind that, despite all the dividend hikes over the years, the company isn't really paying out all that much. In the last 12 months, the company had a dividend payout ratio of just 59.37%, meaning there's plenty of room for future dividend increases. For investors of Spire stock, the best could be yet to come.