Sprague Resources LP: 10.2%-Yielding Oil & Gas Play Up 49% in 2021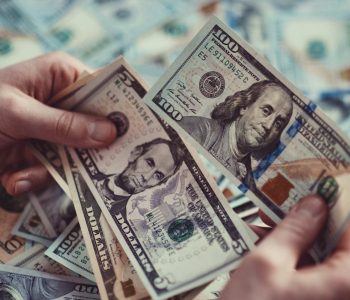 SRLP Stock at Record Levels & Positioned to Grow
With a market cap of just $695.6 million, Sprague Resources LP (NYSE:SRLP) is relatively small, compared to other stocks in the oil and gas refining and marketing industry. So it's not a total surprise that most people have never heard of the Portsmouth, NH company. Still, Sprague's impressive operations have set it up for long-term success.
Sprague Resources stock might have only gone public in 2013, but the company has been around since 1870. Back then, it distributed coal and petroleum-based products. Today, it's one of the largest independent wholesale suppliers of energy and material handling services in the northeast U.S. and in Quebec, Canada. It markets its products to more than 20,000 retail, commercial, industrial, utility, and wholesale customers. (Source: "About," Sprague Resources LP, last accessed June 9, 2021.)
The company operates through four segments.
Its Refined Products segment purchases a range of refined energy products, such as heating oil, diesel fuel, residual fuel oil, asphalt, kerosene, jet fuel, and gasoline from refining companies, trading organizations, and producers.
Through its Natural Gas segment, the company purchases natural gas from producers and trading companies and sells and distributes that natural gas to commercial and industrial customers in the northeast and mid-Atlantic U.S.
Sprague Resources LP's Materials Handling division offloads, stores, and prepares for delivery a range of customer-owned products, including asphalt, clay slurry, coal, and heavy equipment. It's also involved in the purchase and distribution of coal, certain commercial trucking activities, and the heating equipment service business.
The company's Other Operations segment markets and distributes coal, and is involved in commercial trucking.
Sprague might sound similar to other companies operating in the oil and gas refining and marketing industry, but ignoring SRLP stock could be a big mistake.
First, Sprague Resources stock pays a quarterly dividend of $0.6675, for a dividend yield of 10.2%. (Source: "Distribution History," Sprague Resources LP, last accessed June 9, 2021.)
The company hasn't missed a payment since early 2014. Back then, it paid out $0.2825 per unit—but not for long. Sprague proceeded to raise its dividend for 17 consecutive quarters, hitting $0.6675 in the second quarter of 2018. Over that period, the company raised its quarterly dividend by 136%.
In the third quarter of 2018, though, Sprague set its payout at $0.6675 and has maintained it at that level since then.
"While I'm proud of our strong track record of consistent distribution growth, we believe it's prudent to re-evaluate the best use of capital in the current market environment," said David Glendon, president and CEO, in 2018. (Source: "Sprague Resources LP Announces Cash Distribution for the Third Quarter of 2018 and Earnings Conference Call Schedule," Sprague Resources LP, October 26, 2018.)
He added, "Sprague continues to see compelling growth projects, and we expect to maintain our practice of funding these initiatives with our credit facility and internally generated cash flow."
While some dividend hogs might be disappointed to see Sprague Resources LP not raising its payout, being fiscally prudent certainly isn't a bad thing. It's important to note that the company kept its high-yield dividends in place during the worst economic crisis in 100 years.
With the economy starting to reopen and the demand for oil and gas expected to surge, it wouldn't be a total surprise to see the company hike its quarterly payout in the second half of 2021.
Second, SRLP stock has been on fire. After trading in a tight range throughout most of 2019, Sprague Resources stock gained steam in 2020—at least it did after the stock market rebounded following the March 2020 crash.
SRLP stock's gains have been pretty impressive lately:
240% since bottoming in March 2020
48% over the last six months
111% year-over-year
47% year-to-date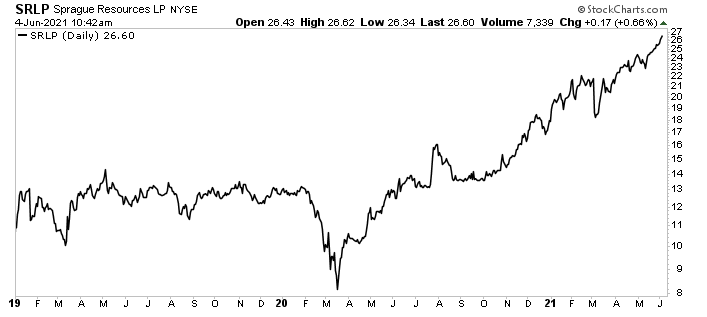 Chart courtesy of StockCharts.com
Impressive First-Quarter Results
Investors are bullish on Sprague Resources stock's outlook because the company has been reporting strong financial results, and the economic outlook remains robust. In the first quarter ended March 31, Sprague announced that its net sales increased by eight percent year-over-year to $1.0 billion. (Source: "Sprague Resources LP Reports First Quarter 2021 Results," Sprague Resources LP, May 6, 2021.)
The company's first-quarter 2021 net income increased by 4.5% to $48.8 million ($2.04 per share), compared to its first-quarter 2020 net income of $46.7 million ($1.95 per share). That $2.04 per share is more than enough to cover SRLP stock's quarterly distribution of $0.6675.
The company's adjusted gross margin was $106.2 million in the quarter, compared to $42.2 million in the same prior-year period.
Sprague Resources LP's adjusted earnings before interest, taxes, depreciation, and amortization (EBITDA) were $61.8 million, up 456% from $42.4 million in the first quarter of 2020.
"Sprague's Adjusted EBITDA increased by 46% over last year as our Refined Products and Natural Gas businesses captured opportunities associated with the modestly colder weather," said Glendon. "At the same time, continued efforts to manage costs yielded a 90% increase in distributable cash flow, representing over 3x coverage for the quarter." (Source: Ibid.)
Looking ahead, in 2021, assuming normal weather and market conditions, Sprague expects to report adjusted EBITDA in the range of $105.0 to $120.0 million. In 2019, its adjusted EBITDA came in at $105.6 million, and in 2020, it came in at $116.7 million.
The Lowdown on Sprague Resources LP
Sprague Resources LP is an excellent, overlooked energy company with an extensive network of strategically located terminals and natural gas pipelines. The company continues to report great financial results and reward investors with double-digit dividends.
Not only that, Sprague Resources stock has a history of paying dividends with a yield in excess of 10%. That suggests the company wants to continue doing so, even when its share price soars to record highs. That's tough to do when the economic environment is ideal; it's tougher still when navigating a global pandemic and recession.