Spok Stock: Inflation-Busting 17.2%-Yielder Reports Strong Q2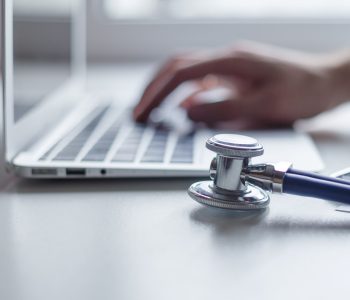 Spok Stock Down 13% in 2022 & Insiders Are Buying
Spok Holdings Inc (NASDAQ:SPOK) is a great ultra-high-yield dividend stock whose share price has, like the broader market, taken a hit lately—but not as badly as many other stocks. As of this writing, Spok stock is:
Up by three percent over the last month
Up by six percent over the last three months
Down by eight percent over the last six months
Down by 13% year-to-date
Up by 4.5% year-over-year
While some nervous investors are waiting for signs that the stock market has bottomed before jumping back in, Spok Holdings Inc's management and board members have been taking advantage of the pullback in the price of Spok stock and loading up on shares. During five trading days in August, company insiders snapped up 34,648 shares.
On August 16 and 17, Todd Stein, a company director, bought 17,656 shares
On August 18 and 19, Randy Hyun, another company director, snapped up 9,602 shares
On August 19, Michael W. Wallace, the COO, acquired 1,690 shares and Calvin Rice, the CFO, acquired 2,700 shares
On August 22, Barbara Peterson Byrne, another company director, purchased 3,000 shares
(Source: "Insider Transactions," EDGAR, last accessed August 31, 2022.)
Insider buying of shares is always a positive sign for a stock; it shows that executives and board members believe their company's shares are undervalued and set to rise.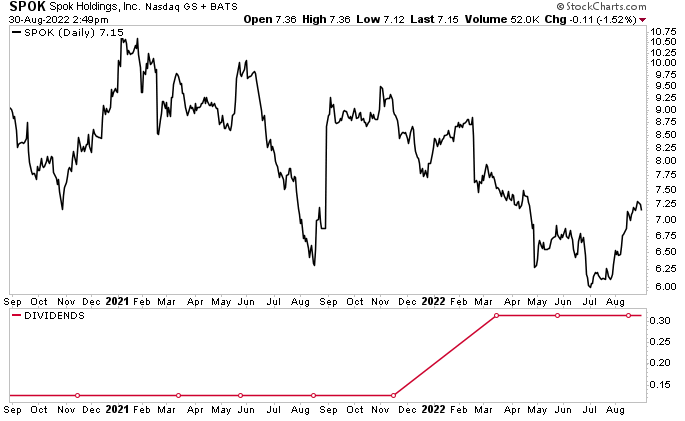 Chart courtesy of StockCharts.com
Spok Holdings Inc Focuses on Returning Capital to Shareholders
So, what's the big deal about Spok stock?
Spok Holdings Inc is a leader in health-care communications technology. Its products enable faster collaboration between health-care team members. Spok's solutions are used in more than 2,200 hospitals, and the company is the largest paging carrier in the U.S., with more than 800,000 pagers in service. (Source: "Second-Quarter Earnings," Spok Holdings Inc, July 28, 2022.)
In terms of financials, Spok's balance sheet is rock-solid, with cash and cash equivalents of $38.4 million and zero debt. More than 80% of the company's revenue is reoccurring. For the first half of this year, it reported $56.0 million in revenue.
Under its current business plan, Spok prioritizes maximizing its free cash flow and returning capital to Spok stockholders in the form of ultra-high-yield dividends and share buybacks. The company expects to do this through its established business lines, such as the "Spok Care Connect" suite, which includes "Spok Mobile" and wireless services. (Source: "Spok Announces New Strategic Business Plan," Spok Holdings Inc, February 17, 2022.)
In February, management increased Spok stock's quarterly dividend by 150% from $0.125 to $0.3125 per share, for a yield of 17.2%. Management said it intends to continue this dividend for the foreseeable future. Not only that, but the company could increase its quarterly payouts.
In the first half of 2022, Spok returned $12.7 million to its shareholders via its regular quarterly dividends. Thanks to the company's solid balance sheet, its cash flow is expected to cover Spok stock's dividends in the second half of this year.
Spok Holdings Inc has also announced a share repurchase program of up to $10.0 million.
Management Reports Significant Improvement in Earnings
For the second quarter ended June 30, Spok announced that its revenue slipped by 5.6% year-over-year to $33.7 million. Its second-quarter 2022 software bookings went up by 51% year-over-year and its year-to-date bookings climbed by 23% year-over-year, with 32 deals worth over six figures each. (Source: "Spok Reports Second Quarter 2022 Results," Spok Holdings Inc, July 27, 2022.)
The company reported second-quarter 2022 net income of $1.9 million, compared to a second-quarter 2021 net loss of $719,000. Its adjusted earnings before interest, taxes, depreciation, and amortization (EBITDA) in the second quarter of 2022 were $3.6 million, compared to an adjusted EBITDA loss of $1.5 million in the same period of last year.
"We are excited about the progress we have made during the second quarter on our strategic business plan, which is tracking well ahead of schedule," said Vincent D. Kelly, Spok Holdings Inc's president and CEO. "With our renewed focus on the Care Connect Suite of solutions, we have been able to significantly increase bookings as we continue to work towards creating a more consistent revenue base." (Source: Ibid.)
For fiscal 2022, Spok Holdings Inc expects to report:
Total revenue in the range of $130.0 to $136.0 million, compared to its previous guidance of $126.0 to $139.2 million
Adjusted operating expenses of $123.3 to $126.1 million, compared to its previous guidance of $118.8 to $128.6 million
Capital expenditures of $3.2 to $3.9 million, compared to its prior guidance of $3.4 to $4.2 million
The Lowdown on Spok Stock
Spok Holdings Inc is an excellent company with a strong foothold in the health information services industry. Recently, it has reported wonderful financial results, including a solid balance sheet.
Moreover, the company is advancing a business plan that includes increasing the amount of money it returns to its shareholders. In February, management hiked Spok stock's quarterly dividend by 150%, and they said they're open to increasing the ultra-high-yield payout again.