A 9% Special Dividend Likely Coming From Costco Wholesale Corporation?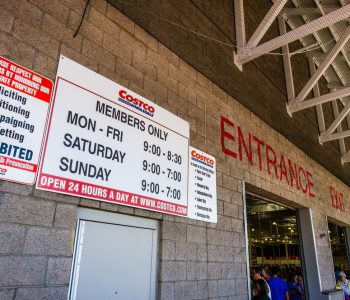 iStock.com/Andrei Stanescu
Will Costco Issue a Special Dividend Payment?
As I've expected for years, Wall Street has started to catch on to the income potential at Costco Wholesale Corporation (NASDAQ:COST).
In a research report published after the company's recent earnings release, Guggenheim Partners analyst John Heinbockel predicted that a special dividend "could be drawing closer," noting that Costco, "did not announce a special dividend tonight, which was hardly a surprise to us since it typically does so between monthly sales releases." (Source: "Costco Might Be Close to Announcing a Special Dividend," Barron's, April 12, 2019.)
"The market is keeping close watch on whether the discount retailing giant declares another special dividend soon," said Lawrence C. Strauss of Barron's. "The previous ones came roughly 2 1/4 to 2 1/2 years apart. The most recent special dividend, which paid shareholders $7 a share, was declared in April 2017." (Source: Ibid.)
None of this should be a surprise to subscribers of my Passive Monthly Income advisory. For over a year, we've speculated that Costco would likely make another special dividend payment to shareholders.
And investors have good reason to be optimistic.
Costco's Reported Earnings
The company continues to shoot the lights out each earnings season.
In March, Costco Wholesale Corporation reported that its second-quarter revenue jumped seven percent year-over-year to $35.4 billion. Comparable sales rose to 6.7% while e-commerce sales jumped 25.5% in the quarter.  (Source: "Costco Wholesale Corporation Reports Second Quarter And Year-To-Date Operating Results For Fiscal 2019 And February Sales Results," Costco Wholesale Corporation, March 7, 2019.)
Earnings rose to $889.0 million ($2.01 per share) from $701.0 million ($1.59 per share) a year earlier. Those numbers blew past the consensus estimate from Wall Street, which expected Costco's earnings per share and sales to come in at $1.69 a share and $35.1 billion, respectively.
This has resulted in a torrent of cash flow. In recent quarters, Costco's fund flows have far exceeded its capital expenditures budget and its roughly $1.0-billion annual dividend. As a result, cash continues to pile up on the balance sheet. The company now has $6.5 billion in cash and cash equivalents sitting in the bank, versus $4.8 billion last year.
In April, several Wall Street research houses upped their earnings outlook for the upcoming year, calling Costco one of the few winners in the tough retail environment. They credit their bullish outlook to Costco opening more stores, improving membership retention, and achieving higher spending amounts per customer visit.
With more cash coming in the door, management will face increased pressure to productively deploy it.
The company has remained coy on the issue. On the topic of a special dividend last year, Chief Financial Officer Richard Galanti told investors to "stay tuned and see." (Source: "Costco Wholesale Corporation (COST) CEO Richard Galanti on Q1 2019 Results – Earnings Call Transcript," Seeking Alpha, December 13, 2018.)
Galanti explained, "When we've done them, they've worked well…It's certainly on the table, but there are no promises of if and when and how much."
The Bottom Line on COST Stock
Costco Wholesale Corporation likely won't be able to remain quiet on the special-dividend issue for long. The company generates far more cash than management knows what to do with. Greenbacks continue to pile up on the balance sheet. And as we've seen in recent months, a growing chorus of analysts have started demanding a special distribution to shareholders.
Don't be surprised to see the company make a big special-dividend announcement to COST stock owners later this year.