Spark Energy Inc.: Utility Stock With 6.2% Dividend Yield Is an Income Machine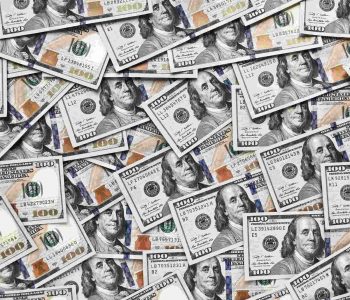 Spark Energy Stock's Dividend Is Safe & Reliable
Admittedly, utility stocks might be boring, but "boring" can provide investors with a big, reliable income stream—which makes up for the lack of pizzaz. And that's exactly what Spark Energy Inc (NASDAQ:SPKE) has been doing.
Based in Houston, TX, the energy capital of the world, Spark Energy is a leading electricity and natural gas company that provides its customers with stable and predictable energy—and investors with strong capital appreciation plus a stable, inflation-stomping high-yield dividend.
And you can't ask for much more than that, with the global economy still groaning from COVID-19 and central banks around the world promising to keep interest rates at virtually zero for the next couple of years.
About Spark Energy Inc
Spark Energy pretty much does what its name implies. It provides natural gas and electricity to more than 700,000 retail customers in 19 states (including California, Texas, Florida, and New York) and 100 utility service territories. (Source: "Investor Update November 2020," Spark Energy Inc, last accessed January 27, 2021.)
Every year, the company supplies about 16 million MMBtu of retail natural gas and 8 million MWh of retail electricity.
The majority of its customers (36%) are in New England, followed by the Mid-Atlantic (34%), Midwest (14%), and Southwest (16%). And thanks to organic growth and an aggressive acquisition strategy, the number of retail customers continues to increase. Since the company's initial public offering in the third quarter of 2014, it has announced 14 acquisitions.
Capital Gains
Investors seeking high dividend yields from utility stocks are generally happy with getting a monthly payout.
After all, utility stocks are a stable source of revenue and income, but they don't exactly provide investors with huge stock market gains—except maybe during a recession. That's because utility companies tend to report relatively consistent revenue and earnings. People need to heat and cool their homes no matter what. They may turn the heat or air conditioning down a little to save money, but the meter will still be running.
As of this writing, SPKE stock is up:
22.7% in January
58.7% over the last six months
23.1% year-over-year
121.7% since the stock market bottomed in March 2020
In comparison, the S&P 500 is only up:
0.7% in January
17.2% over the last six months
17.6% year-over-year
73.0% since the stock market bottomed in March 2020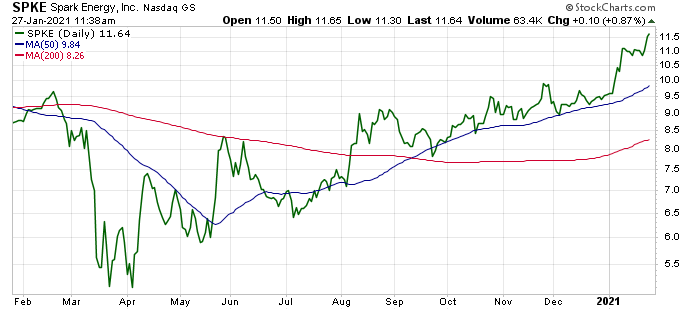 Chart courtesy of StockCharts.com
High-Yield Dividends
To be fair, most income-starved investors like utility stocks such as Spark Energy stock because of their consistent, high dividend yields. And SPKE stock certainly doesn't disappoint on that front.
The company currently pays out a dividend of 6.2%, with an annual dividend rate of $0.725 per share.
On January 21, Spark Energy announced that its board of directors declared a quarterly cash dividend of $0.18125 per share for the fourth quarter of 2020. The dividend will be paid on March 15 to holders of record of Spark's Class A Common Stock as of March 1. (Source: "Spark Energy, Inc. Announces Dividend on Common and Preferred Stock," Spark Energy Inc, January 21, 2021.)
And investors have been able to rely on that payout. The dividend has remained the same since 2015. It's safe too. The payout ratio is just 63%, far below the 90% threshold I like to see.
For the first three quarters of 2020, Spark Energy's cash flow was up approximately nine percent year-over-year, at $83.9 million.
The company's third-quarter net income slipped to $22.6 million, or $0.52 per share, while its year-to-date net income was up significantly, at $59.4 million, or $1.35 per share.
The Lowdown on Spark Energy Inc
Spark Energy stock is a great utility stock that has been providing investors with a high-yield dividend since the company went public in 2014.
Moreover, thanks to Spark Energy Inc's strong cash position, investors should be able to rely on that passive income for years to come.