Spanish 10-Year Bond Yields Trade Below 1% for the First Time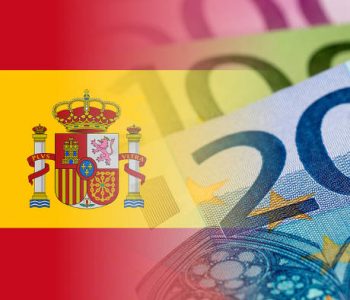 Monetary Easing Speculations, Political Progress Fuel Rally
New York, NY — Spanish government bonds rose today, taking the yield on the benchmark 10-year debt below one percent for the first time. The rally is fueled by the monetary easing expectations in the developed world and positive political developments locally.
Spain's 10-year bond yield fell two basis points, or 0.02%, to one percent as of 4:20 p.m. London time. Earlier, it dropped to a record 0.999%. The 1.95% security due in April 2026 gained 0.145, or 1.45 euros per 1,000-euro ($1,108) face amount, to 108.76, according to Bloomberg data. (Source: "Spain 10-Year Yield Approaching 1% Shows Central Bank Supremacy," Bloomberg, August 8, 2016.)
The Bank of England, last week, cut its benchmark interest rate to the lowest in its 322-year history and revived a financial crisis-era bond-buying program to cushion the U.K. economy from the aftershocks of the vote to leave the European Union.
Central banks, including the Federal Reserve and the European Central Bank, say they are watching closely in case the move toward Brexit sparks another damaging bout of financial-market contagion and economic instability.
The yield has dropped by more than 0.6% points since the Spaniards voted in June in their second inconclusive election in six months. The extra yield, or spread, investors demand for holding the securities instead of similar-maturity German bunds narrowed to the lowest since December. (Source: Ibid.)
Spanish borrowing costs have been falling as the government raises its growth forecasts and the conservative party said it would talk to other parties to try to break a political deadlock that has lasted more than seven months.
Spain has been without a proper government since an inconclusive election in December. The acting Prime Minister Mariano Rajoy's People's Party won the most parliamentary seats at a second vote in June, but did not reach the 176 needed to govern alone.
Yet, the economy has proven resilient to the political uncertainty, and Rajoy's acting government raised growth forecasts for 2016 last week. Spanish bonds outperformed all their euro zone peers in a broad rally after weaker-than-expected growth data from the U.S. was seen diminishing the chances of an interest rate hike in the world's largest economy that could push up yields globally. (Source: Ibid.)
Spanish government debt has returned four percent since June 24, the last trading day before elections, according to Bloomberg World Bond Indexes. That compares to an average 2.1% earned across the euro area in the period, and 0.6% for German securities.