Southern Copper Stock Up 17% YTD; High-Yield Dividend Up 66% YOY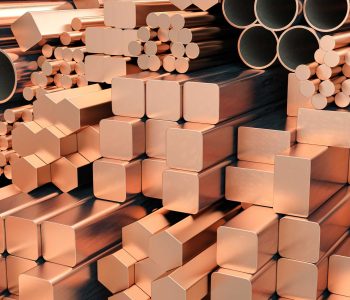 SCCO Stock Bullish as Copper Prices Run to Record Levels
When it comes to high-yield dividend stocks, it always pays to reevaluate your position. You don't want to throw out your initial capital for frothy dividends. Earning a 10%-yield dividend is great, but not if you're losing 40% of your initial investment.
This especially holds true for high-yield dividend stocks in the metal industry. When the commodity is hot, so are share prices and dividends. When it's not, they're not. Right now, copper is making a run toward record prices. This has boosted Southern Copper Corp's (NYSE:SCCO) share price and dividend.
Despite the economic slowdown in China, the outlook for copper is bullish. Copper spiked to more than $5.00 per pound ($11,000 per tonne) in March. The price of copper has retreated a little since then, to $4.75 per pound ($10,471 per tonne).
The record intraday high for the price of copper, set on March 7, was fueled by historically low global inventories. In February, Goldman Sachs Group Inc (NYSE:GS) said there was a scarcity issue with copper, so much so that there was only a three-day supply for global consumption. (Source: "Goldman Sees New All-Time High for Copper Price by Mid-Year," Mining.com, April 7, 2022.)
Goldman Sachs noted that the deficit would result in projected shortfalls over the next two years. This led the bank to increase its copper price forecasts, expecting the metal to hit a new record high within three months and hit $13,000 per tonne within one year.
This bodes well for companies like Southern Copper Corp, one of the largest integrated copper producers in the world. It's the No. 5 copper producer, the No. 7 copper refiner, and the No. 10 copper smelter. Moreover, the company has the largest copper reserves in the industry. (Source: "Company Presentation: February 2022," Southern Copper Corp, February 15, 2022.)
Southern Copper operates world-class assets in investment-grade countries such as Mexico and Peru. Its reserves currently stand at 67.7 million tons (MT), outscoring its peers like Freeport-McMoRan Inc (NYSE:FCX) (51.3 MT), Codelco (45.7 MT), and BHP Group Ltd (NYSE:BHP) (41.1 MT). Southern Copper's reserves have a mine life of 50 years.
In Mexico, the company is investing $413.0 million in the Buenavista Zinc project, which is expected to be completed in 2023. The project is expected to double Southern Copper's zinc production capacity. (Source: "A Record-Breaking Year for Southern Copper," Southern Copper Corp, February 1, 2022.)
The company's El Pilar project, in which it has invested $310.0 million, is expected to be completed in 2023. This project will add 36,000 tons of copper annually. The El Arco project, with an estimated capital budget of $2.9 billion, is anticipated to achieve annual production of 190,000 tons of copper and 105,000 ounces of gold.
2021 a Record-Breaking Year for Southern Copper Corp
Southern Copper's huge reserves, low production costs, and high demand help explain why the company's net sales, net income, adjusted earnings, and cash from operations hit record highs in 2021. (Source: Ibid.)
Southern Copper Corp's fourth-quarter 2021 net sales increased by 20.1% to $2.8 billion, and its fourth-quarter net income increased by 41.1% to $833.0 million, or $1.08 per share. The company's fourth-quarter operating cash cost per pound of copper was $0.76.
Southern Copper Corp's full-year 2021 net sales rallied by 36.9% to a record $10.9 billion, and its full-year net income went up by 116.3% to a record $3.4 billion, or $4.39 per share. Southern Copper's full-year operating cost per pound was $0.67. The company's full-year cash flow from operations hit another record high, $4.3 billion, up by 54.2% from 2020.
During the year, the company spent $892.3 million on capital investments, representing 26.3% of its net income.
Investors have rewarded Southern Copper with a market-trouncing share price. The company's board has, in turn, rewarded investors with reliable, high-yield dividends that have increased six times over the last seven months.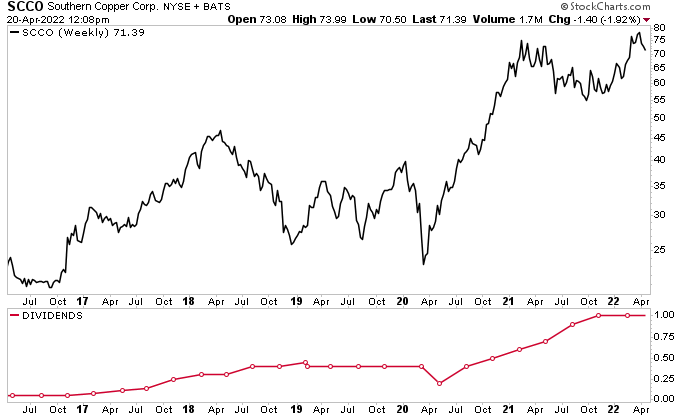 Chart courtesy of StockCharts.com
In January, the company announced a quarterly dividend of $1.00 per share, for a yield of 5.5%. The payout is flat compared to the fourth quarter of 2021, but it's up by 66% compared to the same quarter of the previous year. (Source: "Southern Copper Corporation ("SCC") Dividend Announcement," Southern Copper Corp, January 27, 2022.)
As you can see in the above chart (the red line at the bottom), Southern Copper stock's dividend was growing nicely until the coronavirus-fueled sell-off in early 2020. The momentum was only disrupted for one quarter, though; the payout has jumped by 400% since then.
In addition to being great for income, SCCO stock is fabulous when it comes to share-price growth. As of this writing, the stock is up by:
Five percent over the last three months
12% over the last six months
17% year-to-date
Five percent year-over-year
The Lowdown on Southern Copper Stock
With copper prices expected to hit record levels, investors should keep Southern Copper Corp on their radar. The company is one of the largest integrated copper producers in the world, and it has the biggest copper reserves. Southern Copper also has a solid balance sheet, excellent organic growth projects, a history of wonderful financial performance, and outstanding dividend growth.
With a strong outlook for copper prices, plus the company's pipeline of high-potential projects, the outlook for SCCO stock's price and dividend is bullish.