Solar Senior Capital Ltd: Clear Skies for This 8.6% Yield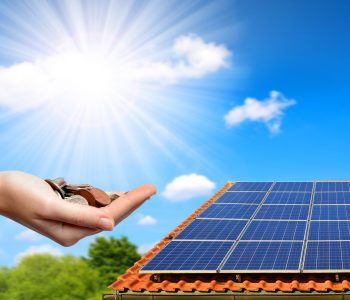 iStock.com/vencavolrab
Can You Trust This Payout?
Solar Senior Capital Ltd (NASDAQ:SUNS) wants to become a leader in green energy. It also wants to create a lot of green for investors.
The company, as you probably figured out from the name, has a big position in the solar business. Management provides financing for new projects in exchange for steady, ongoing interest payments. Analysts love these assets for their reliable cash flows, which roll in like clockwork year after year.
Income hunters have taken notice as well. With a yield approaching nine percent, investors can do something good for the planet and their portfolio.
But can such a high payout possibly be safe? Let's dig into this distribution.
At first glance, SUNS stock's dividend looks to be in trouble. Over the past year, Solar Senior Capital Ltd has generated $1.40 per share in investment income.
During the same period, management paid out $1.41 per share in distributions.
Generally, I like to see businesses pay out 90% or less of their profits as dividends. That leaves a little bit of wiggle room to keep making payments even in the event of a downturn. So SUNS stock appears to have pushed its distribution safety into the red zone.
Here's the thing: Solar Senior Capital Ltd writes most of its loans on a floating-rate basis. This means that as interest rates rise, the company will see its income increase. That smart move should leave the distribution on a much more stable foundation in 2019.
Management's savviness applies to the rest of the balance sheet, too.
Historically, SUNS has enjoyed a low default rate. That makes sense, given the solar projects tend to generate steady, recession-proof cash flows.
To protect itself further, Solar Senior Capital stands first in line to get paid if anything project should run into trouble. More than 97% of the company's portfolio consists of secured, first-lien loans. So if a borrower were to default, Solar Senior Capital could make up for its losses by collecting pledged collateral. (Source: "Solar Senior Capital Ltd. Announces Quarter Ended September 30, 2018 Financial Results; Declares Monthly Distribution of $0.1175 Per Share for November 2018 ," Solar Senior Capital Ltd, November 5, 2018.)
The real risk here: politics.
Solar projects still rely in some part on government subsidies. If the political winds change in Washington, that could put the profitability of new or existing projects at risk.
That said, Solar Senior Capital Ltd has done a good job protecting its interests. I would prefer to see the company be a bit more conservative with its dividend policy, but for now, SUNS' nine-percent yield looks safe.