SOHO Stock: This 6.5% Dividend Yield Could Easily Turn Into 10.9%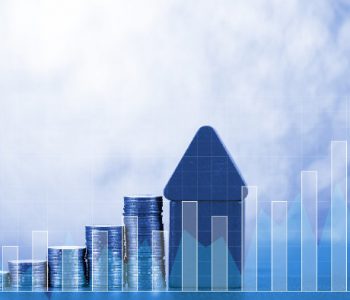 iStock.com/pookpiik
High-Yield Stock with Huge Dividend Growth Potential
Today's chart highlights a real estate investment trust (REIT) most people have never heard of: Sotherly Hotels Inc. (NASDAQ:SOHO).
As the name suggests, Sotherly is a REIT focused on the hotel business. Headquartered in Williamsburg, Virginia, the company invests in upscale and upper upscale full-service hotels in the Southern United States. Right now, Sotherly's portfolio consists of investments in 12 hotels totaling 3,011 rooms. Most of these hotels operate under the brands of Hilton Hotels Corporation (NYSE:HLT), Intercontinental Hotels Group (LON:IHG), and Marriott International Inc (NASDAQ:MAR).
In this day and age, the sharing economy is all the rage. In particular, Airbnb, a platform that allows people to rent short-term lodging, has been regarded as a disruptive force in the hospitality industry.
Should that be a concern for investors looking at Sotherly Hotels? Not really.
You see, as noted above, Sotherly Hotels focuses on upscale and upper-scale full-service hotels. Its strategy is to invest in properties in prime locations with significant barriers to entry, particularly those located in central business district markets near multiple demand generators. These generators include corporate headquarters, convention centers, entertainment venues, and office buildings.
Airbnb might be a substitute for some hotels. But when a business traveler wants to find a full-service, upper-upscale accommodation solution in a central business district, they would most likely still check themselves into a Hilton or a Mariott.
Also Read:
CLDT Stock: Collect a Safe, High Yield from This Monthly Dividend Stock
To see why Sotherly Hotels is special, all you need to do is take a look at its operating performance. In the hotel REIT business, performance is often measured by revenue per available room, or RevPAR.
In 2012, Sotherly Hotels' RevPAR was $78.65. By 2016, the number had grown to $98.18. That translates to a compound annual growth rate of 5.7%.
Revenue Per Available Room (RevPAR)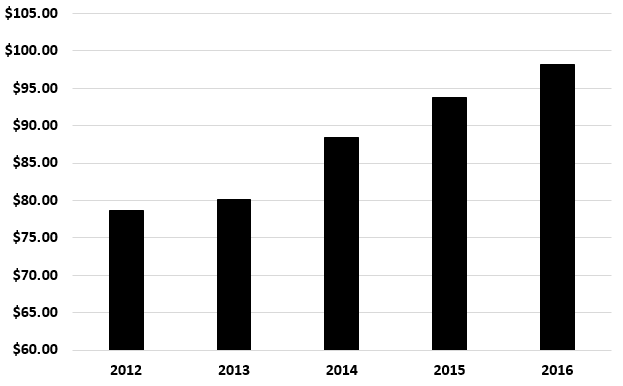 Source: "Investor Presentation," Sotherly Hotels Inc., last accessed December 5, 2017.
Growth has continued to this day. In the first nine months of 2017, RevPAR for Sotherly Hotels' composite portfolio came in at $104.29, representing a 2.6% improvement from the year-ago period. (Source: "Sotherly Hotels Inc. Reports Financial Results For The Third Quarter Ended September 30, 2017," Sotherly Hotels Inc., November 7, 2017.)
Rising Dividends
Because Sotherly Hotels is structured as a REIT, it is required by law to distribute at least 90% of its profits to shareholders every year in the form of dividends. Right now, the company pays quarterly dividends of $0.11 per share, giving SOHO stock an annual yield of 6.5%.
The payout has been growing as well.  Sotherly Hotels paid total dividends of $0.10 per share in 2012. In 2017, the company is on track to deliver total dividends of $0.425 per share for an increase of 325%. (Source: "Dividend History," Sotherly Hotels Inc., last accessed December 5, 2017.)
What's more, despite the impressive dividend growth, the company is not really paying out that much.
In the real estate industry, the payout ratio is calculated using funds from operations (FFO) rather than earnings. This is because earnings take into account depreciation, amortization and gains on sales, while FFO is a measure of the actual cash flow generated from a REIT's operating activities. And since dividends are paid in cash, a REIT needs to generate enough FFO to cover its distributions.
In the first nine months of 2017, Sotherly Hotels generated funds from operations of $0.79 per share. Since the company declared total dividends of $0.315 per share during this period, it had a payout ratio of 39.8%.
Here at Income Investors, we prefer companies with dividend payout ratios of less than 75%. This is because when business deteriorates due to, say, cyclical effects, a lower payout ratio means there's a higher chance that the company can still make enough money to cover its dividend payments.
In the case of Sotherly Hotels, a payout ratio of just 39.8% not only leaves a wide margin of safety, but also means if the company wants to further increase its dividends, there's plenty of room to do so.
Looking around, many REITs today are paying out between 70% and 90% of their funds from operations as dividends. If Sotherly Hotels decides to raise its FFO payout ratio to a reasonable 70%, it would be paying $0.553 per share for the nine-month period we just looked at. That would translate to an annual amount of approximately $0.737 per share. At the current share price, a $0.737 annual dividend rate would give Sotherly Hotels an annual yield of 10.9%.
Final Thoughts on This High-Yield Stock
In a market where the average S&P 500 company pays less than two percent, Sotherly Hotel's 6.5% dividend yield already makes it stand out. Adding in its rock-solid business and huge dividend growth potential, SOHO stock deserves the attention of every income investor.