Slate Grocery REIT: This Foreign Stock Pays Investors 9.2%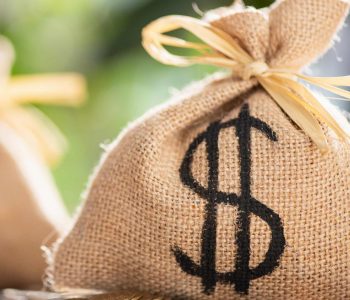 A Little-Known Stock With a Big Payout
At first glance, Slate Grocery REIT (TSE:SGR.UN, OTCMKTS:SRRTF) seems like just another foreign stock. The company is listed north of the border on the Toronto Stock Exchange and it trades in the U.S. over the counter.
However, Slate Grocery stock is actually very, very American. Structured as a real estate investment trust (REIT), the company owns and operates grocery-anchored real estate located entirely in the U.S. Right now, its portfolio consists of 75 properties diversified across 20 states, totaling approximately 9.6 million square feet. (Source: "Investor Update: Q4 2020," Slate Grocery REIT, last accessed March 4, 2021.)
There are plenty of American REITs listed on U.S. stock exchanges, so why would anybody consider a Canadian-listed stock?
Well, the first reason is the sheer size of its payout. SRRTF stock has a monthly distribution rate of $0.072 per unit—and that's in U.S. dollars. With SRRTF stock trading at $9.44 apiece, that monthly payout comes out to an annual yield of 9.2%.
In other words, what we're looking at is a high-yield monthly dividend stock, which is a rare find in today's market environment.
The second reason—and this is probably a more important one—is the company's exclusive focus on grocery-anchored real estate. Slate Grocery REIT owns shopping centers, but not just any shopping centers. Excluding properties under development, 100% of the company's centers are anchored by supermarkets or grocery-type tenants.
Grocery stores may not be an exciting business, but they're one of the few types of businesses that have been doing well during the COVID-19 pandemic. Because everyone needs food and other basic necessities to survive, grocery stores have remained essential businesses even when governments have imposed lockdowns. In fact, because more people have been cooking at home rather than dining out at restaurants, many grocery stores have experienced sales growth during these extraordinary times.
Slate Grocery REIT's top five tenants are Walmart Inc (NYSE:WMT), Kroger Co (NYSE:KR), Publix Super Markets, Inc., Ahold Delhaize, and Southeastern Grocers. They contribute 8.5%, 8.1%, 4.1%, 3.9%, and 2.5%, respectively, to the company's annual base rent. These companies, which are all in the grocery/supermarket business, have demonstrated their resilience during the pandemic.
And because grocery stores have been doing well, they've been able to pay their rents. At the same time, since people are still going to grocery stores, having a grocery anchor could help improve traffic to the other stores in Slate Grocery's shopping centers.
Take a look at the rent collection figures and you'll see how solid Slate Grocery has been.
We know that the pandemic is not over and that a lot of brick-and-mortar retailers are still struggling, so rent collection remains a challenge for many shopping center REITs. Slate Grocery, on the other hand, managed to collect 96% of its contractual rent in the fourth quarter of 2020. In fact, the company has collected 96% of its contractual rent since the start of the pandemic. (Source: "Slate Grocery REIT Reports Fourth Quarter and Year End 2020 Results Including Record Annual Leasing Performance and Occupancy Gains," Slate Grocery REIT, February 23, 2021.)
Notably, 65% of Slate Grocery's tenants have been deemed essential businesses by governments. As such, 99.4% of the company's tenants are open and operating, and they have been since October 2020.
Therefore, it shouldn't come as a surprise that Slate Grocery stock has managed to maintain its monthly cash distributions during these challenging times for the retail industry. The same cannot be said for many of its peers. The lockdowns last year severely impacted shopping center REITs, and dividend cuts were not uncommon.
Looking at Slate Grocery REIT's financials, we see that the company generated adjusted funds from operations of $0.22 per unit in the fourth quarter of 2020. While the amount represented a 12% decline year-over-year, it managed to cover the three monthly dividends totaling $0.216 per unit paid for the quarter.
The business is also improving. In Slate Grocery's latest earnings conference call, its chief executive officer, David Dunn, said, "Since the start of the pandemic, the REIT's occupancy has increased by 70 basis points and finished the fourth quarter at 92.9%. We expect our occupancy will continue to trend upward based on our actionable pipeline of quality lease transactions." (Source: "Slate Grocery REIT Fourth Quarter 2020 Financial Results Conference Call," Slate Grocery REIT, February 24, 2021.)
Bottom Line on Slate Grocery REIT
Ultimately, I wouldn't call SRRTF stock a slam dunk. The company's payout ratio seems a bit high at the moment, and as a risk-averse investor, I'd like to see a wider margin of safety.
That said, the REIT does have a solid business in place, and that business should continue to improve as we defeat the pandemic. With a 9.2% yield, Slate Grocery REIT could represent an opportunity for yield-seeking investors.