SL Green Realty Stock Pays 8.4%-Yielding Dividends Monthly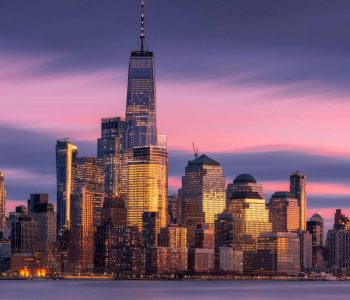 SLG Stock Should Be on Investors' Radar
New York City has been in the news a lot lately, from crime, to the New York Yankees' run for the pennant, to Donald Trump being sued for fraud.
What doesn't get discussed much in the media is just how much New York City's central business district is coming back, following the COVID-19 pandemic. According to The Wall Street Journal, the "return-to-office" rate has been reaching new highs as employers clamp down on people working from home. That doesn't mean businesses are lining up to ink new 10-year leases, but it does mean the central business districts of some of America's largest economic centers are bouncing back.
The future of any downtown rests on the level and permanence of people working at offices. No company knows that more than SL Green Realty Corp (NYSE:SLG), New York City's biggest office landlord. A fully integrated real estate investment trust (REIT), SL Green primarily focuses on acquiring and managing commercial properties in New York City, especially Manhattan. (Source: "About Us," SL Green Realty Corp, last accessed October 3, 2022.)
As of June 30, the REIT held interests in 64 buildings, adding up to 34.4 million square feet. This included ownership interests in 26.3 million square feet of Manhattan buildings and 7.2 million square feet securing debt and preferred equity investments.
Those numbers are always in flux, since SL Green Realty Corp buys and sells properties on a fairly regular basis.
For example, on September 12, the company announced its sale of 414,317 square feet of vacant office-space units in what's known as "The Lipstick Building" for $300.4 million. SL Green Realty will retain the remaining 218,796 square feet of the building, which is currently 91.7% leased. The REIT expects the sale to close in the fourth quarter of this year. (Source: "SL Green Announces Sale of 414,317 Square Foot Commercial Condominium at 885 Third Avenue to Memorial Sloan Kettering Cancer Center," SL Green Realty Corp, September 12, 2022.)
The same day, SL Green Realty announced its purchase of a 1.8-million-square-foot, 44-story, Class A office property with a prime Park Avenue location. Harrison Sitomer, SL Green Realty's chief investment officer, said the property is the REIT's "next major development project." The firm said it will be upgrading the property's lobbies, plaza, retail storefronts, and infrastructure. (Source: "SL Green Announces Acquisition of 245 Park Avenue," SL Green Realty Corp, September 12, 2022.)
High Funds From Operations in Second Quarter
For the second quarter ended June 30, SL Green Realty announced a net loss of $43.9 million, or $0.70 per share, versus net income of $105.3 million, or $1.56 per share, in the same period of last year. (Source: "SL Green Realty Corp. Reports Second Quarter 2022 EPS of $(0.70) Per Share; and FFO of $1.87 Per Share," SL Green Realty Corp, July 20, 2022.)
More importantly, the company reported funds from operations (FFO) of $128.8 million, or $1.87 per share, compared to $117.7 million, or $1.60 per share, in the second quarter of 2021.
During the second quarter of 2022, SL Green Realty Corp closed on its previously announced acquisition of a Park Avenue property for $445.0 million in a newly formed joint venture with institutional investors from Israel and South Korea. The firm retained a 25.1% interest in that property.
The REIT also closed on its sale of a vacant office condominium on Fifth Avenue for a gross sales price of $100.5 million. SL Green Realty Corp gained net cash proceeds of $97.2 million from this transaction. Also in the second quarter, the company conveyed the fee position in a property on Broadway for $121.0 million, equating to the value at which SL Green acquired the property in September 2021. The firm gained net cash proceeds of $120.9 million from this transaction.
SL Green Realty Corp Raises Monthly Dividend for 3rd Straight Year
SL Green Realty declared dividends of $0.3108 per share on May 16, June 15, and July 15, for a yield of 8.4% (as of this writing). With a payout ratio of 87.4%, the dividend is safe.
How can SL Green Realty stock continue to pay high-yield dividends when the company reports a net loss? To qualify as a REIT, a company is legally required to distribute at least 90% of its taxable income to its shareholders in the form of dividends. Many people think a REIT's dividends come from its earnings, but they don't. In the case of SL Green Realty Corp, the dividends come from its FFO, which, as mentioned earlier, were $1.87 per share in the second quarter. That's more than enough to cover SLG stock's $0.3108 monthly dividends.
SL Green Realty Corp switched from quarterly to monthly dividends in 2020. Since then, the company has raised its dividend each year: from $0.295 per share in 2020, to $0.3033 in 2021, to $0.3108 in 2022.
It also paid out special dividends in December 2020 ($1.6967) and December 2021 ($2.4392). The special dividends were results of extraordinary gains on asset dispositions in 2020 and 2021.
The special dividends and reliable monthly dividends can help offset any volatility in SL Green Realty stock's price.
Despite solid financial results, SLG stock has been bogged down by the same macroeconomic headwinds that have been hobbling the rest of the stock market, including rising interest rates, inflation, and a looming recession. As of this writing, SL Green Realty stock is down by 42% year-to-date and 40% year-over-year.
The outlook for SLG stock is bright, however, with analysts estimating gains over the next 12 months of up to 44%.
Chart courtesy of StockCharts.com
The Lowdown on SL Green Realty Stock
The real estate market might have taken a hit during the pandemic, but when it comes to long-term growth, never bet against New York City. That includes SL Green Realty Corp, the largest office landlord in the city.
The company's occupancy rate has bounced back to 92%, its enviable portfolio of trophy real estate assets continues to expand, and its cash flow is high. SLG stock rewards investors with reliable, high-yield dividends and a generous share repurchase program.