SL Green Realty Corp: New York City's Largest Office Landlord Pays 4.9% Dividend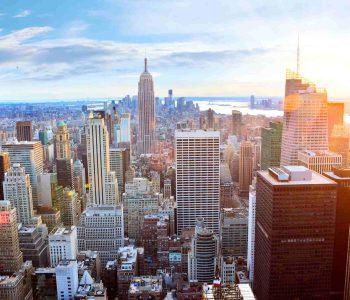 SLG Stock: Rising Share Price & Monthly Dividends
Overall crime may be down in New York City, but one thing that's not down in the city is SL Green Realty Corp (NYSE:SLG), the biggest owner of office real estate in the Big Apple. SL Green Realty stock is up by 10% over the last month, 26% year-to-date, and 67% year-over-year.
The real estate investment trust (REIT) has also hiked its monthly dividend in 2021, from $0.295 to $0.3033, for a yield of 4.9%. SL Green Realty has been raising its dividend annually for the last decade. In 2011, it paid out $0.40. In 2021, its forward dividend is $3.64, for an overall gain of 810%.
SLG stock's dividend is safe. For the second quarter, the company reported earnings per share of $1.51 and funds from operations of $1.60. That was more than enough to cover its quarterly payout of $0.9099 per share. The REIT's payout ratio is just 88.3%. (Source: "SL Green Realty Corp. Reports Second Quarter 2021 EPS of $1.51 per Share; and FFO of $1.60 per Share," SL Green Realty Corp, July 21, 2021.)
Thanks to the red-hot New York City real estate market and asset dispositions in 2020, SL Green Realty was able to pay a special dividend of $1.6967 per share in January 2021. Admittedly, investors can't time a special dividend, but it's nice to see the company aggressively generate value that directly benefits its shareholders.
The REIT's property portfolio includes 77 buildings, totaling 35.3 million rentable square feet (about 613 NFL football fields). This includes ownership interest in 27.1 million square feet of Manhattan buildings and 7.4 million square feet securing debt and preferred equity investments.
There's always a lot going on at SL Green Realty Corp, from new lease agreements, to acquisitions, to divestitures.
During the second quarter of 2021, ended June 30, the company:
Signed 42 Manhattan office leases covering 557,703 square feet
Closed on the sale of a property on Sixth Avenue, generating $313.2 million
Closed on the sale of its 20% interest in a property on West 42nd Street, for net proceeds of $54.5 million
Closed on the acquisition of the fee interest in a property on Fifth Avenue, for a gross purchase price of $28.0 million, thereby consolidating a leasehold position into 100% unencumbered fee ownership
Closed the $3.0-billion 10-year fixed-rate refinancing of a property on Vanderbilt Avenue
The new financing of the Vanderbilt Avenue property carries a stated coupon of 2.86%, equivalent to a rate of 2.95%. It replaces the previous $1.8-billion construction facility that had an outstanding balance of approximately $1.5 billion at the time of repayment.
$952.5-Million Sale of Property in Manhattan
In November 2020, SL Green Realty announced that it had entered a contract to sell a property on Tenth Avenue in Manhattan. The 636,000-square-foot office redevelopment was anchored by Amazon.com, Inc. (NASDAQ:AMZN) and First Republic Bank (NYSE:FRC), for gross consideration of $952.5 million. (Source: "SL Green Announces Sale of 410 Tenth Avenue," SL Green Realty Corp, November 4, 2020.)
Commenting on the sale back in November 2020, Brett Herschenfeld, managing director, said, "The sale of 410 Tenth Avenue is yet another indication of the Manhattan office market's resiliency and continued global demand for high-quality, trophy assets with credit rated tenants." (Source: Ibid.)
"While the asset was always intended to be held as a long-term investment, the sale will allow the company to achieve extraordinary profits, substantially reduce consolidated indebtedness and generate additional liquidity for share repurchases."
SL Green Realty Corp Increases Share Repurchase Program
In December 2020, the REIT's board of directors authorized an increase of its share repurchase program by $500.0 million, bringing the program's total to a whopping $3.5 billion. (Source: "SL Green Realty Corp. Announces $500 Million Increase to Share Repurchase Program," SL Green Realty Corp, December 7, 2020.)
Marc Holliday, chairman and CEO, noted in December 2020, "We believe the stock price continues to significantly lag behind the real financial value of the platform. So we intend to continue to invest in a strategic share repurchase program with the proceeds from asset sales as we believe strongly that using incremental capital to buy our stock provides our shareholders the highest return on investment." (Source: Ibid.)
At last count, the company has repurchased or redeemed a combined 4.0 million shares of its common stock and units under the plan. That brings the total repurchases and redemptions to 36.5 million shares/units.
SL Green Realty Corp also announced in December 2020 that it was increasing its annual ordinary dividend by 2.8% to $3.64 per share, and it declared a special dividend of $1.6967 per share.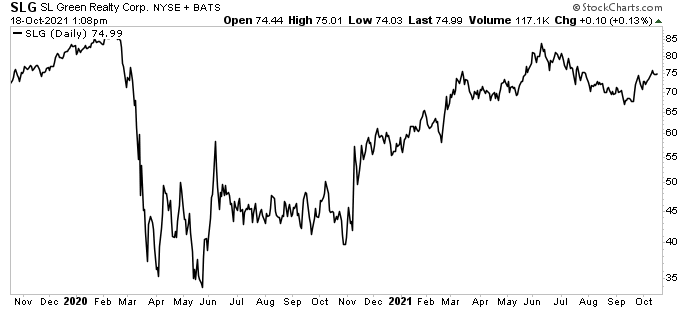 Chart courtesy of StockCharts.com
The Lowdown on SL Green Realty Stock
There's no official Landlord Appreciation Day, and there probably never will be, but if there was, RL Green Realty Corp investors would probably send the company a card.
The largest office landlord in New York City, SL Green Realty Corp has an enviable portfolio of trophy assets that provide it with reliable cash flow, which it passes on to SLG stockholders in the form of safe, high-yield, monthly dividends.