SKT Stock: An Overlooked Dividend-Paying Gem Yielding 5.8%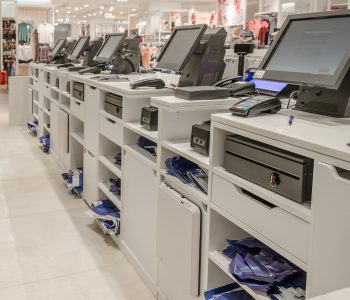 iStock.com/RobertoDavid
A Top Dividend Stock with a Rising Payout
Today's chart highlights a top dividend stock that's largely overlooked by investors.
It offers a 5.8% annual dividend yield and has been raising its payout every year for more than two decades.
The company in question is Tanger Factory Outlet Centers Inc. (NYSE:SKT), a real estate investment trust (REIT) headquartered in Greensboro, North Carolina. As the name suggests, Tanger specializes in outlet centers.
Stanley Tanger, the company's founder, started with one outlet center in Burlington, North Carolina in 1981. Over the years, the business expanded quite a bit. Right now, Tanger's portfolio consists of 43 upscale outlet shopping centers located in 22 states and Canada.
The number-one reason to consider this top dividend stock is its growing payout. While Tanger stock doesn't really get much attention from financial media, the company's dividend track record is nothing short of impressive. Since Tanger's initial public offering (IPO) in May 1993, the company has raised its quarterly dividend rate every single year.
The latest dividend hike arrived this April, when Tanger's board of directors approved a 5.4% increase in the company's quarterly dividend rate to $0.3425 per share. Since 2010, this top dividend stock's quarterly payout has grown by 76.7%.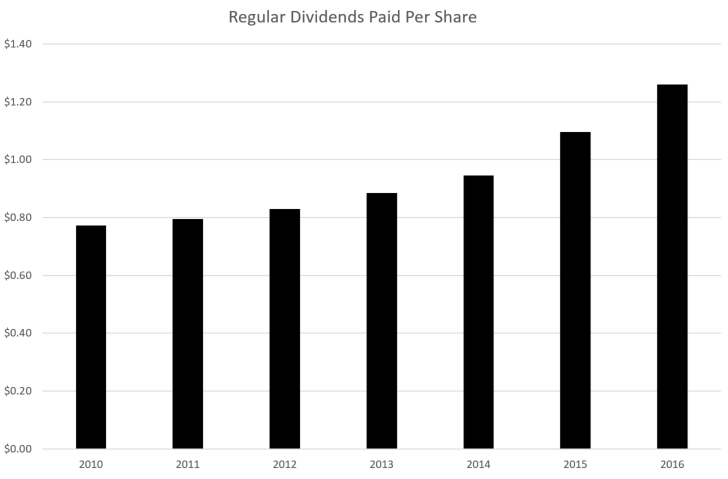 Source: "Dividend History," Tanger Factory Outlet Centers Inc., last accessed September 5, 2017.
High Dividend Backed by a Solid Business
Market sentiment hasn't been that optimistic towards this high-dividend stock. In particular, there have been some investor concerns about the retail industry in general. Over the last few years, it was not uncommon for department stores to report declining sales, store closures, and layoffs.
Does that mean that as a mall REIT, Tanger's future is doomed? Not really.
You see, Tanger is not your average retail REIT. The company focuses exclusively on outlet centers. These outlet centers connect consumers who are looking for bargains with more than 500 brand name companies. Every year, over 188-million shoppers visit Tanger's outlet centers.
And if you are worried about the struggling department stores, note that Tanger does not have a single department store tenant.
As a matter of fact, Tanger's same-center net operating income (NOI) has been consistently growing. In 2016, the company's same-center NOI increased by 3.3%. (Source: "Management Presentation," Tanger Factory Outlet Centers Inc., last accessed September 5, 2017.)
In addition, despite all the dividend increases, the company wasn't really paying out all that much. In the last 12 months, Tanger had a dividend payout ratio of 54.9%, leaving a sizable margin of safety. (Source: "Tanger Reports Second Quarter 2017 Results," Tanger Factory Outlet Centers Inc., August 1, 2017.)
However, due to the concerns surrounding the overall retail industry, this top dividend stock was far from being a market favorite. And since a company's dividend yield moves inversely to its share price, Tanger's lackluster share price performance means its yield has gone up quite a bit.
Trading at $23.70 apiece, this top dividend stock has an annual yield of 5.8%. To give you some perspective, the average dividend yield of all S&P 500 companies right now is less than two percent.
At the end of the day, the market is hard to predict. However, Tanger remains a solid company on a fundamental basis. With a growing business, a low payout ratio, and a high yield, Tanger is a top dividend stock for income investors.