Sitio Royalties Stock: 9.1%-Yielding Energy Play Hikes Dividend for 10 Straight Quarters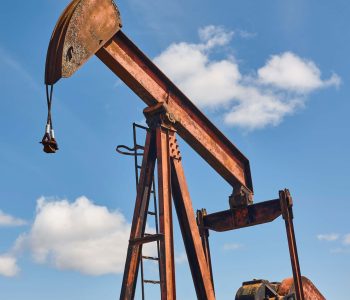 Why STR Stock Is Worth Considering Now
Wall Street investors are excited that data from the U.S. Labor Department shows that inflation cooled in October to its slowest pace since the start of 2022. This news sent stocks higher, with some commenters saying a bottom has already formed (it hasn't).
Lower inflation is good for consumers and stock investors, but 7.7% inflation is still too high and remains a concern for the Federal Reserve. While there's hope the Fed will put the brakes on oversized interest rate hikes, more increases are still in the cards. It's widely expected that the Fed will raise its interest rate by half a basis point when it meets in December. That would be lower than the recent four consecutive interest rate hikes of 75 basis points, or 0.75%.
Until inflation is tamed and the Fed starts to pivot back to lowering interest rates, stocks have room to fall. Analysts believe U.S. stocks won't bottom until the middle of 2023, and that the S&P 500 could fall as low as 3,200. That represents a decline of more than 18% from its current level.
Investors who seek a bullish play that's operating outside the current bear-market rally should look at Sitio Royalties Corp (NYSE:STR).
The company acquires, owns, and manages oil and natural gas mineral and royalty interests that are operated by a diverse set of exploration and production companies. It focuses on investing in mineral and royalty interests in the Permian Basin (the largest unconventional resource play in the U.S.) and other productive U.S. oil basins. The company currently owns more than 170,000 net royalty acres (NRAs)—more than 139,000 of which are in the Permian Basin. (Source: "Corporate Overview," Sitio Royalties Corp, last accessed November 14, 2022.)
Sitio Royalties Corp's Outlook Bolstered by Blockbuster Acquisitions
Sitio Royalties' strategy is to continue making large acquisitions that create long-term value for its shareholders. It's been busy doing just that in 2022.
In June, the company announced that it had completed its acquisition of more than 19,700 NRAs in the Permian Basin from Foundation Minerals, LLC for $232.0 million. In July, Sitio Royalties completed its previously announced acquisition of more than 12,200 NRAs in the Permian Basin from Momentum Minerals for $224.0 million. (Source: "Sitio Royalties Announces Highly Accretive Permian Basin Acquisitions," Sitio Royalties Corp, June 27, 2022.)
These acquisitions represent Sitio Royalties' fourth and fifth transactions in excess of 10,000 NRAs closed or signed since June 2021. Over that period, the company acquired 100,000 NRAs, growing its acreage position by more than 300%.
Chris Conoscenti, Sitio Royalties Corp's CEO, commented, "We are excited to announce these highly accretive acquisitions in the Permian Basin and continued execution of our returns-focused, large-scale mineral and royalty consolidation strategy." (Source: Ibid.)
Conoscenti continued, "We expect our shareholders to significantly benefit from efficiencies due to the increased scale of the company and a substantial increase to our dividend."
Those were big acquisitions, but they pale in comparison to Sitio Royalties' recent $4.8-billion agreement to acquire all of the stock of Brigham Minerals Inc (NYSE:MNRL). The combined companies would form the largest publicly traded mineral and royalty company in the U.S. The firms' combined portfolio will span 259,510 NRAs, with second-quarter net production of 32,800 barrels of oil equivalent per day (boe/d). (Source: "Sitio Royalties and Brigham Minerals to Combine in $4.8 Billion All-Stock, At-Market Merger," Sitio Royalties Corp, September 6, 2022.)
Sitio Royalties says the transaction, slated to close in the first quarter of 2023, "brings together two of the largest public companies in the oil and gas mineral and royalty sector with complementary high-quality assets in the Permian Basin and other oil-focused regions…" (Source: Ibid.)
Sitio Royalties Corp Reports Third-Quarter Financials & Hikes Dividend
For the third quarter ended September 30, Sitio Royalties reported net income of $69.0 million, down by four percent from its second-quarter net income but up significantly from $13.7 million in the third quarter of last year. The company's cash flow from operations in the third quarter went up by 89% sequentially to $82.6 million. (Source: "Sitio Royalties Reports Third Quarter 2022 Operational and Financial Results," Sitio Royalties Corp, November 8, 2022.)
Also in the third quarter, Sitio Royalties had an average daily production volume of 17,990 Boe/d (51% oil), up by 45% from the second quarter.
Sitio Royalties Corp's high cash flow allowed its board to declare a third-quarter cash dividend of $0.72 per share, for a yield of 9.1%. This payout was a 380% increase over the $0.155 dividend per share that Sitio Royalties stock paid out in the third quarter of 2021. Management has increased STR stock's dividend for the last 11 consecutive quarters.
High oil and gas prices have been helping juice not just Sitio Royalties stock's dividend, but also its share price. As of this writing, STR stock is trouncing the broader market, up by:
30% over the last month
80% year-to-date
58% year-over-year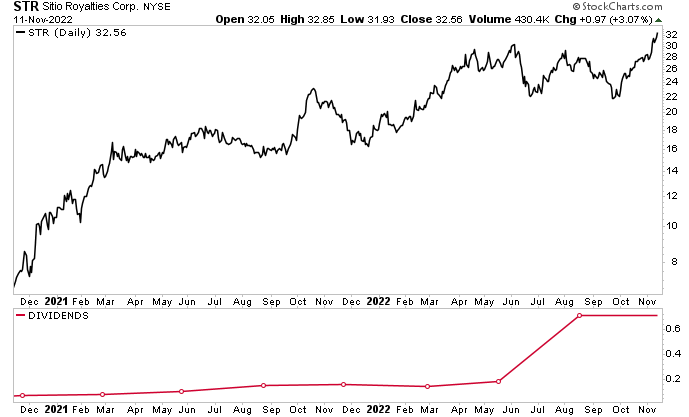 Chart courtesy of StockCharts.com
The Lowdown on Sitio Royalties Stock
Sitio Royalties Corp is a mineral and royalty company with a growing position in the oil-rich Permian Basin. In June and July, the company closed on its previously announced acquisitions of approximately 21,000 NRAs in the Permian Basin from two companies. In September, Sitio Royalties announced its all-stock merger with another company that will add about 85,000 NRAs to its portfolio, half of which are in the Permian Basin.
Management said this will not only energize Sitio Royalties Corp's average daily production, but will benefit shareholders with a substantial increase to STR stock's already high-yield dividend.
With energy prices high these days, investors might want to strike while the iron is hot.