Sisecam Resources LP: Undervalued 13.2%-Yielder Hikes Dividend 91%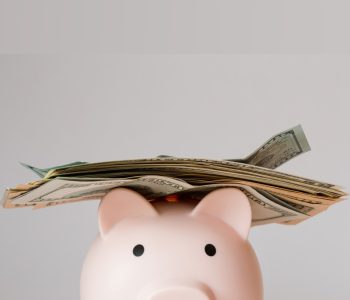 SIRE Stock Bullish on High Demand for Soda Ash
Soda ash might not be as scintillating as gold, silver, oil, or natural gas, but it's just as important. The high demand for the inorganic compound, which is used in products such as glass and rechargeable lithium batteries, has helped juice Sisecam Resources LP's (NYSE:SIRE) share price and dividend yield.
Sisecam Resources LP (formerly Ciner Resources LP) is the world's largest producer of natural soda ash. The company is headquartered in Atlanta, GA, but its production facility is in Green River, WY. (Source: "CINER," Ciner Resources Corporation, last accessed April 28, 2022.)
Soda ash might be one of the most abundant natural resources, but while trona ore (which soda ash is made of) can be found in many places, the world's purest, largest, and most accessible deposit is in Wyoming's Green River Basin.
Sisecam Resources LP's Green River Basin surface operations are situated on approximately 2,360 acres. Its mining operations consist of about 23,500 acres of leased and licensed subsurface mining area. The company's mining leases and license are for two mining beds at depths of 800 to 1,100 feet. (Source: "Form 10-K," United States Securities and Exchange Commission, last accessed April 28, 2022.)
Sisecam's reserves of trona are estimated to be 220.0 million short tons, which is equivalent to 119.1 million short tons of soda ash. This provides the company with enough proven and probable trona reserves (using current mining techniques) to last more than 50 years.
Sisecam Resources LP processes its trona ore into soda ash, which is an essential raw material in flat glass, Internet cables, fiberglass, lightbulbs, container glass, detergents, lithium batteries, paper, and other products. Thanks to its flexibility, Sisecam's soda ash is used by industries including building, automotive, home, cleaning supplies, power generation, beverages, glass bakeware, mining, and water treatment.
Sisecam Resources LP has more than 70 domestic customers. The majority of its domestic sales come from clients who have done business with Sisecam for more than 10 years, with contracts for one-year to three-year periods. This provides the company with reliable cash flows.
As one of the leading low-cost producers of trona-based soda ash, Sisecam Resources LP is well positioned to capitalize on the expected worldwide growth of the demand for soda ash. Consumption in the U.S. is expected to remain relatively flat for the foreseeable future, but the worldwide demand for soda ash is robust.
Global demand for soda ash was 62.7 million metric tons (equivalent to 69.1 million short tons) in 2021, and it's projected to be 66.1 metric tons (equivalent to 72.9 million short tons) in 2022.
In December 2020, Sisecam Resources LP exited the American Natural Soda Ash Corporation (ANSAC), a sales, marketing, and logistics arm for several U.S. soda ash producers. This move allowed Sisecam to improve its access to customers and gain control over the placement of its sales in the international marketplace. (Source: "Ciner's Early Exit From ANSAC," Ciner Resources Corporation, last accessed April 28, 2022.)
Sisecam Resources LP's Stock Price & Dividend On the Move
An influx of cash, great financial results, and increased demand for soda ash have helped rejuvenate Sisecam's share price. As of this writing, Sisecam Resources stock is up by:
25% over the last three months
25% year-to-date
62% year-over-year
SIRE stock's ultra-high dividend yield has also been rejuvenated. As you can see in the chart below, Sisecam Resources LP cut its dividend in early 2019 in response to weak demand for soda ash.
The demand for soda ash remained muted throughout 2020 and the first half of 2021 due to the COVID-19 pandemic. Therefore, in August 2020, the company announced it was suspending its dividends.
Since then, the worldwide demand for soda ash has picked up in the post-pandemic economy, and that has led Sisecam Resources LP's board to hike its distribution. In January, the board declared a quarterly dividend of $0.65 for the fourth quarter of 2021. This represents a 91% increase from the dividend declared in October 2021 of $0.34, which was where the payout stood just before the company suspended its dividends in 2020. (Source: "Ciner Resources LP Announces Quarterly Cash Distribution," Ciner Resources LP, January 27, 2022.)
The $0.65 distribution is Sisecam Resources LP's highest quarterly distribution on record, and is 14% higher than the $0.567 per unit it paid out before the pandemic.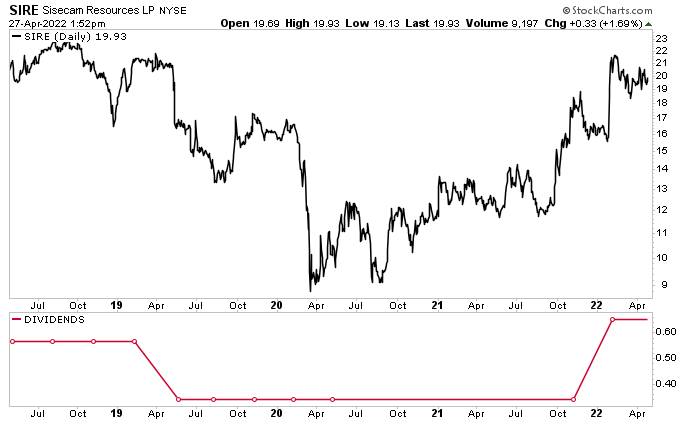 Chart courtesy of StockCharts.com
Even though Sisecam's resumption of its high-yield payout will warm the cockles of any dividend hog, the big question is whether the dividend is safe. For now, it most certainly is. The company's payout ratio is a paltry 28.6%.
For the fourth quarter, Sisecam announced that its net income jumped by 85.8% year-over-year to $23.6 million, while its full-year net income advanced 91% to $51.4 million. (Source: "Sisecam Resources LP Announces Fourth Quarter and Year Ended 2021 Financial Results," Business Wire, March 14, 2022.)
The company reported fourth-quarter 2021 adjusted earnings before interest, taxes, depreciation, and amortization (EBITDA) of $32.4 million, a 48.6% increase over the prior year's fourth-quarter adjusted EBITDA. Its year-end adjusted EBITDA were up by 43.7% at $88.5 million.
Sisecam Resources LP's fourth-quarter earnings per unit climbed by 86.7% to $0.56. Its year-end earnings per unit more than doubled year-over-year to $1.19.
The company's fourth-quarter distributable cash flow went up by 135.7% year-over-year to $13.2 million. Its year-end distributable cash flow climbed by 70.6% year-over-year to $29.0 million.
"In a year that began with a challenging market backdrop, we are excited to report a strong finish to 2021 and the start of a new strategic partnership," said Oğuz Erkan, Sisecam Resources LP's CEO at the time. (Source: Ibid.)
He added, "The surge in export pricing translated into the best quarterly earnings since 2019. Record volumes of 743 thousand tons sold in Q4 2021 resulted in net sales of $156.0 million and net income of $23.6 million."
The Lowdown on Sisecam Resources Stock
As mentioned earlier, Sisecam Resources LP is the world's biggest producer of natural soda ash, giving it a stronghold in the chemicals industry.
SIRE stock is an excellent high-yield dividend stock, but because the company is in the basic materials sector, Sisecam Resources stock isn't one of those stocks you can buy and forget about. While soda ash is used in a huge number of products, its price fluctuates based on where we are in the economic cycle. In fact, the Federal Reserve monitors soda as an indicator of the condition of the U.S. economy.
Right now, the worldwide demand for soda ash is robust. Sisecam Resources LP has been reporting wonderful financial results, its share price is up, and it reinstated (and increased) its high-yield dividend to a record-high level.