Simon Property Group Stock: 6.5%-Yielder Raised Guidance & Quarterly Dividend (Again)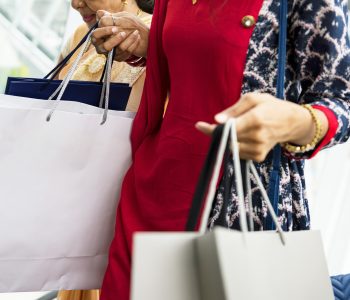 Undervalued SPG Stock Has High Upside Potential
Real estate investment trusts (REITs) have been taking a hit lately, after the Federal Reserve signaled that interest rates would need to climb even higher and stay high for a longer period to curb the stubbornly high inflation.
Higher borrowing costs put pressure on REITs and their profits, but not all REITs are feeling the pinch. Simon Property Group Inc (NYSE:SPG) recently reported another quarter of strong financial results, increased its full-year guidance, and hiked its quarterly dividend.
Simon Property Group owns premier shopping, dining, entertainment, and mixed-use destinations across North America, Europe, and Asia. In 1993, its real estate portfolio consisted of 114 properties, primarily middle-market malls in the Midwest. Today, the company's diverse portfolio includes more than 250 properties in 37 U.S. states and 14 countries. (Source: "Simon 2022 Annual Report," Simon Property Group Inc, last accessed September 26, 2023.)
The REIT's properties in the U.S. include The Shops at Crystals in Las Vegas, Nevada (the only all-luxury shopping destination in the U.S.), Sawgrass Mills in Sunrise, Florida (the state's largest outlet, value-retail, and entertainment destination), and Woodbury Common Premium Outlet in Central Valley, New York (a shopping destination with 250 well-known global retail brands).
Like all good REITS, Simon Property Group Inc is always looking to expand. In 2022, it completed 14 redevelopment projects in the U.S. and opened 44 anchor/specialty tenants. The company expects to open 40 more in 2023.
The REIT's global properties are anchored by more than 3,000 brand powerhouses, including "Apple," "Aritzia," "Giorgio Armani," "Gucci," "Hermes," "Hugo Boss," "Louis Vuitton," "Microsoft," "Omega," and "Tiffany & Co." (Source: "Iconic Properties Infinite Opportunities," Simon Property Group Inc, last accessed September 26, 2023.)
In addition to premium retail spaces, the company's growing portfolio includes office, hotel/residential properties, and partner outlets. Over the last several years, it has added more than 4,200 hotel and residential units to its portfolio.
Simon Property Group Inc also owns an 80% noncontrolling interest in The Taubman Realty Group, LLC, which has interests in 24 regional, super-regional, and outlet malls in the U.S. and four mall properties in Asia.
It also has a 22.4% equity stake in Paris, France-based Klépierre SA (EPA:LI, OTCMKTS:KLPEF), Europe's second-largest publicly traded mall operator, which owns more than 130 properties in 14 European countries.
Solid Q2 Results & Increased 2023 Guidance
To fully appreciate how well Simon Property Group Inc has been doing, you need to take a look at how well it performed before the COVID-19 pandemic.
In 2019, the company posted industry-leading record-high results, including revenues ($5.75 billion), cash flow ($4.04 billion), and funds from operations (FFO) ($4.39 billion). It also paid $8.30 per share in cash dividends that year.
Then the pandemic hit. Like the rest of the globe, Simon Property Group Inc suffered. That's not a big surprise; quarantined shoppers couldn't go to malls. Since then, though, the company's revenues, FFO, dividends, share repurchases, and share price have come roaring back.
In 2021, the REIT reported significant occupancy gains and record-high retailer sales. Its full-year revenues increased by more than $500.0 million to $5.12 billion, cash flow increased by $1.3 billion to $3.88 billion, and FFO climbed by $1.2 billion to $4.49 billion, allowing the company to increase its quarterly dividend by 27%. (Source: "2021 Annual Report," Simon Property Group Inc, last accessed September 26, 2023.)
The company did even better in 2022, with consolidated revenues of $5.3 billion, FFO of $4.5 billion, net operating income of $6.1 billion, and net income of $2.14 billion ($6.52 per share).
It looks like Simon Property Group's full-year 2023 results will be even better.
In the second quarter, the company reported net income of $486.3 million, or $1.49 per share. Its FFO inched down to $1.07 billion, or $2.88 per share. It ended the quarter with $8.8 billion in liquidity. (Source: "Simon Reports Second Quarter 2023 Results and Increases Full Year 2023 Guidance and Raises Quarterly Dividend," Simon Property Group Inc, August 2, 2023.)
Its total occupancy increased in the second quarter to 94.7%, compared to 93.9% as of June 30, 2022. Its base minimum rent per square foot went up by 3.1% year-over-year to $56.27.
For full-year 2023, Simon Property Group expects to report net income in the range of $6.39 to $6.49 per diluted share and FFO in the range of $11.85 to $11.95 per share. Its FFO forecast is up from its previous guidance in the range of $11.80 to $11.95 per diluted share.
The company is quickly closing in on its pre-pandemic income and FFO levels. In 2019, it earned net income of $6.81 per share and FFO of $12.04 per share.
Simon Property Group Inc Hiked Quarterly Distribution Again
Simon Property Group is known for its reliable, growing dividends and share buybacks. Since going public in September 1993, Simon Property Group stock has paid out roughly $40.0 billion in dividends. In 2022 alone, it returned $2.8 billion to shareholders: $2.6 billion in dividends and $180.0 million in share buybacks.
In August, the company declared a quarterly dividend of $1.90 per share, up by $0.15, or 8.6% year-over-year. (Source: Ibid.)
This dividend works out to a yield of 6.78% (as of this writing).
Simon Property Group Inc has a solid history of raising its dividends: seven times over the last two years. It's not always sunshine and roses, though, even for cash-rich REITs like Simon Property Group. The company cut its dividend during the pandemic–from $2.10 per share in February 2020 to $1.30 per share in June 2020. It held the payout level there until June 2021, when it raised its dividend to $1.40 per share.
SPF stock's dividend has been going up steadily since then. And thanks to continued strong financial results and raised guidance (which includes the ever-important FFO), there's every reason to believe that the company will raise its dividend again over the coming quarters.
Simon Property Group Stock Has 45% Upside Potential
What's better than reliable, growing, ultra-high-yield dividends? Not much, truth be told, but a growing share price certainly helps. And Simon Property Group Inc has that.
SPG stock's price is down from its November 2021 high of $148.55 to about $109.68 (as of this writing). That decline can be attributed more to investor concerns about inflation and rising interest rates than anything else.
Simon Property Group stock continues to do well by any metric, up by approximately 10% over the last six months and 34% year-over-year.
The outlook for SPG stock remains bullish, with Wall Street analysts' 12-month projection landing in the range of $126.50 to $160.00 per share. This points to potential gains in the range of 15% to 45%.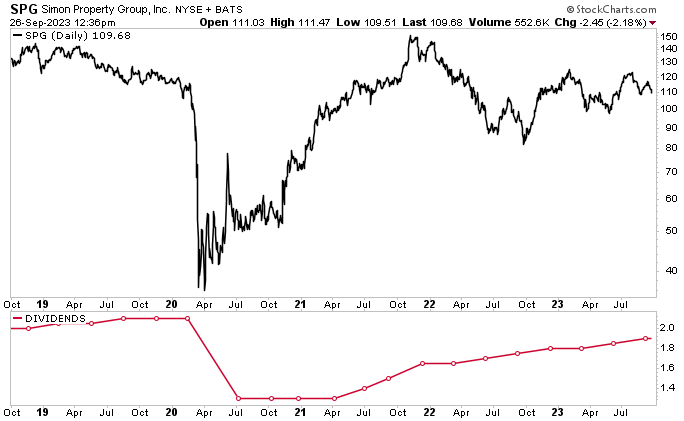 Chart courtesy of StockCharts.com
The Lowdown on Simon Property Group Inc
Investors may be bearish on REIT stocks, especially retail REIT stocks, but there's every reason to be optimistic about Simon Property Group stock.
Thanks to the top-tier brands of its tenants, the company's retail properties are popular with high-income earners and international tourists. This has been helping Simon Property Group Inc report excellent financial results in the post-pandemic economy.
The REIT has the No. 1 balance sheet in its industry, it has once again raised its full-year guidance, and it recently increased its high-yield, inflation-crushing, quarterly dividend.