Simon Property Group Inc: Strong Q3 Leads to Dividend & Guidance Increase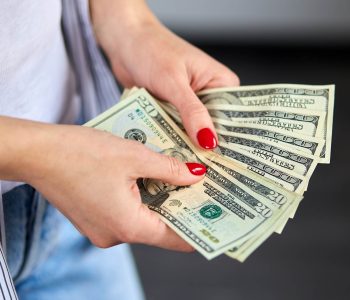 Here's Why SPG Stock Is Worth Watching
Online retailers have taken a massive chunk out of the business of physical retailers, and COVID-19 has taken it to a whole different level. With many people quarantined at home and millions unemployed, shopping malls became ghost towns. This devastated the share prices of retail real estate investment trusts (REITs).
The ensuing economic recovery hasn't been kind to all retail REITs; it has all come down to the kinds of stores in their malls. One retail REIT that has been leading the charge is Simon Property Group Inc (NYSE:SPG).
It seems that consumers who had lots of money before the pandemic have fared much better than those who didn't. And those wealthy shoppers have helped Simon Property Group stock erase all of its pandemic-related losses quicker than most retail stocks.
As of this writing, SPG stock is up by:
19% over the last month
100% year-to-date
133% year-over-year
330% since bottoming in April 2020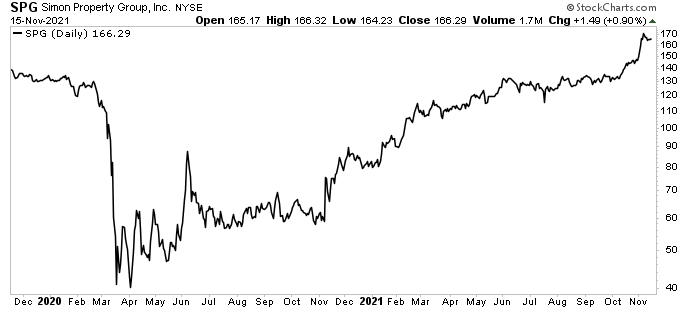 Chart courtesy of StockCharts.com
Simon Property is a global leader in the ownership of premier shopping, dining, entertainment, and mixed-use destinations in North America, Europe, and Asia. The company has retail properties in 37 U.S. states and Puerto Rico. (Source: "About," Simon Property Group Inc, last accessed November 16, 2021.)
The company's iconic properties in top-tier markets include The Forum Shops at Caesars in Las Vegas, NV; Desert Hills Premium Outlets in Cabazon, CA; The Galleria in Houston, TX; King of Prussia in Philadelphia, PA; and Sawgrass Mills in Sunrise, FL. (Source: "Iconic Properties Infinite Opportunities," Simon Property Group Inc, last accessed November 16, 2021.)
The company currently has 209 properties with more than 23,270 shops carrying 2,917 brands. Each year, three billion customers spend their money at its premium shops, including "Burberry," "Gucci," "Louis Vuitton," and "Versace." Those happy shoppers help Simon Property Group generate $60.0 billion in annual U.S. sales.
To put that number in perspective, that's higher than the combined U.S. sales of America's top two e-commerce retailers, Amazon.com, Inc. (NASDAQ:AMZN) and Apple Inc (NASDAQ:AAPL).
In addition to providing high-end places to shop, Simon Property Group Inc has diversified its offerings over the years to include non-retail elements including entertainment venues, dining, hotels, and office spaces.
While many REITs were hunkering down in 2020, Simon Property Group was busy expanding its geographic reach.
As of December 31, 2020, it owned a 22.4% interest in Klépierre SA (EPA:LI, OTCMKTS:KLPEF), a French REIT that's Europe's second-biggest publicly traded mall operator. As of that date, it also owned an 80% interest in Taubman Realty Group LP, which owns 24 regional, super-regional, and outlet malls in the U.S. and Asia.
Impressive Q3 Results
For the third quarter ended September 30, Simon Property Group announced that its net income increased by 365% year-over-year to $679.9 million, or $2.07 per share. (Source: "Simon Property Group Reports Third Quarter 2021 Results; Increases Full Year 2021 Guidance and Raises Quarterly Dividend," Simon Property Group Inc, November 1, 2021.)
Its funds from operations (FFO) were $1.2 billion, or $3.13 per diluted share. That's a 52.7% increase over the third-quarter 2020 FFO of $723.2 million, or $2.05 per diluted share.
The REIT's domestic property net operating income (NOI) increased by 24.5% compared to the prior-year period. Its portfolio NOI—including NOI from domestic properties, international properties, and the company's stake in Taubman Realty Group—increased by 34.3% compared to the prior-year period.
Here are some other highlights from Simon Property Group Inc's third quarter.
The first phase of Northgate Station in Seattle, WA (featuring the National Hockey League's Seattle Kraken corporate offices and the Kraken Community Iceplex) opened. This first phase is part of a multi-year development that will evolve Northgate Station into a mixed-use, transit-oriented community.
The redevelopment of Burlington Mall in Boston, MA opened.
Construction began on Fukaya-Hanazono Premium Outlets, the 10th Premium Outlet Center in Japan. The 292,500-square-foot upscale outlet in Fukaya is projected to open in October 2022. Simon Property Group owns 40% of this project.
Jeju Premium Outlets on Jeju Island, South Korea opened on October 15. Jeju Premium Outlets is the fifth Premium Outlet Center in South Korea. Simon Property Group owns a 50% interest in this center.
Simon Property Group Inc Raises Dividend & Guidance
Thanks to the recovery of brick-and-mortar retail sales, Simon Property Group has been able to resume raising its dividends. In fact, it has raised its dividends for the last three consecutive quarters.
Simon Property Group Inc's excellent financial results allowed the company to increase its dividend to $1.65 for the fourth quarter. That's a 10% increase from the $1.50 in the third quarter and a 26.9% increase from the $1.30 in the fourth quarter of last year. This translates to a yield of four percent.
Simon Property Group Inc actually has a long history of raising its quarterly dividends. As you can see in the chart below (the red line), the REIT has consistently raised its payout since 2010. It might look like its payout dipped in 2012, but that was a result of a special dividend, not a reduction.
The company only cut its dividend in 2020 to deal with the coronavirus pandemic. While some dividend hogs might not have liked that, it's important to note that Simon Property Group was one of the few REITs in the retail sector to not totally suspend its dividends in 2020.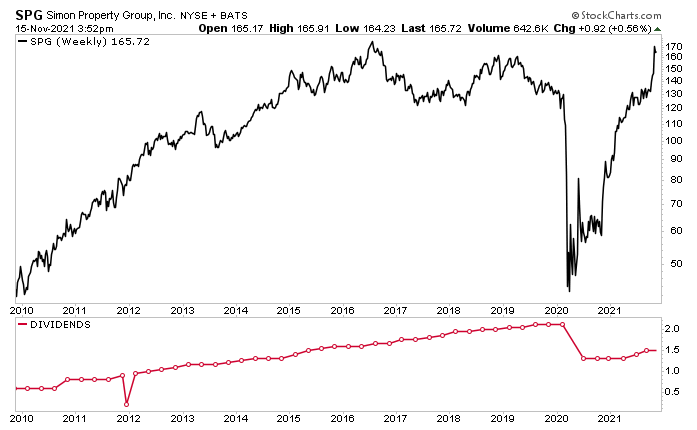 Chart courtesy of StockCharts.com
Moreover, Simon Property Group raised its full-year net income guidance to be in the range of $6.61–$6.71 per share and raised its FFO guidance to be in the range of $11.55–$11.65 per share. The FFO guidance increased from the range of $10.70–$10.80 per diluted share on August 2.
The Lowdown on Simon Property Group Stock
Simon Property Group Inc is the largest mall REIT, managing one of the top retail property portfolios in the U.S. Its premier malls and outlet malls are popular with high-income earners and international tourists.
The company has been reporting impressive financial results, it has resumed increasing its dividends, and it has raised its full-year guidance.
Thanks to increased consumer demand, $8.0 billion in liquidity, and three consecutive dividend increases, there's every reason to believe that Simon Property Group will continue to dominate the premier shopping, dining, and entertainment REIT environment—and continue to reward buy-and-hold investors of SPG stock with both share-price growth and income.