Sibanye Stillwater Ltd: Mining Stock With Inflation-Trumping 11.1% Dividend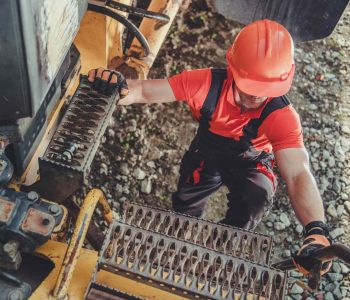 SBSW Stock an Emerging Green Energy Metals Play
The U.S. inflation rate, which the Feds maintain is transitory, hit a 13-year high in September, with rising costs for food and shelter pushing the rate up to 5.4%. It's not going to get better anytime soon; most analysts expect elevated inflation to last deep into 2022.
For income investors looking for an extra source of cash to combat soaring inflation, there aren't many options. The best yield on two-year certificates of deposit (CDs) hovers around a measly 0.85%. The average dividend yield on S&P 500 stocks is currently less than 1.4%.
One high-yield dividend stock that can help investors trounce the rising inflation is South Africa-based miner Sibanye Stillwater Ltd (NYSE:SBSW).
Sibanye Stillwater stock provides an annual dividend of $1.67 per share, for a juicy yield of 11.1%. That's significantly higher than the U.S. gold industry's dividend yield, which is just above two percent, and the S&P 500's dividend yield, which is 1.4%.
This dividend stock's high yield isn't a fluke because its share price tanked. Thanks to a resilient precious metals market, SBSW stock has been performing well, up by 39% year-over-year and 16% month-over-month.
Sibanye Stillwater Ltd's dividend policy is to return at least 25% to 35% of its normalized earnings to Sibanye Stillwater stockholders. The reason the company can afford to pay such a high-yield dividend is that it makes a lot of money.
Sibanye Stillwater is a leading international precious metal mining company. It has a diverse portfolio of platinum group metal (PGM) operations in the U.S. and southern Africa; gold operations and projects in South Africa; and copper, gold, and PGM exploration properties in North and South America. (Source: "IR Presentation: September/October 2021," Sibanye Stillwater Ltd, last accessed October 21, 2021.)
In the U.S., its operations consist of Stillwater and East Boulder in Montana, the only known significant source of PGMs in the U.S. and the highest-grade PGM deposit in the world.
PGMs consist of platinum, palladium, rhodium, iridium, ruthenium, and osmium. The automotive sector is the largest end user of platinum, palladium, and rhodium, all of which are used in the exhaust systems of internal combustion vehicles.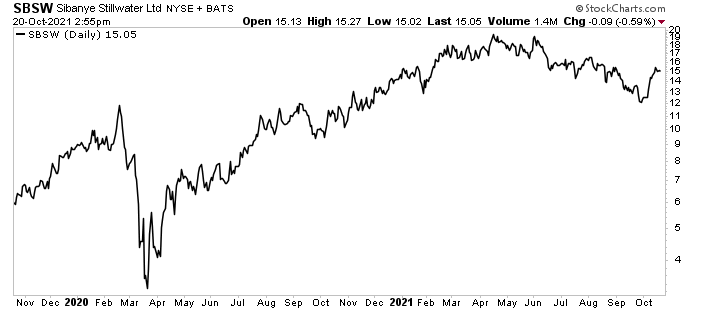 Chart courtesy of StockCharts.com
Sibanye Stillwater Ltd Expands Mining Strategy to Include Battery Metals
There's more to Sibanye Stillwater than gold, copper, and PGMs. The company has been expanding into commodities tied to the green energy revolution. This includes metals used in electric vehicle batteries.
In February, Sibanye Stillwater announced its entry into the battery metal space with its €30.0-million (US$35.0-million) purchase of a 30% stake in Keliber Oy, a Finnish mining company that's looking to produce battery-grade lithium hydroxide. (Source: "Sibanye-Stillwater Secures Entry Into the Battery Metals Sector Through a Partnership With and Investment Into Keliber," Sibanye Stillwater Ltd, February 23, 2021.)
Keliber Oy has 9.3 million tonnes of ore reserves, which is sufficient for more than 13 years of operation. Production is expected to begin in 2024, with planned production of 15,000 tonnes of battery-grade lithium hydroxide per year.
Sibanye Stillwater will have no trouble selling its lithium, thanks to the growing demand for hybrid vehicles, rechargeable hybrid vehicles, and all-electric vehicles. The demand for lithium is projected to grow to 900,000 lithium carbonate equivalent (LCE) tonnes by 2027 and to almost 2.8 million LCE tonnes by 2040.
Deal to Buy Nickel Processing Facility in France
In July, Sibanye furthered its exposure to the battery metals sector with its acquisition of a nickel hydrometallurgical processing facility in France for €65.0 million (US$75.8 million). (Source: "Sibanye-Stillwater Progresses Battery Metals Strategy With the Exclusive Put Option to Acquire Eramet's Sandouville Nickel Processing Facilities," Sibanye Stillwater Ltd, July 30, 2021.)
The Sandouville facility is located in Le Havre, which is France's second-largest industrial port. The facility includes a hydrometallurgical nickel refinery with an annual production capacity of 12,000 tonnes of high-purity nickel metal, 4,000 tonnes of high-purity nickel salts and solutions, and about 600 tonnes of cobalt chloride.
On a recent investor call, Sibanye Stillwater Ltd's CEO, Neal Froneman, said, "At the moment it's very difficult to find value in the gold sector. I don't see the gold price doubling or tripling, but I see battery metals doing that in the not too distant future." (Source: Ibid.)
As such, Froneman has transformed Sibanye from a gold miner focused on South Africa to a giant in PGMs by expanding its international operations. Nevertheless, earlier this year, the CEO said he was prepared to spend as much as $5.0 billion on gold assets with an annual output of more than one million ounces.
The Lowdown on Sibanye Stillwater Stock
Sibanye Stillwater Ltd has primarily been known as a South Africa-based gold miner, but it has evolved over the years.
The company has expanded into PGMs and, more recently, green energy metals. Its immediate priority is to increase its battery metal operations. To that end, Sibanye Stillwater struck a deal to buy a nickel processing facility and a major stake in the owner of a lithium project.
All the while, the company has continued to report record financial results, which have helped juice the price of SBSW stock and allow the company to continue rewarding investors with reliable, high-yield dividends.