Should Investors Pick Up This 11.7% Yielder off the Floor?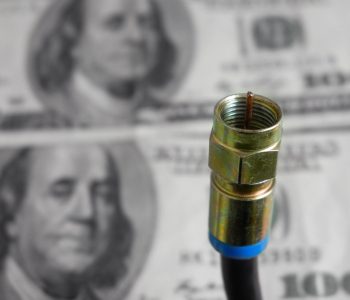 iStock.com/zimmytws
1 High-Yield Stock That's Actually Worth Considering
With the U.S. stock market surging past its all-time high, value is hard to find. And since a company's dividend yield moves inversely to its share price, a soaring stock market mean that yields are getting lower. In fact, the average dividend yield of all S&P 500 companies right now is just 1.9%, significantly lower than its historical average of 4.4%.
And that's why you may want to take a look at this beaten-down stock I'm about to show you. The company has attractive valuations and offers a jaw-dropping dividend yield of 11.7%.
I'm talking about CenturyLink Inc (NYSE: CTL), a telecommunications company headquartered in Monroe, Louisiana.
One of the reasons why CenturyLink can offer such a generous dividend yield is the downturn in its share price. In the past 12 months–a period where the Dow, the NASDAQ, and the S&P 500 soared past their all-time highs–CTL stock plunged more than 30%. Ouch!
What this also means, though, is that value could start to appear. In particular, trading at $18.42 apiece, CenturyLink has a price-to-book ratio of just 0.77 times. In other words, if someone purchases CTL stock today, they would be paying just $0.77 for each dollar of the book value of its equity. That's a 23% discount!
Of course, some might say that the stock is trading at a discount because its assets are not really worth that much. But if you take a closer look at the company, you can see that what it owns is actually quite valuable.
As I mentioned earlier, CenturyLink is in the telecom business. Its basic services include broadband, voice, and video services. The company also provides network and data systems management, big data analytics, managed security services, hosting, cloud services, and IT consulting services to enterprise customers. These services are backed by its robust 265,000 route miles of U.S. fiber network and a 360,000-route-mile international transport network.
The key to note here is that fiber-optic communication has been playing an increasingly important role in the telecom business. With more data being created and transmitted than ever before, CenturyLink's fiber network is actually a mission-critical part of the modern day telecom infrastructure.
A New Catalyst for the High-Yield Stock?
So we know that CenturyLink's assets are quite important and that the stock is trading at a discount. What's more is that in the near future, the company could get a new catalyst.
You see, enterprise high-bandwidth data services is currently the biggest segment at CenturyLink. And this segment could get a big boost thanks to a pending acquisition.
Last year, CenturyLink announced that it would acquire Level 3 Communications, Inc. (NYSE:LVLT) in a deal valued at $34.0 billion. (Source: "CenturyLink to acquire Level 3 Communications," CenturyLink Inc, October 31, 2016.)
Buying Level 3 would increase CenturyLink's fiber network by approximately 200,000 route miles. It would also make the combined company the second-largest U.S. communications company servicing global enterprise customers. (Source: "CenturyLink to Acquire Level 3," CenturyLink Inc, last accessed September 21, 2017.)
After the merger, the combined company will have a fiber network covering 350 metropolitan areas, or approximately 75,000 buildings.
In terms of annualized enterprise wholesale revenue, the acquisition would make CenturyLink bigger than Verizon Communications Inc (NYSE:VZ), and only smaller than AT&T Inc. (NYSE:T) among all U.S. based companies.
As we know, telecommunications is an industry with high barriers to entry. Limited competition has allowed the established companies to make money hand over fist. Becoming one of the biggest players in the enterprise telecom business would certainly be good news for CenturyLink.
The deal would also improve the company's financial profile. Because the two companies are running similar businesses, the merger is expected to create operating cost savings of approximately $850 million every year. The companies also estimated that the deal would lead to a one-time integration cost saving of around $685.0 million.
What about dividends? Well, in the investor presentation accompanying the acquisition announcement, CenturyLink said that the deal would "drive robust free cash flow" and result in a "significantly lowered dividend payout ratio." (Source: Ibid.)
While a merger like this certainly raises some antitrust concerns, the deal has received regulatory approvals in 24 of the 25 required states and territories. In an announcement earlier this month, CenturyLink said that it expects the transaction to close in mid-to-late October of this year. (Source: "CenturyLink announces revised timeframe for closing of Level 3 acquisition," CenturyLink Inc, September 12, 2017.)
Final Thoughts on This High Yield Stock
There you have it. CenturyLink stock is trading at a sizable discount to its book value, and offers a dividend yield more than six times the market average. Adding in its pending acquisition, this high yield stock is certainly worth considering for income investors.