SFL Corporation Ltd: 9%-Yielding, Inflation-Busting Stock Hikes Dividend 20%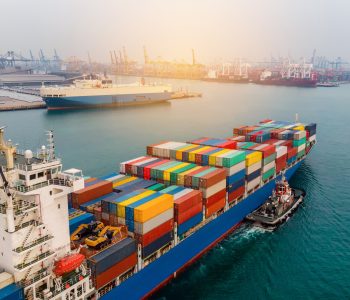 Why Investors Should Consider SFL Stock in 2022
What's not to like about a diversified company like SFL Corporation Ltd (NYSE:SFL)? It has a highly predictable cash flow, a rising share price, and a growing ultra-high dividend yield. Moreover, the company has been thriving during the supply-chain crunch and is expected to continue doing so for years to come.
SFL is an international ship owning and chartering company. Whereas many marine shipping companies specialize in specific industries, like oil and gas, SFL's diversity gives it legs during multiple market cycles. The company currently owns 16 tankers, 15 dry bulk ships, 35 liners, two offshore vessels, and six car carriers. (Source: "Q3 2021 Presentation," SFL Corporation Ltd, November 10, 2021.)
The contract duration on its shipping portfolio consists of:
Eight years for its 35 containers
Six years for its six car carriers
Six years for its 15 dry bulk ships
Nine years for its 16 tankers
The company's fleet size is always in flux as it evolves to meet industry demand. In November 2021, the company agreed to acquire four modern "Aframax" Long Range 2 (LR2) product tankers for an aggregate purchase price of $160.0 million. (Source: "SFL – Acquisition of Four LR2 Product Tankers in Combination With Long Term Charters," SFL Corporation Ltd, November 22, 2021.)
The vessels were built in 2014 and 2015. At the time of the announcement, SFL expected to take delivery of them between December 2021 and February 2022. The ships have long-term time charters with a subsidiary of Trafigura Group Pte. Ltd., a world-leading commodity trading and logistics company.
The charter period of the vessels will be for a minimum of five years, and there are extension options. This will add approximately $160.0 million to SFL Corporation Ltd's fixed-rate backlog. The charterer will also have the option to develop a sale of the vessels during the charter period.
The company's other recent events include:
The acquisition of three "Suezmax" tankers with five-year charters, adding approximately $140.0 million to SFL's charter backlog
The sale of seven smaller dry bulk vessels, with $98.0 million of cash received in Q4 2021
The chartering out of two dry bulk "Supramax" ships for a minimum of 12 months and one feeder container ship for a minimum of 3.5 years
The delivery of five vessels on charter to Maersk and Evergreen Marine Corp Taiwan Ltd, adding more than $300.0 million to the company's charter backlog
(Source: "Preliminary Earnings Release: Q3 2021," SFL Corporation Ltd, November 10, 2021.)
In addition to Trafigura, Maersk, and Evergreen Marine, SFL has long-term vessel agreements with Golden Ocean Group Ltd, "K" Line, Mediterranean Shipping Company, Phillips 66, and Volkswagen Group.
SFL Corporation Ltd Declares 71st Consecutive Quarterly Dividend
Because of SFL Corporation Ltd's billion-dollar backlog and highly predictable cash flow from long-term contracts, it has a unique track record in the maritime industry of paying reliable, high-yield dividends. In fact, it has paid dividends in every quarter since 2004. Over that time, SFL stock has returned $2.4 billion to shareholders through dividends.
Perhaps not surprisingly, the company's dividend amount can fluctuate depending on market conditions.
In 2020, the company reduced its payout in order to save cash during the worst economic crisis in 100 years. SFL stock's dividend went from $0.35 in the fourth quarter of 2019 to $0.25 in the first quarter of 2020 and $0.15 in the third quarter of 2020. (Source: "Dividend History," SFL Corporation Ltd, last accessed January 5, 2022.)
In November 2021, SFL's board of directors declared a quarterly dividend of $0.18 per share, for a yield of nine percent. That represents a 20% increase over the $0.15 per share paid out in the previous quarter.
SFL stock's dividend needs to almost double to get to its pre-COVID-19 level of $0.35, which it held throughout much of 2017, 2018, and 2019.
Chart courtesy of StockCharts.com
SFL stock has been on the move since cratering in March 2020, but it still has lots of room to run. Currently trading up by 41% year-over-year, it needs to advance 45% to get to its early-2020 pre-pandemic levels.
It's certainly on its way. During the third quarter, the company's charter revenue increased by 15% sequentially to $122.9 million, with total operating revenue up by 16% quarter-over-quarter at $135.4 million. (Source: SFL Corporation Ltd, November 10, 2021, op. cit.)
The company's third-quarter operating income climbed by 26% to $54.7 million, while its net income rallied by 70% to $33.2 million, or $0.26 per share. That's more than enough to cover SFL stock's quarterly dividend of $0.18 per share.
SFL Corporation Ltd ended the quarter with cash and cash equivalents of $251.0 million, as well as a charter backlog of $2.7 billion.
Ole B. Hjertaker, CEO, commented, "SFL's business model enables us to continuously renew and diversify our portfolio of assets and charters over time, supporting a long term distribution capacity. This has been achieved through multiple shipping cycles, by taking a very active approach to structuring investments and managing our balance sheet." (Source: Ibid.)
The Lowdown on SFL Corporation Ltd
SFL Corporation Ltd is a diversified marine shipping company with a highly predictable cash flow from long-term contracts, plus upside from profit splits and limited spot exposure.
Tested through multiple market cycles, this has allowed SFL stock to provide investors with reliable, high-yield dividends with a moderate payout ratio.