SEP Stock: Collect a Growing Dividend Yield of 6.74%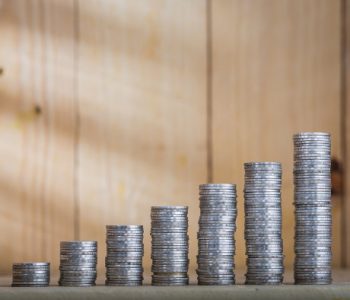 iStock/bgton
Top Dividend Growth Stock You Likely Haven't Considered
Today's chart highlights a top dividend growth stock most people likely haven't considered.
I'm talking about Spectra Energy Partners, LP (NYSE:SEP), a master limited partnership (MLP) headquartered in Houston, Texas.
Like most MLPs, Spectra is in the midstream oil and gas business. It owns and operates a large network of energy pipelines and storage terminals. Right now, the partnership's portfolio consists of over 15,000 miles of transmission and gathering pipelines and storage facilities capable of storing 170-billion cubic feet of natural gas and 4.8-million barrels of crude oil. (Source: "Investors," Spectra Energy Partners LP, last accessed October 23, 2017.)
The business is not very exciting, as Spectra basically runs what can be considered as energy toll roads and storage depots. But that business is capable of generating stable cash flows, which allow the partnership to pay a steady stream of dividends.
As a matter of fact, Spectra not only managed to pay a steady dividend but an increasing one. The chart below shows the partnership's distribution history since 2009:
SEP Stock Dividend Growth History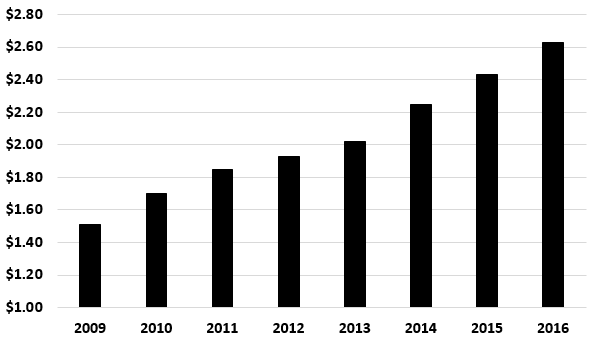 Source: "Growth from a Position of Strength," Spectra Energy Partners LP, last accessed October 23, 2017.
As you can see, the partnership has raised its per-share payout every year since 2009. Even during the recent commodity price downturn that left many energy companies deep in the doldrums, Spectra did not stop raising its distributions to investors.
Also Read:
3 Top Dividend Stocks Yielding Up to 9.2%
SEP Stock: A Dividend Growth Stock from The Energy Sector?
The reason why the partnership can achieve this track record lies in the nature of its business. Spectra does not drill new wells. Instead, it generates most of its cash flows through fees that reserve capacity on its midstream assets.
Usually, when a company has such an impressive dividend growth history, investors would rush towards it, bidding up its stock price and lowering its yield. But because Spectra comes from the beaten-down energy sector, its hasn't really received much investor enthusiasm, which means it could still offer a decent yield.
Indeed, trading at $42.39 apiece, SEP stock has n annual yields of 6.74%. To put it in perspective, the average S&P 500 company yields just 1.88% right now. (Source: "S&P 500 Dividend Yield," Multpl, last accessed October 23, 2017.)
Past performance does not guarantee future results. But in the case of SEP stock, the best could be yet to come. So far into 2017, Spectra has declared and paid three distributions, with each payment being bigger than the previous one. For the whole year, the partnership expects total distributions to be $2.83 per unit, which would represent a 7.6% increase from the $2.63 per unit paid last year. For 2018, Spectra plans to further increase its payout to $3.03 per unit.
Final Thoughts on SEP Stock
In the stock market, people usually have to choose between two types of stocks: those that offer a steady stream of income or those that offer growth potential. And that's why Spectra Energy Partners is special. The partnership not only has a yield much higher than the market average but also grows its payout at a very impressive pace. Dividend growth investors should not ignore SEP stock.