Senior Housing Properties Trust: A Safe 10.1% Yield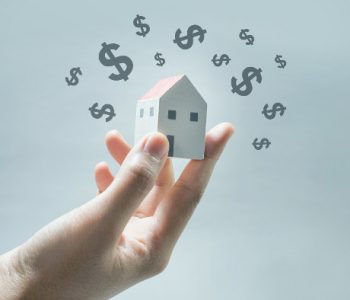 iStock.com/HAKINMHAN
A Rock-Solid 10.1% Yield
Today's chart highlights another winner from an aging America.
Regular readers have heard our bullish argument on healthcare before. As baby boomers get older, they'll need more drugs, more testing, and more medical facilities.
This trend has created a boom for investors. Thanks to the growing demand for healthcare services, we've seen related firms post growing dividends over the past few years. You've also seen that reflected in the share prices for many companies, like Pfizer Inc. (NYSE:PFE), Johnson & Johnson (NYSE:JNJ), and Merck & Co., Inc. (NYSE:MRK).
Case in point for today: Senior Housing Properties Trust (NASDAQ:SNH). The partnership owns a sprawling empire of wellness centers, managed care facilities, and medical office buildings. With more than 10,000 boomers turning 65 each day, this landlord's rental income keeps growing.
Also Read:
The Top 10 High-Dividend Stocks With Growing Payouts
Senior Housing's revenue totaled $1.1 billion in 2017, up 6.1% year-over-year. That has funded a generous stream of dividend increases over time, boosting the partnership's distribution yield to over 10.1%. But can this winning streak continue? Let's dig into the numbers.
The payout looks reasonably safe, first off.
For the first nine months of 2017, the business generated $316.1 million in fund flows from operations (a common profitability metric in the real estate business). Over that same period, management paid out $278.0 million in distributions.
On a percentage basis, this comes out to a payout ratio of 87.9%. As a rule of thumb, I like to see this number below 75%. But in the case of a recession-proof business like Senior Housing Properties Trust, unitholders don't have too much to worry about.
That distribution will likely keep growing as well.
You'll find most of Senior Housing's property portfolio situated inside dense urban centers. These markets benefit from constraints on new construction due to the high cost of land and strict zoning regulations.
For unitholders, that means management should be able to increase rents slowly but relentlessly. And over time, Senior Housing Properties Trust should pad the bottom line with acquisitions and cost-cutting measures. We can expect these favorable economics to be reflected in a long-term distribution growth rate at or above the rate of inflation.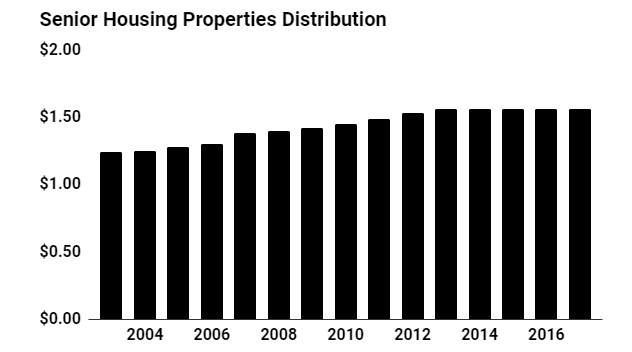 Source: "Senior Housing Properties Trust (SNHNI)," Yahoo! Finance, last accessed February 22, 2018.

Of course, I wouldn't call the Senior Housing Properties Trust story flawless.
A spike in interest rates would raise borrowing costs and reduce the number of new properties that management could finance. That would reduce the partnership's long-term distribution growth rate and, if rates rise fast enough, even put the payout at risk.
But for now, Senior Housing Properties Trust cranks out plenty of cash flow to fund its distribution. And with a growing number of retirees, the partnership sits smack dab in the middle of a big property boom.
Income hunters should give this 10.1% yielded a further look.