Senior Housing Properties Trust: A 9.2% Yield That Remains Safe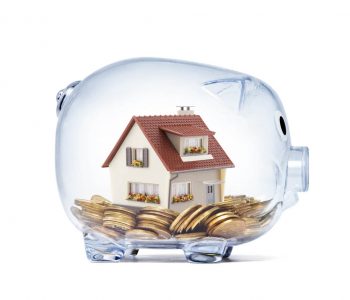 iStock.com/sqback
Can You Count On SNH Stock's Payout?
You can't count on most high-yield stocks. In fact, I toss out a lot of the names that cross my desk with excessively large payouts.
Like Halloween and vegetables, reliable dividends and big yields just don't seem to go together. But today's stock, which sports a nice 9.2% yield, should inspire confidence, at least as far as we care about the distribution.
Senior Housing Properties Trust (NASDAQ:SNH) is a real estate investment trust (REIT) that owns a collection of medical and skilled nursing facilities across the country.
The partnership has established an impressive track record. Since the company began paying distributions in 2001, management has never cut the distribution.
Over that period, executives have boosted the payout more or less in line with profits. Such a history shows a certain commitment to unitholders.
Today, the partnership stands in good financial health. In 2018, analysts estimate Senior Housing Properties Trust will generate $424.0 million in fund flows from operations (a better indicator of business performance than net income) and pay out $371.0 million in distributions. That comes out to a payout ratio of 88%.
As a rule of thumb, I like to see companies to pay out 90% or less of their cash flow in dividends. That ensures enough wiggle room to keep paying shareholders even in the event of a difficult year or two.
So SNH stock's 88% payout ratio still sits within my comfort zone. Moreover, that distribution will likely continue to grow.
Each day, 10,000 baby boomers turn 65. That will boost demand for all types of medical services, from wellness centers and medical research facilities to nursing homes and retirement communities.
Senior Housing Properties Trust has spent billions on acquisitions in recent years to take advantage of this opportunity. Rent hikes, cost cuts, and other initiatives should also boost the bottom line.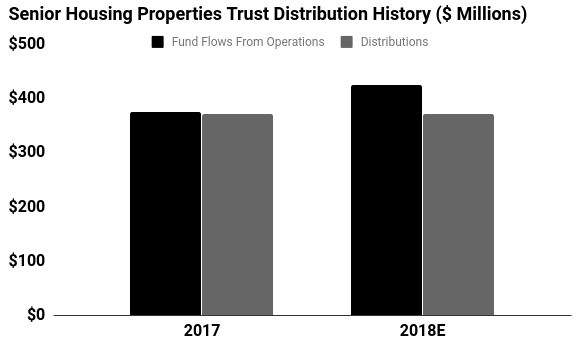 Source: "Distributions," Senior Housing Properties Trust, last accessed October 22, 2018.

The only thing that might give investors pause? Interest rates. Like most REITs, Senior Housing Properties Trust has funded most of its expansion through debt. Such growth could slow down if we see a big spike in interest rates.
That said, management has done a good job locking in today's low rates through long-term debt issues. If the Federal Reserve continues to jack up yields, it shouldn't have a big impact on the company's cash flow.
In other words, SNH stock and its distribution look safe for now.