Seagate Technology PLC: A Cryptocurrency Play That Pays 4.9% in Dividends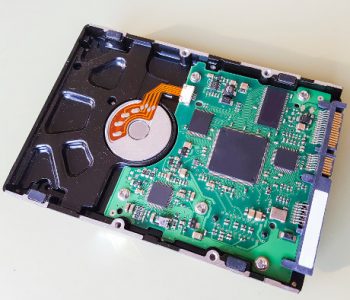 iStock.com/arousa
A Dividend-Paying Cryptocurrency Investment?
Unless you've been living under a rock, you will likely have noticed the huge rally in cryptocurrencies recently. For instance, over the last 12 months, the price of Bitcoin went from $796.13 to $14,191.06 apiece, translating to an increase of 1,682.51%.
However, if you are an income investor, investing in cryptocurrency will come with a big problem: volatility. It's not uncommon for the price of a cryptocurrency to move by more than 20% on a single day. Moreover, because these cryptocurrencies—and their miners—don't pay a dividend, they can't do much when it comes to providing investors with a steady stream of income.
Still, that doesn't mean income investors can't get a piece of the action. Today, I'm going to show you a company that offers both a steady income stream and some exposure to the surging cryptocurrencies: Seagate Technology PLC (NASDAQ:STX).
Also Read:
The Top 10 High-Dividend Stocks With Growing Payouts
Headquartered in Cupertino, California, Seagate Technology is in the data storage business. The company was founded in 1979 to develop a 5.25-inch hard disk drive (HDD), and became a major supplier in the microcomputer market in the 1980s. Today, Seagate offers a wide range of data storage technology and solutions, including HDDs, solid state drives (SSDs), solid state hybrid drives (SSHDs), peripheral component interconnect express (PCIe) cards, and serial advanced technology architecture (SATA) controllers.
Seagate Technology shares enjoyed a nice rally recently. In just the past seven days, STX stock surged nearly 20%. Why? Because the company has a sizable investment in Ripple Labs, the startup behind the digital payment network "Ripple."
Seagate invested in Ripple Labs back in 2015. Ripple Labs' cryptocurrency–XRP coins, which is also known as "ripple"–just had an exponential bull run. At the beginning of December 2017, ripple was trading at around $0.25 apiece. Today, it's at $1.80 apiece, translating to a 620% gain in less than two months.
Here's the neat part: at the current price, the ripple cryptocurrency has a market cap of over $70.0 billion. Ripple Labs owns approximately 61% of all ripple in existence. Seagate Technology has not revealed the size of its investment in Ripple Labs, but some have estimated that it could be worth $7.8 billion. (Source: "Seagate, Western Union Surge on Speculation of Stakes in Ripple," Bloomberg, January 8, 2018.)
If the actual size of Seagate's stake in Ripple Labs is anywhere close to that estimated amount, it could become huge catalyst for STX stock. This is because at the current price, Seagate Technology has a market cap of just $14.8 billion.
Of course, like most cryptocurrencies, the price of ripple can fluctuate violently, so the market value of Seagate Technology's investment in Ripple Labs may change at any moment. However, STX still deserves income investors' attention because the company offers something that none of the cryptocurrency startups can do: paying a steadily increasing stream of dividends.
Seagate Technology started paying a dividend in 2006 (its previous distributions were considered returns of capital). Since then, the company's payout has only been increasing. With its current quarterly dividend rate of $0.63 per share, STX stock offers an impressive annual yield of 4.9%. (Source: "Dividends," Seagate Technology PLC, last accessed January 15, 2018.)
The payout is safe, too. In Seagate's fiscal year 2017, the company generated adjusted earnings of $4.12 per share while paying out $2.52 of dividends per share. That translates to a payout ratio of just 61%. (Source: "Fiscal Q4 2017 Supplemental Financial Information," Seagate Technology PLC, July 25, 2017.)
So there you have it. There are quite a few cryptocurrency stocks trading in the market, but when it comes to finding a cryptocurrency play that's suitable for conservative income investors, STX stock is as good as it gets.