Sculptor Capital Management Inc Up 100% YoY & Still Provides Safe 12.8% Dividend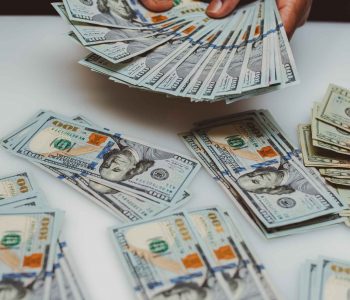 Sculptor Capital Stock Is a Top Income Investment
Sculptor Capital Management Inc (NYSE:SCU) is a globally diversified alternative asset management company. It also happens to be one of the best "alternative bank" stocks out there.
SCU stock is up 100% year-over-year and 43% year-to-date.
In addition to providing strong capital appreciation, Sculptor Capital stock provides a juicy, safe yield of 12.8% and forward dividend of $2.88. And when I say it's safe…it's safe. And growing. The company's payout ratio is just 17.8%. The maximum I like to see is 90%.
With $37.0 billion of assets under management, Sculptor Capital Management is a publicly owned hedge fund sponsor that provides investment products in a range of areas, including multi-strategy, credit, and real estate. (Source: "Fact Sheet," Sculptor Capital Management Inc, last accessed April 16, 2021.)
For example, its real estate business invests in both real estate private equity and real estate credit in the U.S. It's focused on various asset classes, including lodging, multifamily, gaming, distressed residential, cell towers, senior housing, parking, and golf courses, among others.
This company primarily caters to institutional investors, which include pension funds, fund of funds, foundations, endowments, corporations, private banks, and family offices. The firm also manages separate client-focused equity, fixed income, and real estate separate accounts. It also manages commingled funds and specialized products.
With offices in New York, London, Hong Kong, and Shanghai, Sculptor Capital's distinct investment process seeks to generate attractive and consistent risk-adjusted returns across all market cycles.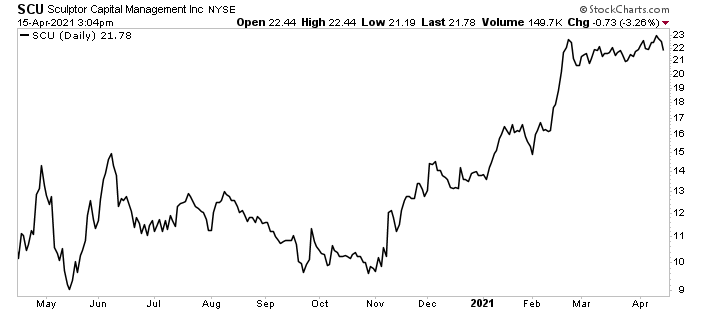 Chart courtesy of StockCharts.com
The company's astute investing acumen has helped it report strong financial results.
For its 2020 fourth quarter, Sculptor Capital announced that its revenue jumped 122.5% year-over-year to $604.7 million. Its net income advanced significantly (352.2%) to $216.2 million, or $9.50 per basic share and $5.05 per diluted share. (Source: "Sculptor Capital Management Reports Fourth Quarter and Full Year 2020 Results," Sculptor Capital Management Inc, February 11, 2021.)
Sculptor Capital's fourth-quarter distributable earnings were $341.6 million, or $6.08 per fully diluted share. Its adjusted distributable earnings were $342.9 million, or $6.10 per fully diluted share.
The firm's full-year 2020 revenue climbed 50% to $897.0 million. Its net income was up sharply, at $170.7 million, or $7.55 per basic share and $3.00 per diluted share. Sculptor Capital's full-year distributable earnings were $279.5 million, or $4.98 per fully diluted share. Its adjustable distributable earnings for the year came in at $405.5 million, or $7.22 per share.
The company also announced a fourth-quarter cash dividend of $2.35.
The Lowdown on Sculptor Capital Management Inc
With a market cap of $1.3 billion, Sculptor Capital Management Inc isn't the biggest financial services company out there, but its assets under management have been growing. In 2020, they grew 6.8% year-over-year and 2.3% quarter-over-quarter to $36.8 billion.
In fact, 2020 was a pivotal year for Sculptor Capital, with the company reporting its strongest investment performance in a decade. It increased its client base and strengthened its corporate balance sheet. To do that during COVID-19 is a testament to the company's ability to grow in any economic cycle. And it suggests that SCU stock could be a high-yield stock for years to come.