Saul Centers Inc: 5%-Yielding REIT Resumes Dividend Hikes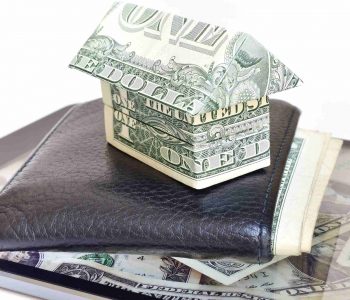 Why BFS Stock Is Bullish Now
Investors fled the village when COVID-19 arrived on our shores. With quarantine orders in place, many businesses shuttered, and millions of people out of work, Wall Street questioned just how bad the blow would be to the economy.
It was very bad.
While some sectors fared worse than others, it's safe to say that real estate investment trusts (REITs) took some of the biggest hits. After all, where was rent money going to come from if businesses were shut down and people were out of work?
It was a fair question.
Saul Centers Inc (NYSE:BFS) was one REIT that saw its share price take a brutal beating last year. From late January to late March 2020, Saul Centers stock tumbled by 56%, wiping out eight years of gains.
About Saul Centers Inc
Saul Centers is a self-managed, self-administered equity REIT that operates and manages a real estate portfolio of 61 properties, including 50 shopping centers and seven mixed-use properties. The portfolio comprises approximately 9.8 million square feet of leasable area and four land and development properties. (Source: "Corporate Profile," Saul Centers Inc, last accessed September 23, 2021.)
Saul Centers seeks out 10-acre+ urban infill properties with mixed-use development potential. The company prefers transit-oriented sites with zoning that's compatible with high-rise apartment development.
Approximately 85% of Saul Centers Inc's property operating income is generated from properties in the metropolitan Washington, D.C./Baltimore area.
Whereas some stocks experienced a quick recovery in 2020, the same can't be said for BFS stock. It bounced around for a few months until it embarked on a remarkable recovery in November 2020. Since then, Saul Centers stock has advanced 86.5%. Year-to-date, the dividend stock is up by 45%.
And there's room for short-term growth; BFS stock needs to climb by more than 15% to get to its pre-COVID-19 sell-off level.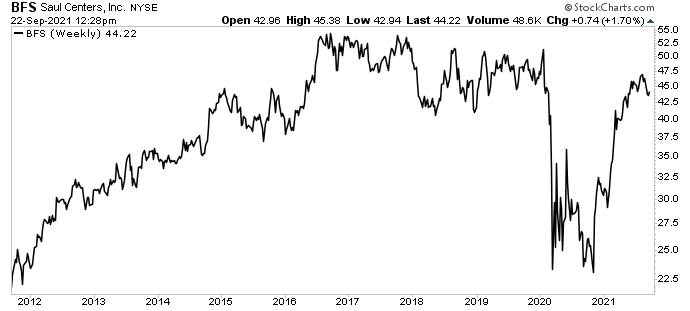 Chart courtesy of StockCharts.com
Whereas some stocks have rebounded on nothing but investor enthusiasm, Saul Center stock's rise came on the heels of improving metrics and a solid outlook.
As you can see in the following table, Saul Centers Inc's percentage of billings paid by its tenants continues to get better and better, back to its pre-pandemic level.
| | |
| --- | --- |
| Period | Total Billings Paid by Tenants |
| Q2 2021 | 98% |
| Q1 2021 | 98% |
| Q4 2020 | 94% |
| Q3 2020 | 91% |
| Q2 2020 | 80% |
Second-Quarter Results
For the second quarter ended June 30, Saul Centers announced that its total revenue increased by 12.7% year-over-year to $60.0 million. The revenue was also up by 3.2% from the $58.1 million recorded in the second quarter of 2019 (the year before COVID-19 hobbled the economy. (Source: "Saul Centers, Inc. Reports Second Quarter 2021 Earnings," Saul Centers Inc, August 5, 2021.)
The REIT's second-quarter 2021 net income increased by 58% to $16.1 million, from $10.2 million in the same period last year.
Its net income available to common stockholders in the second quarter of 2021 increased to $9.9 million, or $0.42 per diluted share, from $5.5 million, or $0.24 per diluted share, in the second quarter of 2020.
While Saul Centers Inc's grocery store, pharmacy, bank, and home improvement store tenants have generally remained fully open, many restaurants have been operating with reduced hours and/or limited indoor seating. Most of the health facilities, beauty supply and service businesses, fitness centers, and other non-essential businesses have been re-opening with limited customer capacity, depending on location.
I don't know anyone who has recommended (or who would partake in) a national landlord appreciation day, but Saul Centers has taken strides to make the economic downturn more manageable for its tenants. The company has generally not been charging late fees or delinquent interest on past-due payments. In many cases, it has negotiated rent deferral agreements in order to allow tenants temporary relief when needed.
In the second quarter of 2021, 98% of Saul Centers Inc's total billings were paid by its tenants: 97% of its retail tenants, 98% of its office tenants, and 99% of its residential tenants.
Additionally, rent deferral agreements (comprising approximately 0.2% of the company's 2021 second-quarter total billings) have been executed (10% of the total unpaid balance)—none of which are with anchor/national tenants.
Saul Centers Inc Hikes its Dividend Again
Thanks to the increase in its billings paid and improvements in its earnings per share (EPS), Saul Centers has been able to provide BFS stock investors with high-yield dividends.
| | |
| --- | --- |
| Period | Total Dividends Paid |
| 2021 | $1.61 (so far) |
| 2020 | $2.12 |
| 2019 | $2.12 |
| 2018 | $2.08 |
| 2017 | $2.04 |
| 2016 | $1.84 |
| 2015 | $1.69 |
| 2014 | $1.56 |
| 2013 | $1.44 |
(Source: "Dividends," Saul Centers Inc, last accessed September 23, 2021.)
In June, the company declared a quarterly dividend of $0.55 per share. The amount represents a 3.8% increase over the $0.53 per share that Saul Centers stock paid in the same period last year. It also marks the first time the company has increased its quarterly dividend since the first quarter of 2020.
Before COVID-19, Saul Centers Inc had a history of raising its annual dividends. In 2013, it paid out $1.44 per share. By 2019, the annual payout had jumped by 47% to $2.12 per share. The company didn't raise its annual dividend in 2020. Instead, management opted to hold the payout at $2.12 per share in order to preserve capital.
That changed in 2021 on improving financial results, a move that will hopefully continue in 2022 and beyond.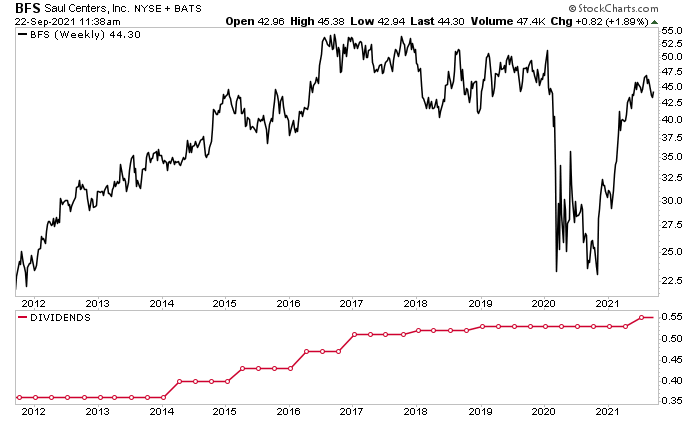 Chart courtesy of StockCharts.com
The Lowdown on Saul Centers Inc
Saul Centers Inc is a diversified REIT that has seen its share price rebound on improving financials. Moreover, the company's financials have allowed it to resume hiking its high-yield dividends.
With that in mind, it might be a good time for income investors to consider BFS stock.