Satya Nadella, The Man Behind Microsoft Stock's Bullish Trend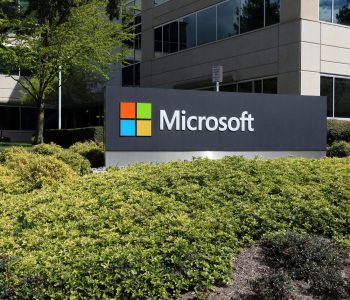 iStock.com/wellesenterprises
This Person Changed Microsoft Stock's Outlook
Microsoft Corporation (NASDAQ:MSFT) has been around for 42 years. That's quite a long history for a company in the fast-changing tech sector. Still, despite its age, Microsoft stock managed to deliver extraordinary returns in recent years. Business has been improving, as shown by the solid numbers in Microsoft's quarterly earnings reports. As a result, the market is willing to reward the company with a higher share price. In this article, we are going to take a look at perhaps the most important person behind Microsoft's bullish trend in the last few years—Satya Nadella.
Microsoft Stock Chart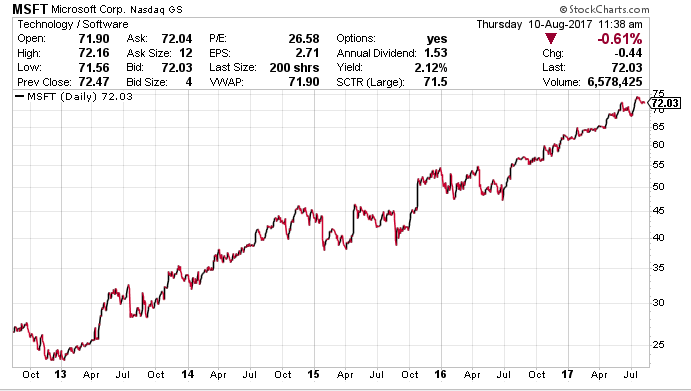 Chart courtesy of StockCharts.com
The chart above shows MSFT stock's performance in the last five years. During this period, the company's share price has surged from $30.42 to $72.03. That's an increase of 136.8%! Microsoft stock's growth is particularly impressive when you consider that at the start of this rally, it was already a mega-cap company commanding hundreds of billions of dollars of market cap.
CEO of Microsoft
In the 42-year history of Microsoft, the company has had three chief executive officers (CEOs). Bill Gates—Microsoft's co-founder, ran the company from 1975 to 2000. Gates was succeeded by Steve Ballmer, who joined Microsoft as the 30th employee in 1980. Ballmer was named CEO on January 13, 2000, and held the position till 2014. Ballmer was succeeded by Satya Nadella, who has been running company till this day.
Who Is Satya Nadella?
Born in Hyderabad, India, Satya Nadella earned a bachelor's degree in electrical engineering from the Manipal Institute of Technology in 1988. But because the university did not offer a computer science program, he decided to further his education in the U.S. In 1990, Nadella received a master's degree in computer science from the University of Wisconsin at Milwaukee.
Nadella joined Microsoft in 1992. Over the years, he has held a number of leadership roles, including the vice president of the Microsoft Business Division, the head of Research & Development for the Online Services Division, and the executive vice president of the company's Cloud and Enterprise group. On February 4, 2014, Nadella was appointed CEO of Microsoft.
Challenges Faced by Microsoft
Microsoft is a household name. While it has been dominating the desktop operating system marketplace for decades, it wasn't always sunshine and rainbows for the maker of "Windows." In fact, if you take a look at the Microsoft stock history, you'd see that it wasn't until last year that MSFT shares climbed above their level in 1999.
To be more specific, Microsoft was kind of left behind during the boom of the smartphone industry that started about a decade ago. At first, it was a battle between Apple Inc. (NASDAQ:AAPL) and BlackBerry Ltd (NASDAQ:BBRY). Today, the smartphone operating system market is dominated by Alphabet Inc's (NASDAQ:GOOG) "Android" with a whopping 85.0% share, followed by Apple's "iOS" with a 14.7% share. Microsoft's "Windows Phone," on the other hand, has a market share of just 0.1%. (Source: "Smartphone OS Market Share, 2017 Q1," International Data Corporation, last accessed August 10, 2017.)
To be fair, Microsoft did try to expand its presence in the mobile communications business. In 2013, the company announced that it would acquire Nokia Corporation's handset and services business for $7.2 billion. The transaction was completed in 2014, with a total purchase price of close to $7.2 billion. (Source: "Microsoft swallows Nokia's phone business for $7.2 billion," Reuters, September 2, 2013.)
However, as we know today, that acquisition did not turn out to be fruitful. Just a year later, Microsoft announced that it would lay off about 7,800 employees and take a $7.6-billion impairment charge as the Nokia business did not work out. (Source: "Microsoft hangs up on Nokia business, to cut 7,800 jobs," Reuters, July 8, 2015.)
Changes by Satya Nadella in Microsoft
The good news is, since Satya Nadella took the helm as CEO, he has brought quite a few changes to Microsoft.
The most notable one is the emphasis on cloud services. For decades, Microsoft was known for offering on-premise solutions. In 2010, the company released a cloud computing service called "Windows Azure." It uses a global network of data centers to allow clients to build, test, deploy, and manage applications and services. Azure offers Software as a Service (SaaS), Platform as a Service (PaaS), and Infrastructure as a Service (IaaS). After Nadella became CEO, Windows Azure changed its name to "Microsoft Azure."
Cloud computing is one of the fastest-growing segments in the tech sector right now. And Nadella's strategy of focusing on cloud has paid off. Microsoft Azure is currently the second-biggest player in the cloud market, only behind Amazon.com, Inc.'s (NASDAQ:AMZN) "Amazon Web Services" (AWS). (Source: "Amazon Still Leads Cloud Rankings, But Competition Is Coming On Strong," Fortune, June 15, 2017.)
The segment has also become a growth driver for the company. According to the most recent earnings report, Microsoft's Intelligent Cloud segment brought in $7.4 billion of revenue in the June quarter, representing an 11% increase year-over-year. In particular, revenue from Microsoft Azure surged 97% from the year-ago period. (Source: "Earnings Release FY17 Q4," Microsoft Corporation, July 20, 2017.)
What's more is that Nadella pushed for products and services that were not just running on Microsoft's Windows operating system. Previously, the company's efforts focused mostly on Windows-based products. Nadella, however, allowed more Microsoft applications to run on devices that use other operating systems. At an event in 2015, he used an "iPhone" to demonstrate his favorite mobile apps by Microsoft. At another event, Nadella used a slide that said "Microsoft loves Linux." For those not in the know, "Linux" is an open-source computer operating system that competes with Windows. (Source: "Microsoft Loves Linux," Microsoft Corporation, last accessed August 10, 2017.)
In addition, Nadella led the company to embrace the idea of ecosystem. Back in the day, most of Microsoft's consumer facing products came in a box and had to be installed using something called a CD-ROM. Today, many of Microsoft's offerings are delivered through the cloud. In fact, most "Windows 10" users got their current operating system through the free upgrade from the cloud. While giving away a core product for free may not seem to be a lucrative move, the strategy allowed Microsoft to achieve a tremendous adoption rate. Around the world, there are more than 400 million devices on Microsoft's Windows 10 ecosystem. (Source: "Microsoft by the Numbers," Microsoft Corporation, last accessed August 10, 2017.)
Also Read:
MSFT Stock Dividend 2017: Microsoft Yield, Dates, Splits, Prediction, and Everything You Need to Know
Will Microsoft Raise Its Dividend in 2017?
A large enough ecosystem creates endless monetizing opportunities. Other than Windows 10, Microsoft also has a huge customer base for its "Office" productivity suite. The current version, "Office 365," is delivered not only through the cloud, but also through a subscription-based model. This allows the company to generate a recurring, predictable stream of revenue.
And then there's the acquisition of LinkedIn Corp (NYSE:LNKD). Last year, Microsoft spent $26.2 billion buying the professional social network. This, again, shows Nadella's focus on growing the company's ecosystem of potential users. When the deal was announced, LinkedIn had 433 million cumulative members and 106 million monthly active unique visitors. Nadella said that the merger would accelerate the growth of Microsoft Office 365 and Dynamics as the companies "seek to empower every person and organization on the planet." (Source: "Microsoft to Acquire LinkedIn," Microsoft Corporation, June 13, 2016.)
Microsoft 2017 Outlook
For those searching for the Microsoft stock outlook, note that the company's fiscal year starts in July so it has just wrapped up its fiscal 2017. The financial results are very encouraging.
In the 12 months ended June 30, 2017, Microsoft's constant currency revenue grew five percent year-over-year to $96.7 billion. Adjusted earnings came in at $3.31 per share, up 19% from the prior year. In particular, Productivity and Business Processes revenue increased 15%, while Intelligent Cloud revenue grew 10%.
With Microsoft's growth engine firing on all cylinders, Wall Street has high expectations for the Redmond, Washington-based tech giant. For the company's fiscal 2018, analysts expect Microsoft to generate $104.5 billion of revenue, which would represent an 8.1% increase from fiscal 2017. Wall Street projects Microsoft's earnings per share to be $3.22 for fiscal 2018. (Source: "Microsoft Corporation (MSFT)," Yahoo! Finance, last accessed August 10, 2017.)
Note that Microsoft has a pretty solid track record of beating expectations. In the past fiscal year, the company has beaten analysts' EPS estimates in all four quarters.
In the company's earnings conference call, management said that they expect demand to further increase for cloud services. So Microsoft's Intelligent Cloud segment would likely keep growing its top line.
However, I should point out that Microsoft's cloud products growth does not come cheap. Building the data centers needed to support a wide range of cloud offerings is expensive. In fact, Microsoft said that for fiscal 2018, "we will increase our capital investment to meet growing demand and capacity needs." (Source: "MSFT Earnings Conference Call," Microsoft Corporation, last accessed August 10, 2017.)
Lastly, dividends. As a tech stock, Microsoft has done a great job returning value to shareholders. The company started paying a quarterly dividend in 2004, and the payout has only been increasing. Given the growth in Microsoft's both top and bottom lines and that the company usually reviews its dividend policy in September, I wouldn't be surprised if the Windows maker announces another dividend hike in the next month or two.