The Best 10.5% Yield You've Never Heard Of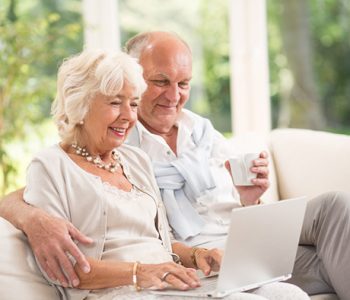 This Stock Yields 10.5%
The U.S. spends $400.0 billion a year on long-term healthcare — more than the gross domestic product of Norway.
That straightforward number represents a seriously big industry. But with over 10,000 baby boomers turning 65 each day, analysts project this market to double in size over the next few years. (Source: "Long Term Care Market Analysis by Service and Segment Forecasts to 2024," Grand View Research, Inc., July 2016.)
That's good news for Sabra Health Care REIT (NASDAQ:SBRA). This landlord owns dozens of specialty hospitals, senior housing centers, and skilled nursing facilities across the country. And while most income hunters haven't heard of this business, I suspect that could change going forward.
It's a lucrative business, first off.
Management leases out these properties to operators in exchange for a steady stream of rental. Most of these deals get done on a "triple net" basis, which means tenants pay for insurance, property taxes, and most of the upkeep.
Furthermore, these leases typically represent long-term commitments (12 to 15 years or more). And because moving operations can be quite disruptive, operators face high switching costs. As a result, Sabra can usually pass on large rent hikes year after year.
For owners, that has created quite the income stream.
Sabra has managed to boost its distribution every year since it began paying one in 2011. Management paid out $1.73 per share in dividends last year, which comes out to a yield of 10.5%.
That distribution should keep growing, too. As America ages, we will need more retirement communities, independent living apartments, and full-service nursing homes. Analysts project Sabra's distribution will grow at a mid-single-digit clip thanks to acquisitions, rent hikes, and cost cutting measures.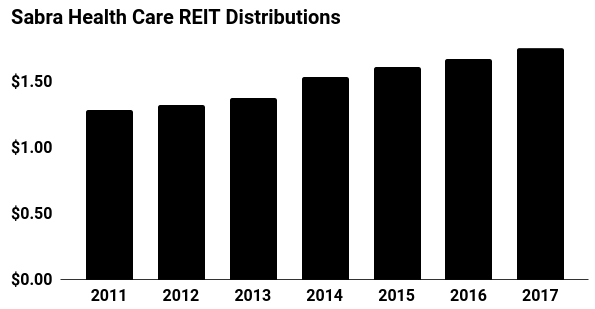 (Source: "Investors," Sabra Health Care REIT, last accessed March 2, 2018.)

The big risk here? Higher interest rates.
Rate hikes would raise Sabra's borrowing costs, biting into profits. Increasing the cost of financing would also slow new acquisitions.
That said, income investors don't have too much to worry about here. Management pays out only around three-quarters of fund flows from operations, a common profitability metric in the real estate business. The trust also has a lighter than average debt load relative to peers.
In other words, executives have left themselves lots of wiggle room. So for the time being, this 10.5% yield looks reasonably safe. And with a big demographic tailwind behind it, I expect this distribution to grow substantially in the years to come.