Sabine Royalty Stock: 11.8%-Yielding Monthly Dividend Stock Up 14% YOY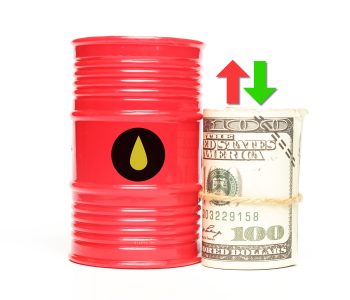 SBR Stock's Outlook Bullish on High Energy Prices
When it comes to high-yield stocks, you want to find companies that pay reliable dividends. It also doesn't hurt to find dividend-paying companies whose share prices are trending higher. There's no point investing in high-yield dividend stocks if their underlying share prices are tumbling. Chasing yield at the expense of your initial capital is one way to rack up huge losses.
Fortunately, with Sabine Royalty Trust (NYSE:SBR), you get ultra-high-yield dividends and a rising share price.
The company is an oil and natural gas trust that has royalty and mineral interests in producing and undeveloped oil and gas properties in Florida, Louisiana, Mississippi, New Mexico, Oklahoma, and Texas. (Source: "About Us," Sabine Royalty Trust, last accessed May 25, 2023.)
As a trust, Sabine Royalty has no capital expenses. The company isn't exploring for—nor investing in—new wells. It just pumps out oil and gas from its current properties and passes on the royalties to its shareholders. It's as simple as that.
That said, as of January 1, the company's estimated net proved reserves were about 5.9 million barrels of oil and 47.4 billion cubic feet of gas, with a future net value of about $657.9 million and a lifespan of eight to 10 years. (Source: "Sabine Royalty Trust Announces Monthly Cash Distribution for May 2023," Sabine Royalty Trust, May 4, 2023.)
Sabine Royalty Trust's Dividend History
As might be expected, Sabine Royalty stock's dividend amounts are directly tied to oil and gas prices, as well as the quantities that the company produces.
In May, Sabine Royalty Trust declared a monthly dividend of $0.499 per unit, for a current yield of 11.8%.
This amount reflects the company's oil production in February and gas production in January. The trust's preliminary production volumes were about 58,004 barrels of oil (at $80.96 per barrel) and 926.6 million cubic feet of gas (at $3.67 per 1,000 cubic feet). (Source: Ibid.)
| | |
| --- | --- |
| Payment Month | Dividend Per Unit |
| May 2023 | $0.499 |
| April 2023 | $0.699 |
| March 2023 | $0.465 |
| February 2023 | $0.637 |
| January 2023 | $0.631 |
(Source: "SBR Dividend History," Nasdaq, last accessed May 25, 2023.)
SBR stock's May distribution is lower than its April distribution. The drop was primarily the result of decreased production figures that were due to the timing of receipts through the end of the month, as well as a decrease in natural gas prices.
That dividend decrease shouldn't be a surprise to investors who are familiar with energy stocks. The distribution for a royalty trust can fluctuate from month to month or quarter to quarter.
And, of course, Sabine Royalty Trust's distribution changes from year to year, as the following table shows.
| | |
| --- | --- |
| Payment Year | Dividend Per Unit |
| 2022 | $8.61 |
| 2021 | $3.21 |
| 2020 | $2.39 |
| 2019 | $3.01 |
| 2018 | $3.34 |
| 2017 | $2.36 |
The outlook for Sabine Royalty stock's distributions is solid, with the current strong demand for energy leading to higher oil prices.
Speaking of higher oil prices, Saudi Arabia's energy minister, Prince Abdulaziz bin Salman, was recently kind enough to say he would inflict pain on oil short sellers. "I keep advising them that they will be ouching, they did ouch in April, I don't have to show my cards[,] I'm not a poker player… but I would just tell them watch out," said bin Salman. (Source: "Oil Prices Keep Climbing After Warning From Saudi Energy Minister," Reuters, May 24, 2023.)
This situation bodes well for those who benefit from higher oil prices (such as SBR stockholders), especially as we enter the summer driving season.
Sabine Royalty Stock Up 14% Year-Over-Year
A reliable, high-yield, monthly-dividend stock is great, and it's even better when it has high share-price growth.
As you can see in the chart below, SBR stock took a hit during the 2020 COVID-19 pandemic. That's not a big surprise. The entire global stock market sold off during that period, and with the world cratering into a recession at the time, the demand for oil and gas was limited. Note that, despite the economic uncertainty during that period, Sabine Royalty Trust didn't suspend its monthly dividends.
Since then, buy-and-hold Sabine Royalty stock investors have been rewarded with significant share-price gains. As of this writing, SBR stock is up by:
14% year-over-year
27% over the last two years
322% since bottoming in March 2020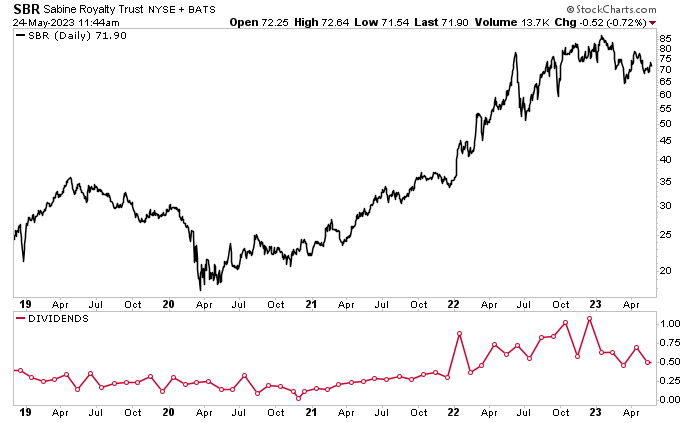 Chart courtesy of StockCharts.com
The Lowdown on Sabine Royalty Trust
As explained above, Sabine Royalty is an oil and natural gas play that provides shareholders with reliable, ultra-high-yield, monthly dividends. Sabine Royalty stock's share price has more than recovered from the March 2020 pandemic-fueled crash.
Moreover, Sabine Royalty Trust's monthly payouts have been rising; in 2022, its distribution jumped by 168%. That momentum has carried into 2023, due to the company's first-quarter royalty income going up by 13% year-over-year.
The outlook for the oil and gas industry is bullish, which is great news for income investors. If one of the worst economic crises in 100 years and a global recession can't derail SBR stock's monthly payout, what can?