Royal Bank of Canada: Earn a Solid 4% Yield from a Foreign Bank?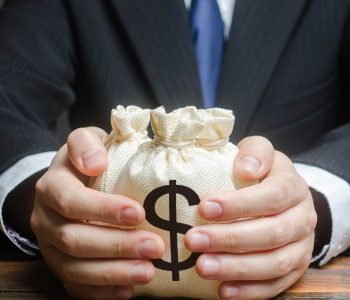 Here's a High-Yield Stock to Think About
One sector that suddenly received a lot more attention recently is banking. To give you an idea, the Dow Jones U.S. Bank Index has surged 22.8% since the beginning of November, substantially outperforming the already impressive performance of the broad market indices during this period.
Obviously, because banks have been a staple for many income investors, the recent rise in these companies' share prices should be considered good news.
Looking a bit further back, though, things appeared less rosy. That's because most U.S. bank stocks had a huge tumble during the pandemic-induced sell-off earlier this year. And even though the recent climb has been strong, many bank stocks are yet to make a full recovery. In fact, the Dow Jones U.S. Bank Index is still down by more than 20% year-to-date.
And that's why Royal Bank of Canada (NYSE:RY) stands out.
I told readers of Income Investors to check out RY stock back in January. While there were solid U.S. bank stocks on the market, I thought this foreign bank was worth considering, due to the outsized yield and outstanding dividend safety. And because Royal Bank of Canada stock trades on the New York Stock Exchange, it's very convenient for American investors to buy and sell its shares.
Along with other bank stocks, RY stock tumbled during the market downturn in March. However, as you can see from the following chart, Royal Bank of Canada stock (marked in green) has recovered and has actually delivered a decent return year-to-date. It has also substantially outperformed the Dow Jones U.S. Bank Index that I mentioned earlier (marked in black).
Royal Bank of Canada (NYSE:RY) Stock Chart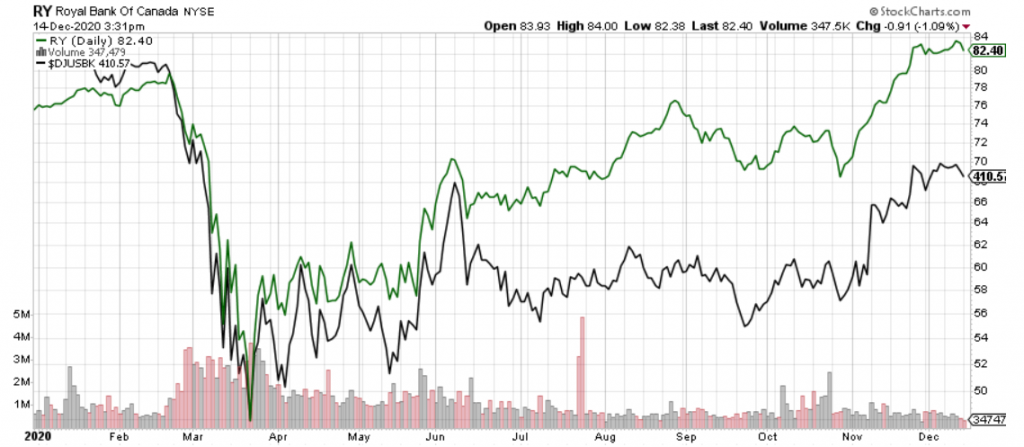 Chart courtesy of StockCharts.com
The best part is, even after the unexpected macroeconomic shock from the COVID-19 pandemic, RY stock's appeal to income investors remains largely intact.
You see, the bank has a quarterly dividend rate of CA$1.08 per share, which translates to an annual yield of 4.1% at the current share price.
When the average S&P 500 company pays just 1.6%, Royal Bank of Canada stock's yield certainly looks attractive. (Source: "S&P 500 Dividend Yield," multpl.com, last accessed December 18, 2020.)
Of course, not all high yields are safe. However, Royal Bank has a rock-solid business to back its payout. It's the largest bank in Canada by market capitalization, serving 17 million customers in 36 countries around the world. (Source: "Royal Bank of Canada Investor Presentation: Q4/2020," Royal Bank of Canada, last accessed December 18, 2020.)
According to its latest earnings report, the bank generated net income of CA$3.3 billion in the fourth quarter of its fiscal year 2020, which ended October 31. The amount translated to earnings of CA$2.23 per share, which not only represented a two percent increase year-over-year, but also covered its CA$1.08-per-share quarterly dividend payment more than twice over. (Source: "Royal Bank Of Canada Reports Fourth Quarter And 2020 Results," Royal Bank of Canada, December 2, 2020.)
As a matter of fact, RY stock managed to pay, not just a steady dividend, but an increasing one. From 2010 to 2020, the bank's per-share annual payout has grown from CA$2.00 to CA$4.29, translating to a compound annual growth rate (CAGR) of eight percent. More impressively, the company kept its average dividend payout ratio to just 47% during this period.
Going forward, there will be uncertainty for the banking industry. After all, the pandemic has not ended yet. But with a four percent yield that looks more than safe, Royal Bank of Canada stock could be an opportunity for income investors.