Rio Tinto PLC: Much Reward, Low Risk With This 5% Dividend Stock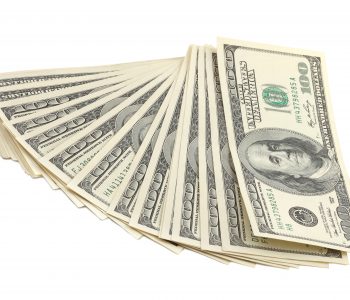 Rio Tinto PLC Expected to Announce Next Dividend Soon
U.K.-based mining titan Rio Tinto PLC (NYSE:RIO) is an income machine. Not only does it provide a frothy dividend of five percent, which it pays out biannually, but it also has provided strong capital appreciation.
Since the start of 2016, RIO stock has soared 290%, from $19.85 to $77.35 per share. Over the first 10 months of 2020, Rio Tinto stock advanced just 2.2%, but it's been a totally different story since then. Since the start of November 2020, Rio Tinto PLC's share price has soared more than 33%.
While many might peg that recent growth to the results of the U.S. election, they might be a little misguided. The big increase in the price of RIO stock was fueled by the sharp increase in the global price of iron ore. In October 2020, the price of a ton of iron ore was $120.00. By January 2021, the price had increased more than 40% to $170.00 per ton.
Last April, right around the time the broader stock market was bottoming from the fallout of the coronavirus pandemic, you could have snapped up a ton of iron ore for around $80.00. Since April 2020, iron ore prices have basically doubled in price.
Rio Tinto stock has pretty much followed suit. Since bottoming in late March 2020, RIO stock has rallied 118%.
And the outlook for Rio Tinto PLC is bullish. The lifting of economic lockdowns is expected to lead to increased demand, production, and sales of iron ore. This should translate into increased shipments and higher prices, which should boost the company's revenue and earnings.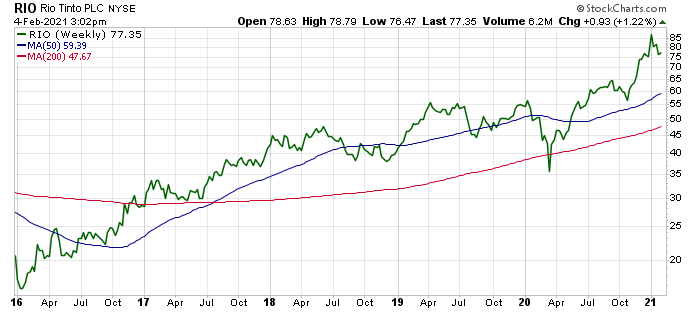 Chart courtesy of StockCharts.com
About Rio Tinto Stock
London, England-based Rio Tinto is a mining and metals company with operations in 36 countries around the world, including the U.S., Canada, South Africa, New Zealand, and Iceland. (Source: "Our Business," Rio Tinto PLC, last accessed February 4, 2021.)
The company's four main business groups are Iron Ore; Aluminium; Copper & Diamonds; and Energy & Minerals. You can find its iron ore in steel, its aluminium in cars and smartphones, its copper in wind turbines, its titanium in household products, and its borates in crops.
The company's Iron Ore operations, which are located in Western Australia, include 16 iron ore mines, four independent port terminals, a 1,055-mile rail network, and related infrastructure. In 2019, the company reported gross Iron Ore revenue of $24.1 billion.
Rio Tinto PLC is a global leader in aluminium. Its Aluminium business includes bauxite mines, alumina refineries, and aluminium smelters. Its bauxite mines are located in Australia, Brazil, and Guinea. The company's total gross revenue from its Aluminium division was $10.3 billion in 2019.
Rio Tinto's Copper & Diamonds segment has managed operations in Australia, Canada, Mongolia, and the U.S., as well as non-managed operations in Chile and Indonesia. This segment delivered total gross revenue of $5.8 billion in 2019.
The company's Energy & Minerals segment consists of mining, refining, and marketing operations across sectors including borates, iron ore concentrate and pellets, titanium dioxide, and uranium. Gross revenue from the Energy & Minerals segment was $5.2 billion in 2019.
RIO stock provides investors with long-term steady growth. Case in point: Rio Tinto stock entered 2016 trading at $19.85 and finished off 2020 trading at $75.22. That represents a five-year gain of 278%. Over those five years, RIO stock rose at a compound annual growth rate (CAGR) of 30.5%.
Like with all stocks, some years have been better than others, but Rio Tinto stock remains a stock that investors can rely on for long-term capital appreciation.
Consistent, Reliable, High-Yield Dividends
Rio Tinto PLC is the kind of company that income-starved investors can rely on for a high-yield dividend. RIO stock currently pays out a dividend of five percent, with an annual dividend rate of $3.86 per share.
It also has a payout ratio of 86.7%. This is on the cusp of my acceptable range, which is 90%. If a company's dividend payout ratio is too high, its dividend may not be sustainable.
For fiscal 2019, Rio Tino reported a 31% year-over-year increase in free cash flow to $9.2 billion. It also reported net income of $8.0 billion, or $6.36 per share. Moreover, the company returned $7.2 billion to shareholders in the form of dividends, which was equivalent to $4.43 per share, or 70% of its underlying earnings. (Source: "Annual 2019 Results," Rio Tinto PLC, February 26, 2020.)
Unlike some companies that pay dividends monthly or quarterly, Rio Tinto distributes its dividends twice a year. It normally announces its dividend rates in February and July, with payment dates in April and September.
| | | |
| --- | --- | --- |
| Record Date | Cash Amount | Payment Date |
| 08/07/20 | $1.55 | 09/17/20 |
| 03/09/20 | $2.31 | 04/16/20 |
| 08/09/19 | $2.12 | 09/19/19 |
| 03/08/19 | $4.23 | 04/18/19 |
| 08/10/18 | $1.26 | 09/20/18 |
| 03/02/18 | $1.79 | 04/12/18 |
| 08/11/17 | $1.11 | 09/21/17 |
| 02/24/17 | $1.25 | 04/06/17 |
| 08/12/16 | $0.44 | 09/22/16 |
| 02/26/16 | $1.06 | 04/07/16 |
| 03/06/15 | $1.15 | 04/09/15 |
| 08/15/14 | $0.93 | 09/11/14 |
| 03/07/14 | $1.09 | 04/10/14 |
| 08/16/13 | $0.84 | 09/12/13 |
(Source: "RIO Dividend History," Nasdaq, last accessed February 4, 2021.)
The Lowdown on Rio Tinto PLC
Rio Tinto PLC is an industry juggernaut, with a huge global footprint and strong balance sheet.
Rio Tinto stock not only provides investors with strong capital growth, but also returns money to investors in the form of a high dividend yield. In 2019, RIO stock returned a record ordinary dividend of $6.2 billion and total cash returns of $7.2 billion.
With the global economy heating back up, look for Rio Tinto stock to trend higher and for the company to continue rewarding investors with high-yield dividends.