Reynolds American, Inc.: Who's Predicting Massive Jump in RAI Stock?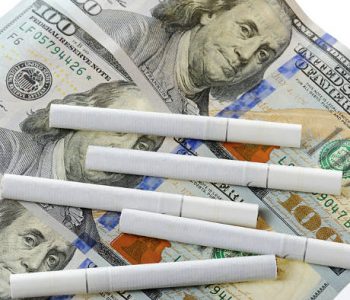 Reynolds American Stock Better Bet Than PM Stock
Reynolds American, Inc. (NYSE:RAI) stock may produce 21% capital gains on top of its four-percent dividend yield as the company benefits from higher sales volume in the U.S.
According to a Citigroup analyst, Reynolds American will generate a mid-term sales growth of four percent and earnings-per-share (EPS) growth of nine percent on the back of strong domestic sales. (Source: "U.S. Demand For Cigarettes The Strongest It's Been In Decades: Citi Initiates Tobacco Names," Benzinga, September 13, 2016.)
Citigroup analyst and Managing Director Adam Spielman sees RAI stock rising to $57.00, a 21% jump from its current level as Spielman begins coverage on Reynolds American and Altria Group Inc. (NYSE:MO) stocks. His target price for MO stock is $72.00, a 14% jump from Altria's current price of $63.00. Both stocks offer dividend yields of close to four percent.
Spielman prefers domestic tobacco companies, such as Philip Morris International Inc. (NYSE:PM), over international players because of their better sale outlook and lack of foreign exchange volatility. (Source: Ibid.)
After 11 consecutive years of volume declines, cigarette sales didn't fall in 2015 in the U.S.. The improvement in volume sales came mainly due to the drastic drop in gas prices at pumps, which fell by 27% during the same period, leaving more disposable income in the wallets of American consumers. (Source: "Cigarettes in the US," Euromonitor International, August 2016.)
Reynolds American's $25-billion acquisition of Lorillard Inc. last year has added some leading brands to Reynolds' portfolio, including Camel and Pall Mall.
This acquisition helped increase Reynolds American's volume share in the American cigarettes industry from 25% in 2014 to 33% in 2015, allowing the company to compete against Philip Morris thanks to its strength in the area of menthol cigarettes, one of the better-performing areas of the industry. (Source: Ibid.)
RAI Stock: 18% Jump in EPS Seen in 2016
In the latest quarterly earnings report, Reynolds tightened its guidance for an adjusted EPS range of $2.26 to $2.34, and increase of 18.2% from 14.1% last year. During the last quarter, Reynolds also announced a 9.5% increase in its quarterly cash dividend.
"Strong market share gains across our operating companies' premium cigarette portfolio, in combination with higher pricing in both cigarettes and moist snuff, drove excellent operating performance in the second quarter," said Susan Cameron, president and chief executive officer. (Source: "RAI reports strong 2Q16 performance and positive outlook; Accelerates returns to shareholders," Reynolds American, Inc., July 26, 2016.)
Spielman expects sales growth to remain strong during the next couple of years and predicts that Reynolds American, Inc. will experience improved sales and earnings growth based on faster market share gains for both cigarettes and dip. (Source: Benzinga, September 13, 2016, op cit.)
Long-term investors in RAI stock have reaped huge benefits from the company's growth strategy, as it has more than doubled over the past five years.