Retirement Stocks: Lock in the 9.5% Yield of CenturyLink Stock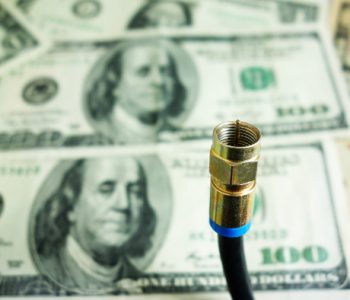 Perfect retirement stocks are pretty easy to define. Ideally, you want high-yielding stocks that can provide substantial income, but more importantly, you want those yields to be as stable as possible in order to own a sustainable income stream.
But finding that combination is easier said than done, of course, as stocks with the highest yields also tend to have the greatest risks associated with them. Every now and then, though, I come across a play that has all the characteristics of a solid retirement stock: a near-double-digit dividend yield, stable cash flows, and a business model that isn't going away anytime soon.
From my analysis, telecommunications company Centurylink Inc (NYSE:CTL) nicely exhibits all of those qualities.
Now, to be sure, CenturyLink's operating results and stock price performance have been ugly over the past few years, so CTL stock it isn't exactly stress-free at the moment. But as long as you maintain a long-term time horizon, CenturyLink stock is clearly an above-average income opportunity.
Let's dive right in.
Making Cents of CenturyLink
For readers who aren't too familiar with the company, CenturyLink is an integrated telecom company that operates under two main segments: Business and Consumer.
The Business segment provides services such as broadband, Ethernet, voice over Internet protocol (VOIP), network systems management, and cloud hosting to enterprise and governmental customers. Legacy services for these customers include fixed-line local and long-distance services. The business segment accounts for about two-thirds of CenturyLink's revenue.
On the consumer side, CenturyLink provides broadband, wireless, and video services to residential customers. Legacy services within this segment are also fixed-line local and long-distance service. The consumer segment represents about one-third of revenues.
CenturyLink delivers all of these services through a 250,000-route-mile U.S. fiber network and a 300,000-route-mile international transport network.
So if CenturyLink just sounds like a run-of-the-mill telecom company with exposure to a bunch of old, zero-growth technology, well, you'd be largely correct.
In its last quarter, business and consumer revenue fell 4.1% and 4.3%, respectively, continuing the bearish trend of top-line declines. Once again, sharp declines in the company's legacy voice and low-bandwidth data services more than offset traction in more growth-oriented areas like high-bandwidth services and managed hosting. Moreover, company-wide operating margins declined about 300 basis points over the year-ago period.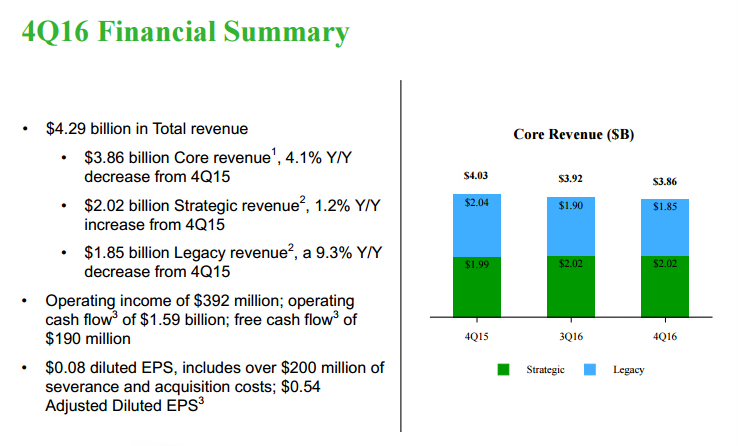 Source: "4th Quarter ad Full Year 2016 Earnings Results," Centurylink Inc, February 8, 2017.
Leveling Up
There's no two ways about it: CenturyLink is slumping. So then why in the world would I consider CTL a solid income opportunity when the business is declining? Well, there are two main reasons.
First, CenturyLink is all set to acquire communications company Level 3 Communications, Inc. (NYSE:LVLT) for about $34.0 billion in cash-and-stock, which should provide it with plenty of positives over the long run.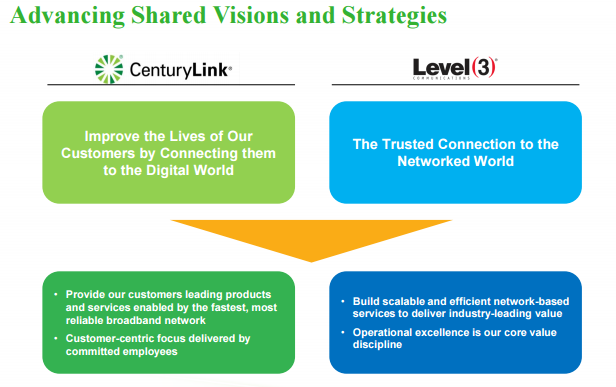 Source: "Bank of America Merrill Lynch 2016 Leveraged Finance Conference," Centurylink Inc, February 8, 2017.
Specifically, CenturyLink should be able to benefit from significant cost synergies–estimated at $975.0 million per year–and the possible usage of Level 3's massive $10.0 billion in net operating losses. More importantly, the blockbuster deal will provide CenturyLink with a wider geographic footprint and, in turn, scale.
In fact, the combined company will become the second-largest network provider in the U.S., making it a much more formidable rival to leader AT&T  Inc. (NYSE:T) in the business of handling heavy Internet traffic.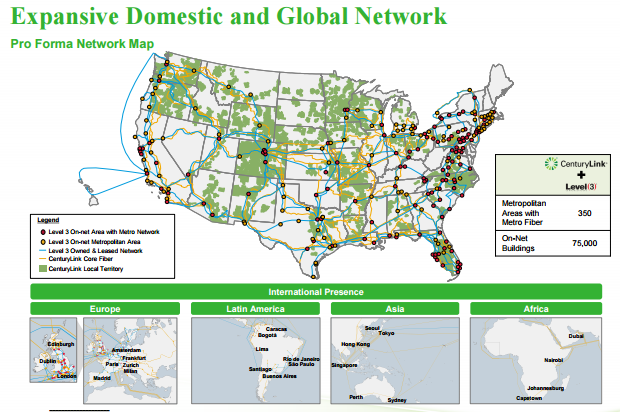 Source: "Bank of America Merrill Lynch 2016 Leveraged Finance Conference," Centurylink Inc, February 8, 2017.
The deal is expected to close by the end of Q3.
"The combination of CenturyLink and Level 3 will significantly improve our global network capabilities, creating a company with one of the most robust fiber networks in the world," said Chief Executive Officer Glen Post, III. "This expanded network should allow us to bring substantial operational and service benefits to our enterprise customers, as well as an enhanced customer experience." (Source: "CenturyLink and Level 3 shareholders approve merger," Centurylink Inc, March 16, 2017.)
One of the Top Retirement Stocks? 
But the biggest reason I like CenturyLink as a top stock all boils down to the metric I care about the most: cash flow. And despite the company's operating sluggishness, it continues to generate a boatload of it.
As I always tell our Income Investors readers, it is a company's cash flow–not net income–that ultimately funds our dividend checks.
Thanks to its still-firmly entrenched position in many rural markets, CenturyLink generated 2016 operating cash flow of $4.6 billion. Compare that to dividends paid of $1.2 billion and it's pretty clear that the payout is sustainable. Furthermore, management expects its dividend payout ratio to be in the low 70% range for 2017. And longer-term, the Level 3 purchase will most definitely work to boost CenturyLink's cash flow growth as well.
In other words, income investors relying on CenturyLink's dividend have plenty of reason to rest comfortably. And isn't that all we want from our retirement stocks?
"While we continue to face pressure related to strategic revenue growth and our legacy revenue declines, we are confident in our business and our ability to improve the revenue and operating cash flow trajectory over time," said Chief Financial Officer Stewart Ewing in a conference call with analysts (Source: "CenturyLink (CTL) Q4 2016 Results – Earnings Call Transcript," Seeking Alpha, February 5, 2017.)
CenturyLink on Sale
That brings us back to CenturyLink's falling stock price, which is now off roughly 30% over the past year. But given the company's looming value-enhancing acquisition of Level 3, as well as its still-stable cash flows, I would say that the pullback is largely overdone.
In fact, CenturyLink now sports an especially juicy dividend yield of 9.5%. That is more than double the yield of both AT&T (4.6%) and Verizon Communications Inc. (NYSE:VZ) (4.7%), as well as the telecom industry average of 3.5%.
Sustainable dividend yields of 9.5% don't come along every day, making CenturyLink a truly intriguing candidate among retirement stocks.
The Bottom Line on CenturyLink
There you have it, my fellow Income Investors: several bullish reasons to consider CenturyLink.
Just like always, don't take this write-up as a formal recommendation, but rather as an idea to look into more closely. Because while CenturyLink's near-double digit yield is well covered at the moment, investors still need to keep a close eye on the company's declining revenue, as well as monitor the massive deal with Level 3.
As of right now, though, CenturyLink stock is one of the more enticing retirement stocks in the market.