American Water Works Stock: 1 Top Dividend Stock for the Next 100 Years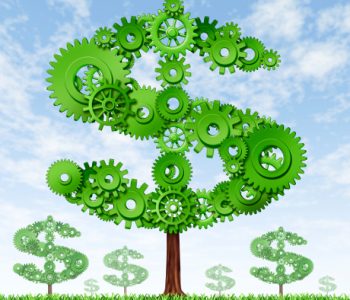 A Top Dividend Stock to Own Forever?
This top dividend stock is the ultimate legacy asset.
The company has been in business since 1886. Longtime shareholders have been collecting dividends for decades.
No wonder some of the smartest money managers in the world own this retirement stock. Billionaire Jim Simons has been quietly building a position. Other Wall Street titans, including Ken Griffin, Michael Platt, and Paul Tudor Jones also own large stakes in the business.
Let me explain.
The $12.0-Billion Legacy Asset
As regular readers know, I'm a big fan of a group of companies I like to call my "forever stocks."
Put simply, forever stocks are businesses that can build your wealth, not just for months or quarters, but for generations. They are wonderful, legacy-type assets that you could literally own for the next 100 years.
Forever stocks deliver a product or service you probably use every day. In contrast to banks or hedge funds, forever stocks don't deal in complicated financial products. And, unlike hot tech names like Apple Inc. (NASDAQ:AAPL) or Microsoft Corporation (NASDAQ:MSFT), forever stocks don't have to come up with the next world-changing gadget each year.
In other words, they're timeless. In all my years of investing, I've found that it's not the hot startups or biotech names that make investors the most money. Rather, the best investments tend to be stodgy dividend stocks that crank out distributions decade after decade.
Case in point: American Water Works Company Inc (NYSE:AWK).
American Water Works has the excitement of a bologna sandwich. The company is the largest public water utility in the world, providing wastewater, drinking water, and other related services. Though the firm doesn't get mentioned much at cocktail parties, the company meets my criteria of a "forever stock" for a couple of reasons.
First, I want to see a timeless business. Can you imagine people using this company's product or service 20, 50, even 100 years from now? I have no idea what the hot social network will be in 2050. I'm reasonably confident, though, that people will be eating chips (PepsiCo, Inc. (NYSE:PEP)), drinking beer (Anheuser Busch Inbev SA NV (ADR) (NYSE:BUD)), and washing their clothes (Procter & Gamble Co (NYSE:PG)).
American Water Works delivers a product you can't live without: safe, clean, drinking water. Its origins can be traced to a collection of local utilities just after the Civil War. The company has been in business for over 130 years, delivering a critical product to towns and cities across the country.
That track record will likely continue, unless people develop a sudden preference for drilling wells. Today, American Water Works serves 15 million people across 47 states. This is a strong foundation to crank out profits (and dividends) for decades to come.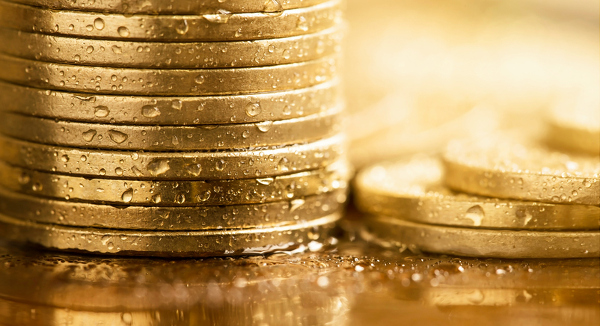 Second, forever stocks need a competitive advantage. We don't want to see our profits disappear because of some competing business moving into town. When you find companies with an edge in the marketplace, they tend to be some of the most lucrative investments around.
Even if you wanted to compete against American Water Works, chances are you couldn't do it. The costs to create a rival utility from scratch would be billions of dollars. And, even if you could cough up the dough, local governments would never grant the right-of-way for construction.
As a result, American Water Works enjoys a near-monopoly position in its markets, and the profits that go along with it. You can't exactly have two sets of pipes running through a house, after all. So, with hundreds of thousands of locked-in customers who count on the company for basic necessities, it's no wonder it has a long track record of strong, steady returns in the market.
You can see the strength of this business in the company's financial statements. American Water Works earns net profit margins of 15%. The company returns $0.11 in dividends and buybacks to shareholders for every dollar generated in sales. I can think of only a handful of businesses in the world that generate numbers like these.
Also Read:
7 Water Utility Stocks to Consider in 2017
Utility Stock List: Earn Steady, Reliable Income
Finally, we want to see a long history of rewarding shareholders. Great companies put investors first. They lavish shareholders with dividends and stock buybacks. This rising stream of cash flow increases every year, providing an inflation-proof source of income.
Once again, American Water Works is a top dividend stock. The company has bumped its distribution 90% over the past eight years. Even through the financial crisis of 2009, executives managed to pass on a small payout bump.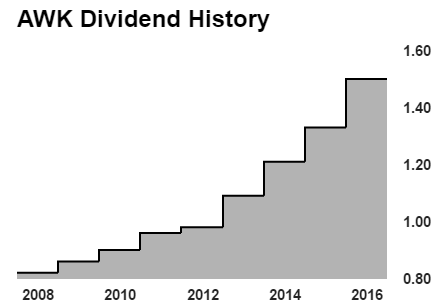 Chart courtesy of Yahoo! Finance
Of course, American Water Works is no sure thing. Higher interest rates could knock the stock price. Today, shares yield just 2.1%, which is not be enough to whet most investors' appetites.
Overlooking this dividend stock because of its low current payout, however, would be a mistake. Let's assume that American Water Works continues to grow its dividend at a 10% annual clip, which is not an unlikely possibility, given the strength of the business. If an investor were to buy and hold this stock over the next 20 years, your yield on cost would grow to 17%.
Think about how the prices for everything have gone up over the past decade. Taxes have soared, health insurance premiums are skyrocketing, and $50.00 doesn't buy nearly as much in groceries as it used to.
You need dividend growth, not just current yield, to pay for a comfortable retirement. American Water Works is one of those companies that can be counted on to pay out a growing stream of income.
Where to Find the Top Retirement Stocks
Two wrongs don't make a right. However, they could make a stock market forecast.
I'm not suggesting that American Water Works will be one of the best retirement stocks of all time. Frankly, I have no idea which dividend stock will be the top performer.
This company, though, checks off all of the boxes of a true legacy asset. A wonderful business with a timeless product, irreplaceable assets, and a dependable payout should do well over the long haul. You don't need an MBA to figure that out.
For these reasons, this is one dividend stock I am comfortable owning for the next 100 years.