Retailer Issues Massive $4.4-Billion Special Dividend to Shareholders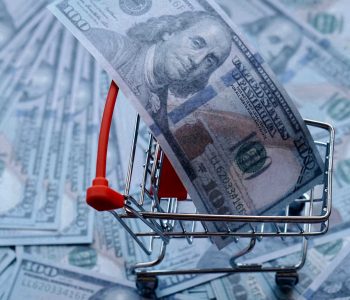 Costco Authorized Special Dividend to its Shareholders
For years, I've told my readers that Costco Wholesale Corporation (NASDAQ:COST) would eventually make a special dividend payment to its shareholders. Now that time has come.
In November, the wholesaler announced a special dividend to investors of $4.4 billion, or $10.00 per common share. The size of the payment surprised some Wall Street analysts. And following the announcement, traders bid up the price of Costco shares to fresh all-time highs.
"This special dividend, our fourth in eight years, is our latest step to reward shareholders," wrote Costco's executive vice-president and chief financial officer, Richard Galanti, in a note to shareholders. (Source: "Costco Wholesale Corporation Declares Special Cash Dividend of $10 per Share," Costco Wholesale Corporation, November 16, 2020.)
"Our strong balance sheet allows us to pay this dividend, while preserving financial and operational flexibility to continue to grow our business globally. Costco will continue to be in a financial position to take care of our employees, enhance the value of the Costco membership, and create shareholder value over the long term."
A special dividend is a one-time cash payment to shareholders on top of a company's normal distribution. They often serve as a way for businesses to shake excess cash off their balance sheets. And they often represent a big vote of confidence in the company's future, on the part of management.
And Costco executives certainly have good reason to be optimistic. The wholesaler benefited initially from the COVID-19 pandemic as shoppers began hoarding essential supplies like food, disinfectant wipes, hand sanitizer, and bottled water. But more recently, the business has benefited from a huge shift in consumer spending. With people spending less money on travel and restaurants, they have redirected some of their spending to electronics, patio furniture, and other household products.
That has resulted in jaw-dropping financial results. In fiscal 2020, Costco reported that company-wide sales spiked 9.2% on a currency-adjusted basis. Net income during that same period topped $4.0 billion, or $9.02 per diluted share, compared to $3.7 billion, or $8.26 per diluted share, in the prior year. (Source: Ibid.)
Investors have been similarly rewarded. Year-to-date, Costco shares have posted a total gain, including dividends, of 31%. That performance makes the company one of the best-performing names in the S&P 500 index in 2020.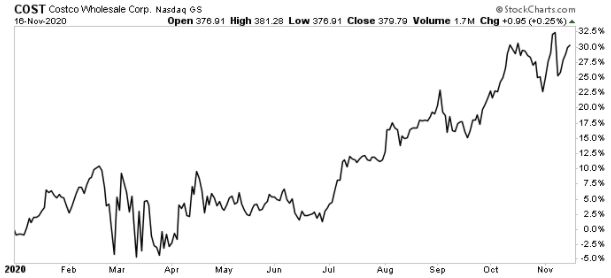 Chart courtesy of StockCharts.com
The only downside from making so much money? Too much cash.
Costco had $12.3 billion of cash and cash equivalents sitting on its balance sheet as of August 30—not to mention another $1.0 billion in short-term investments.
That was far more money than the company needed on hand to run its operations or profitably invest into its expansion. And given that the yield on money-market funds is now less than one percent, hoarding too much money in the corporate treasury had started to bite into shareholders' returns. So it made far more sense for management to pay out these funds to investors so they can find more lucrative opportunities elsewhere.
Of course, Costco isn't the only company making special dividend payments to shareholders. I highlighted more of them in my monthly advisory Passive Monthly Income.
Out of fairness to my paying subscribers, I can't reveal those names here. But for income investors willing to do their homework, special dividend payments can result in a lucrative income stream. And despite the COVID-19 pandemic, I expect that many more businesses will make similar announcements in the weeks ahead.