4.2%-Yielding Realty Income Corp Stock's Dividend Hiked for 99th Consecutive Quarter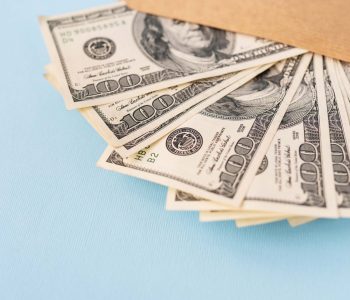 Realty Income Corp Pays 624th Consecutive Monthly Dividend
When you bill yourself as "The Monthly Dividend Company," you better live up to the moniker. And that means doing more than simply paying a dividend each month; lots of companies do that. What sets Realty Income Corp (NYSE:O) apart is that it not only has a storied history of reliably paying monthly dividends (624 months and counting), but it has also raised its payout 116 times since going public in 1994 (roughly once every three months).
With inflation at 40+ year highs, interest rates on the rise, and fears of a recession, it's nice to find a high-yield dividend stock that helps fight inflation and also gives shareholders a raise three or four times a year.
Realty Income is the largest triple-net real estate investment trust (REIT) in the U.S. and the sixth-largest REIT in the world. It owns more than 11,200 real estate properties that are under long-term net lease agreements. (Source: "Investor Presentation: May 2022," Realty Income Corp, last accessed June 28, 2022.)
The properties are leased to about 1,090 different clients operating in 70 industries and are located in all 50 U.S. states, Puerto Rico, the U.K., and Spain. Thanks to the company's diverse portfolio, 94% of the total rent it collects is resilient to economic downturns and/or is isolated from e-commerce pressures. Right now, the REIT's properties have an occupancy rate of 99.2%. This matches the company's historic record, which it last hit in the third quarter of 2021.
Realty Income Corp's top five clients (and their percentage of the company's portfolio) are:
Walgreens Boots Alliance Inc (4.0%)
7-Eleven (3.9%)
Dollar General Corp. (3.9%)
Dollar Tree, Inc./Family Dollar Stores, Inc. (3.5%)
FedEx Corporation (2.9%)
Realty Income Corp Enters Gaming Industry via Large Acquisition
Realty Income has a strong acquisition strategy.
In 2020, the year that COVID-19 brought the global economy to its knees, the REIT invested $2.3 billion in properties (and properties under development or expansion).
In 2021, the company's acquisition strategy was even more aggressive. In addition to a $14.5-billion merger with VEREIT, Inc., Realty Income invested $6.4 billion in 911 properties (and properties under development or expansion), including $2.6 billion in Europe. (Source: "Realty Income Closes Merger With VEREIT," Realty Income Corp, November 1, 2021.)
That momentum has continued in 2022. During the first quarter of this year, the REIT invested $1.6 billion in 213 properties, including $796.4 million in Europe.
On top of that, in February, Realty Income announced that it had signed a definitive agreement to acquire the Encore Boston Harbor Resort and Casino for $1.7 billion under a long-term net lease agreement with Wynn Resorts, Limited (NASDAQ:WYNN). (Source: "Realty Income Announces $1.7 Billion Sale-Leaseback of Encore Boston Harbor Through Partnership With Wynn Resorts," Realty Income Corp, February 15, 2022.)
The sale-leaseback transaction with Wynn Resorts is expected to be executed at a 5.9% initial cash cap rate on a 30-year lease that includes rent increases tied to the consumer price index (CPI), with a floor of 1.8% and a ceiling of 2.5%. This acquisition is Realty Income Corp's first foray into the gaming industry and it helps diversify its tenant base. The REIT currently gets 84% of its rent from retail tenants. The acquisition will make the company less sensitive to a downturn in retail spending.
O Stock's Dividend Increases for 99th Consecutive Quarter
Realty Income's growing, diverse property portfolio helps provide it with reliable cash flow, which it returns to investors in the form of reliable, high-yield dividends. In mid-June, the REIT announced that it was increasing its monthly dividend from $0.247 to $0.2475 per share, for a yield of 4.3%. (Source: "116th Common Stock Monthly Dividend Increase Declared by Realty Income," Realty Income Corp, June 14, 2022.)
As mentioned earlier, this is the 116th time Realty Income Corp stock's dividend has increased since the company went public on the New York Stock Exchange in 1994. It's also the 99th consecutive quarter in which the dividend has increased.
Realty Income says two of its goals are "to average double-digit total shareholder return with minimal volatility" and "to continue treating the dividend as sacrosanct to our mission." (Source: "Investor Presentation: May 2022," Realty Income Corp, op. cit.)
For a company to say that, it's fair to assume O stock's high-yield monthly dividends are safe.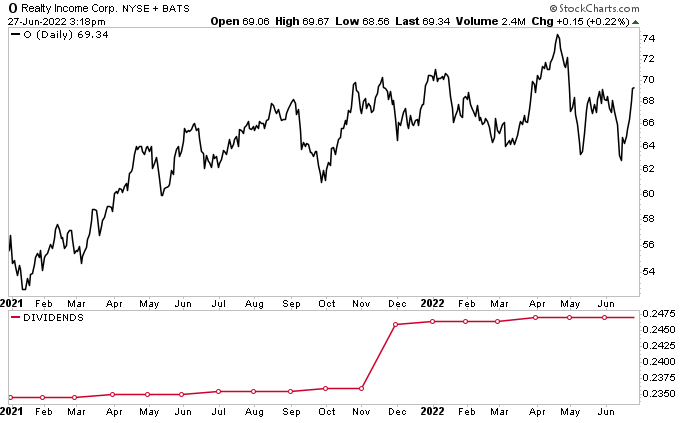 Chart courtesy of StockCharts.com
The Lowdown on Realty Income Corp Stock
When it comes to total performance, it's tough to beat Realty Income Corp. Since 1994, O stock's annual total return has been an inflation-pounding 15.3%. Also since 1994, the company's dividends have been growing at an annual compound rate of 4.4%.
Won't rising interest rates hurt Realty Income Corp stock's share price and dividend? Not if history is any indicator. In 2015, the Federal Reserve began raising its overnight lending rate, which continued through 2018. During the Fed's prior rate-hike cycle, O stock outperformed the S&P 500 and the MSCI US REIT Index.
This bodes well, not just for Realty Income's share price, but also for the company's ability to provide one of the most consistently growing high-yield dividends on Wall Street.