Realty Income Corp Is No. 1 Monthly Dividend Stock with 92 Payout Increases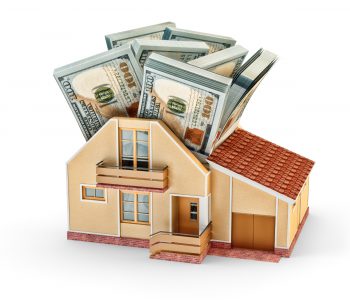 Earn a Reliable Income from This Monthly Dividend Stock
Companies paying monthly dividends deserve special attention because, at the very least, it shows that they are committed to returning value to shareholders. In today's market, there are quite a few companies with monthly distributions. But if I had to pick just one monthly dividend stock, it would have to be Realty Income Corp (NYSE:O).
As the name suggests, Realty Income is a real estate company designed to generate a stream of income. And that income comes from rent. In other words, the company can be considered a landlord—a very big landlord.
If you are a homeowner, you would know that buying and selling real estate is often a lengthy process, not to mention the real estate agent commissions and legal fees associated with the transaction.
Fortunately, there are things called real estate investment trusts (REITs) that can help you invest in real estate. By putting money into a REIT, an investor becomes a part owner of a real estate portfolio. And since many REITs trade on stock exchanges, transaction costs are not an issue.
Realty Income is a real estate investment trust headquartered in San Diego, California. As a monthly dividend stock, it has an unmatched track record when it comes to returning value to investors.
The company was founded in 1969 and has been providing investors with uninterrupted monthly dividends since then. Realty Income completed its initial public offering (IPO) in October 1994 and started trading on the New York Stock Exchange (NYSE) under the ticker symbol O. The company has received investment grade ratings from Moody's, Standard & Poor's, and Fitch Ratings Inc. Realty Income was added to the S&P 500 Index in 2015.
Also Read:
Reit ETF List: Earn Regular Income From These Real Estate ETFs
Real Estate Stocks: Collect Monthly Rents Without Any Tenants
This Monthly Dividend Stock Raised Its Payout 92 Times Since Its IPO
What's more is that the monthly dividend checks mailed to Realty Income stock investors keep getting bigger. Since its IPO in 1994, Realty Income has raised its monthly dividend rate 92 times. In particular, the company has increased its payout for 79 consecutive quarters.
Most dividend-paying companies would be proud if they could raise their quarterly dividend rate every year. What Realty Income has done is raise its monthly dividend rate every quarter. Combining more frequent distributions with more frequent payout hikes, investors of this monthly dividend stock have been generously rewarded.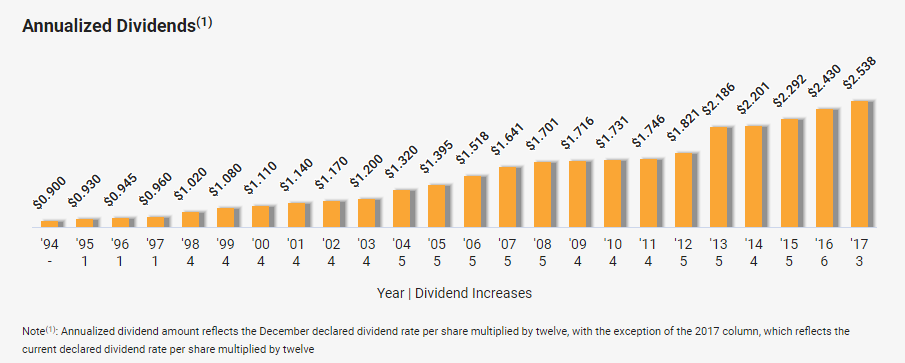 (Source: "Monthly Dividend Commitment," Realty Income Corp, last accessed June 20, 2017.)
Of course, a steadily increasing dividend stream needs to be supported by a solid business. The good news is, Realty Income has some of the highest-quality real estate assets in the business.
The company's strategy is to purchase single-tenant, freestanding commercial real estate properties that are leased to tenants under long-term net lease agreements. Realty Income's current portfolio contains over 4,900 commercial properties, most of which are retail properties.
The company leases its properties on a triple-net basis. This means the tenants, rather than the landlord, are responsible for paying taxes, insurance, and maintenance on the leased properties. This allows Realty Income to distribute most of the rent it receives to shareholders in the form of dividends.
The length of Realty Income's lease agreements is another reason why this monthly dividend stock is special. The company typically acquires properties that have tenants under 10-to-20-year lease agreements. By the end of the first quarter, Realty Income's portfolio of 4,980 freestanding, single-tenant properties have a weighted average remaining lease term of 9.7 years. (Source: "Realty Income Announces Operating Results For First Quarter 2017," Realty Income Corp, April 25, 2017.)
Realty Income also has high-quality tenants. Its list of top 20 tenants based on total portfolio annualized rental revenue includes well-known companies such as Walgreens Boots Alliance Inc (NASDAQ:WBA), FedEx Corporation (NYSE:FDX), LA Fitness, and Wal-Mart Stores Inc (NYSE:WMT).
Chasing late payments is never a fun experience. By having high-quality tenants that pay on time, under long-term lease agreements, Realty Income can secure its cash flow, adding stability to its dividend payments.
As a giant landlord, Realty Income's portfolio is well diversified. The company's properties are spread across 49 states and Puerto Rico. Moreover, they are leased to 250 commercial tenants coming from 47 different industries. With this level of diversification, it's unlikely that a downturn in one region or industry will affect the whole company's financials that much.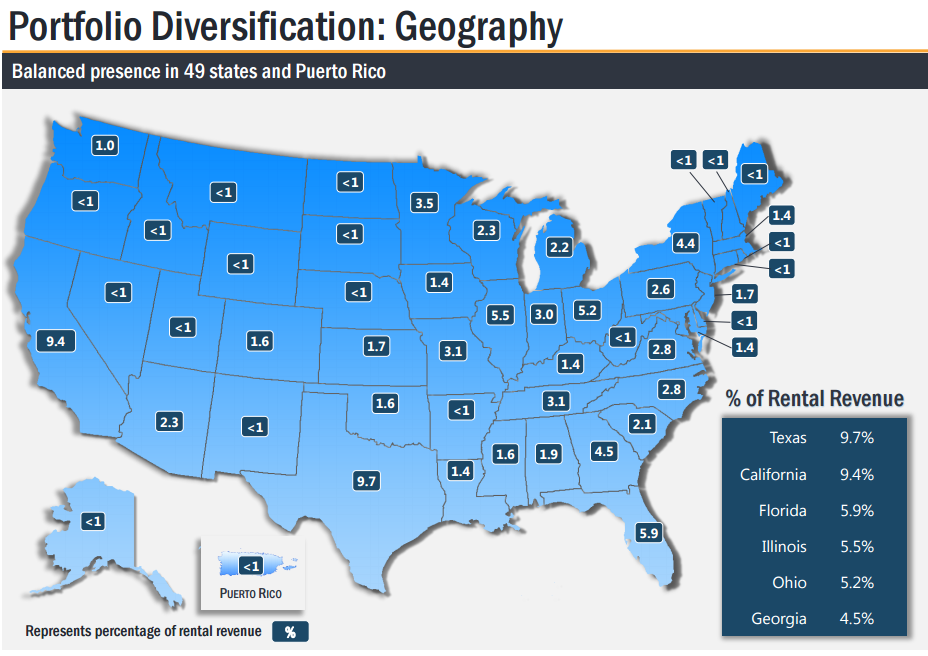 Source: "Institutional Investor Presentation," Realty Income Corp, last accessed June 20, 2017.
Growing Financials
This monthly dividend stock has been posting some pretty impressive financial results. In the first quarter of 2017, Realty Income generated $298.0 million in revenue, representing an 11.6% increase year-over-year. Adjusted funds from operations per share grew 8.6% year-over-year to $0.76.
By the end of March, the company's portfolio occupancy rate was 98.3%. Economic occupancy, which is measured by rental revenue, was 99%. Note that during the quarter, the annual new rent on properties re-leased to existing or new tenants resulted in a rent recapture rate of 103.6%.
The Bottom Line on This Monthly Dividend Stock
In its 48-year operating history, Realty Income has paid 563 consecutive monthly dividends. Given the company's rock-solid portfolio, efficient operations, and the willingness to return value to shareholders, I'd say the best could be yet to come for investors of this monthly dividend stock.