RBC Stock: A Top Canadian Bank for Dividend Income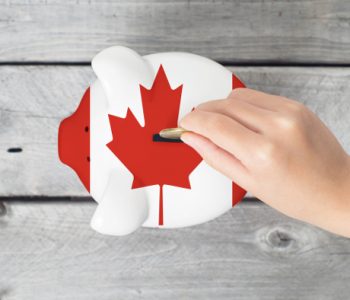 RY Stock Provides Solid Dividend Income
If you have had enough of the roller-coaster ride that is U.S. banking stocks, and want to benefit from the resilience of the Canadian banking system, then consider investing in Royal Bank of Canada (RBC) (TSX:RY, NYSE:RY) stock, which has an over-four-percent annual dividend yield.
Canadian banks, backed by one of the best banking systems in the world, have surprised stock investors time and time again, showing that they can weather a tough economic environment much better than their peers in the U.S.
While the U.S. banking stocks have rallied in August on expectations that the Federal Reserve will soon start raising interest rates, there is no solid trend line in the U.S. economic performance that would indicate that much-needed relief from a low-rate business environment is coming soon.
Hedge funds have been shorting Canadian banking stocks for more than a year now, betting that these lenders will sink as the real-estate bubble, fueled by low interest rates, bursts, taking with it the largest lenders who have a huge portfolio of mortgage loans.
After all, Canadian real-estate prices have surged more than 50% in Greater Vancouver and over 30% in the Greater Toronto Area during the past three years thanks to both local and foreign homebuyers. (Source: "Canadian home sales post third consecutive decline in July," The Canadian Real Estate Association, August 15, 2016.)
Their stance was further strengthened as a perfect storm of collapsing energy prices, record consumer debt, and rising loan defaults at energy companies battered the Canadian economy.
RBC Stock Proving Doomsday Sayers Wrong
But last month's record earning announcements proved these doomsday forecasters wrong again.
A surprise dividend increase and record earnings in the third quarter showed that RBC stock is riding through the economic downturn quite nicely.
RBC, the largest Canadian lender, beat analyst consensus estimates and reported a 17% jump in its third-quarter profits, helped by a strong performance in its Wealth Management and Capital Markets divisions. Investors in the RY stock were also rewarded with a two-percent increase in dividends to $0.83 a share, bringing the dividend yield to over four percent.
For Chief Executive Officer Dave McKay, this performance shows the strength of RBC's diversified business model and its disciplined risk management in a tough economic environment. "We remain focused on prudently managing risks and costs while innovating to enhance the client experience and deliver long-term shareholder value,'' he said. (Source: "Third Quarter 2016 Earnings Release," Royal Bank of Canada, August 24, 2016.)
RY Stock Benefits From Record Earning
RBC stock has returned 22% since hitting a bottom for this year in January, a much better performance than a flat return produced by KBW NASDAQ Bank Index, representing the U.S. banking stocks.
And the story for other Canadian banking stocks isn't much different than that of RBC stock. Canadian Imperial Bank of Commerce (CIBC) (TSX:CM, NYSE:CM), which handed in seven consecutive quarterly dividend increases to income investors, boosted its payout by 21% since the fourth quarter of 2014. It offers a dividend yield of 4.7%.
CIBC said last month that excluding adjustments and one-time items, its earnings per share (EPS) jumped nine percent to $2.67 per share.  Analysts had expected, on average, that the bank's adjusted EPS would come in at $2.35 per share.
These results show that the turnaround in the Canadian banking stocks is real and widespread. Canadian banks have shown that they're good at surprising investors, even in the toughest economic environment. If you're considering investing in Canadian stocks, this is probably a good time to take that bet, with the Canadian currency now trading at a multi-year low, giving CA$1.30 for each U.S. dollar invested.