Rattler Midstream Stock: Bullish Energy Play With Growing 9.1% Dividend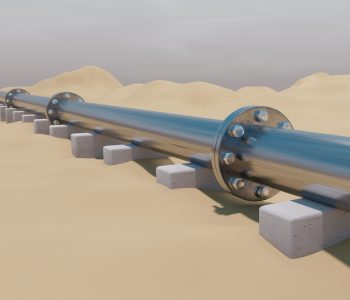 How Rattler Midstream LP Rewards Investors
Dividend hogs hoping to take advantage of soaring oil and natural gas prices might want to take a look at Rattler Midstream LP (NASDAQ:RTLR).
Thanks to sanctions on Russia, crude oil has pushed through the $100.0-per-barrel level for the first time since 2008. This has sent U.S gasoline prices to an average of $4.30 per gallon, a 50% increase from where it was a year ago. Not surprisingly, energy stocks have been the biggest winners so far this year, with the S&P 500 Energy index up by 37% year-to-date and 56% year-over-year. By comparison, the broader S&P 500 is down by 6.7% year-to-date and up by just 13.6% year-over-year.
Not all energy stocks are created equal, though. Pure-play oil and natural gas stock prices are highly correlated to oil and natural gas prices, rising and falling in step. That's why pure-play oil and gas stock investors experienced massive losses in early 2020 and massive gains in early 2022.
Energy infrastructure (pipelines, storage, transportation, and logistics) stock prices, on the other hand, aren't as highly correlated to oil and gas prices. This means they're less volatile than pure-play oil and gas stocks. Energy infrastructure stocks might not provide the same meteoric gains pure-play energy stocks do, but they also don't provide the same roller-coaster rides. Investors can still enjoy strong share-price gains from energy infrastructure stocks, though. As of this writing, Rattler Midstream stock is up by 25% year-to-date and 32% year-over-year.
With Rattler Midstream stock, investors also get ultra-high dividends. After an abysmal 2020, which resulted in many midstream energy companies cutting or even suspending their dividends, it looks like dividend hikes are back. During the COVID-19-related economic downturn, many energy companies hunkered down, reduced their debts, and focused on increasing their free cash flow. That has put them in better financial positions to restart or raise their dividends.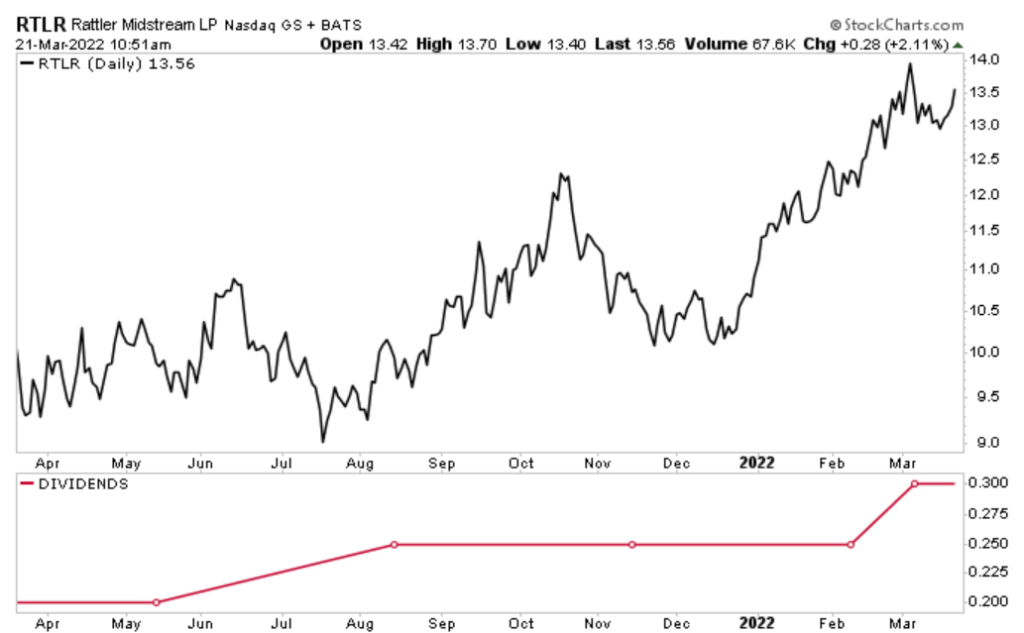 Chart courtesy of StockCharts.com
About RTLR Stock
A subsidiary of Diamondback Energy Inc (NASDAQ:FANG), Rattler Midstream LP owns crude oil, natural gas, and water-related midstream assets. Rattler provides water sourcing and transportation services, as well as produced water gathering and disposal services, to Diamondback Energy and third-party customers—primarily under long-term, fixed-fee contracts. (Source: "About" Rattler Midstream LP, last accessed March 22, 2022.)
Rattler operates through two segments: midstream services and real estate operations. The company owns, operates, develops, and acquires assets in the Midland and Delaware Basins of the Permian Basin. It owns and operates approximately 927 miles of crude oil, natural gas, sourced water, and produced water gathering pipelines across the Midland and Delaware Basins.
Rattler Midstream LP's oil and gas gathering systems transport oil and gas to intermediary pipelines. Its water system obtains and distributes sourced water for use in drilling and completion operations and for recycling and disposal.
During the fourth quarter of 2021, Rattler closed on three strategic deals. In October, the company entered a gas gathering and processing joint venture focused on the Midland Basin for $104.0 million. In November, Rattler Midstream LP closed the sale of its Pecos County gas gathering assets to Brazos Midstream for gross potential consideration of $93.0 million, including $83.0 million of cash at closing. In December, Rattler closed on an acquisition of water midstream assets from Diamondback for $160.0 million.
In January 2022, the company closed on a new natural gas liquid (NGL) joint venture. Rattler Midstream LP acquired a 10% equity interest in Belvieu Alternative NGL (BANGL), a long-haul NGL pipeline, for $22.2 million.
Rattler Midstream LP Reports Q4 Results & Hikes Dividend
For the fourth quarter ended December 31, 2021, Rattler reported total revenue of $99.8 million, down from $109.2 million in the same prior-year period. Despite the decrease, this topped Wall Street analysts' call for revenue of $97.9 million. (Source: "Rattler Midstream LP, a Subsidiary of Diamondback Energy, Inc., Reports Fourth Quarter 2021 Financial and Operating Results," Rattler Midstream LP, February 23, 2022.)
During the fourth quarter of 2021, the company recorded total operating income of $47.3 million, up by six percent from the third quarter. The company's fourth-quarter net income climbed by 14% over the third quarter to $44.5 million, or $0.24 per share. Its fourth-quarter 2021 adjusted earnings were $80.8 million, up by eight percent from the third quarter.
"Rattler closed the year on a high note, with a strong operational quarter in terms of volumes, operating expense control and Free Cash Flow," said Travis Stice, CEO of Rattler Midstream LP's general partner. "In particular, the free cash flow of $54 million in the fourth quarter and $216 million for full year 2021 highlights the cash generation potential of the operated business…" (Source: Ibid.)
Along with announcing the solid fourth-quarter results, the board of Rattler's general partner declared a fourth-quarter dividend of $0.30, which translates to a dividend of 9.1%. This far outpaces the average infrastructure stock yield of 5.6%, the S&P 500 Energy yield of 4.3%, and the broader S&P 500 yield of 1.4%.
"In keeping with Rattler's history of prioritizing return of the free cash flow produced by the business, we are increasing our distribution by 20% to $1.20 per unit annualized as a reflection of the confidence in the future trajectory of the business," said Stice.
Rattler Midstream LP also returned value to shareholders through a stock repurchase program. During the quarter, the company repurchased 1.7 million common units at an average price of $11.12, for a total of $19.0 million.
The Lowdown on Rattler Midstream Stock
All eyes are on the energy sector right now, but that bandwagon will eventually take a back seat to something else. That doesn't mean the momentum that Rattler Midstream stock has been enjoying will fade away.
Rattler Midstream LP's business is underpinned by contracts that extend through 2034, providing the company with reliable cash flow. Rattler's three strategic deals that closed in the fourth quarter, plus its BANGL joint venture, provide the company an opportunity to juice its business over the long run.
All of which should help the company continue paying reliable, ultra-high dividends to RTLR stock investors.