Record Demand & Blockbuster Discovery Makes 5.6%-Yielding Ramaco Resources Stock a No-Brainer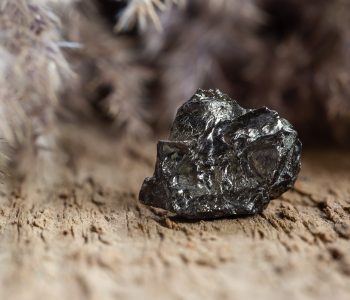 METC Stock Has a Lot Going For It
Ramaco Resources Inc (NASDAQ:METC) is a great basic materials stock with two major tailwinds that should make even the most discriminating income investor happy.
First, when it comes to high-yield dividend stocks, you want to look for companies that can sustain their lofty payouts. To gauge that, you typically look at the company's payout ratio, a measure relative to the company's net income.
I can stomach a payout ratio as high as 90%; that leaves a company with enough financial wiggle room to cover its dividends. On top of that, if management wants, it leaves room to increase the dividends.
Ramaco Resources Inc's current payout ratio is just 20.5%. This leaves the company's board more than enough room to raise the dividend in 2023 if it so chooses.
Second, for a company to support its dividend, there needs to be high demand for what the company sells. There's no point in bragging about how cheaply and quickly you can make dot matrix printers, floppy disks, or 8-track cartridges if there's no market for them.
Ramaco Resources Inc, which is North America's only pure-play metallurgical coal company, has been riding a wave of record-high global coal demand. That demand is set to hit a record high this year of 8.4 billion tons, up by 0.4% from a record level of demand in 2022.
The demand for coal as a power source may be declining in the U.S. and the EU (as they ramp up the production of renewable energy), but Asia—particularly China and India—has been more than making up for this. (Source: "Global Coal Demand to Stay at Record-High Levels in 2023," OilPrice.com, July 27, 2023.)
Coal is used for more than just heating, though. Metallurgical coal is a key component in the production of primary steel, which is crucial to infrastructure and the energy transition.
A surging global demand for steel as the global economy continues to recover from the COVID-19 pandemic has put the spotlight back on coking coal. As its name suggests, this type of coal is converted into coke, the key source of carbon that's essential for converting iron ore into steel. It takes roughly 770 kilograms (1,700 pounds) of metallurgical coal to make one ton of steel.
The global output of steel is expected to increase by 22% from 1.8 billion tonnes in 2022 to 2.2 billion tonnes in 2050. The demand for coking coal is expected to rise at an even brisker pace. (Source: "Surging Global Steel Demand Puts Focus on Met Coal," Financial Review, June 22, 2023.)
To build one electric vehicle (EV), you need 900 kilograms (1,984 pounds) of steel, which requires 690 kilograms (1,521 pounds) of metallurgical coal. To build one wind turbine, it takes 285 tonnes of steel and 220 tonnes of metallurgical coal.
The main sources of metallurgical coal are the U.S., Canada, and Australia.
About Ramaco Resources Inc
Ramaco Resources is one of North America's only producers of metallurgical coal. The company serves blast furnace steel mills and coke plants in the U.S., as well as metallurgical coal consumers internationally.
The company's development portfolio includes four long-lived projects: Berwind, Elk Creek, Knox Creek, and RAM Mine. They hold about 250 million tons of high-quality metallurgical coal reserves. (Source: "About Us," Ramaco Resources Inc, last accessed July 31, 2023.)
The Berwind project is located on the border of West Virginia and Virginia, the Elk Creek project is in southern West Virginia, the Knox Creek project is in Virginia, and the RAM Mine project is in southwestern Pennsylvania. (Source: "Operations," Ramaco Resources Inc, last accessed July 31, 2023.)
The company is targeting production of about 6.5 million tons of metallurgical coal by 2026, up significantly from about 0.5 tons in 2017. (Source: "Annual Meeting: June 2023," Ramaco Resources Inc, last accessed July 31, 2023.)
Major Rare Earth Deposit Found at Wyoming Mine
There's more to Ramaco Resources than just coking coal.
In early May, the company said that an independent analysis of its Brook Mine in Wyoming discovered what could be the largest unconventional deposit of rare earth elements (REEs) in the U.S. (Source: "Major Deposits of Magnetic Rare Earth Elements Discovered at Ramaco Resources Mine in Wyoming," Ramaco Resources Inc, May 3, 2023.)
The analysis was conducted by the Department of Energy's National Energy Technology Laboratory and analysts at mining consultancy firm Weir International, Inc.
Weir International estimates that there are between 181,000 and 226,000 tons of magnetic rare earth oxide at the Brook Mine site. That ranks among the highest relative concentrations of magnetic REEs (MREEs)—such as the heavy REEs Terbium and Dysprosium, as well as lighter REEs like Neodymium and Praseodymium—discovered so far.
There's currently only one active mine for MREEs in the U.S.
MREE materials are used in EVs, advanced military technology, medical devices, and more. China currently produces the vast majority of the world's REEs, which are increasingly important in defense, industrial, and consumer technologies.
U.S. Congress and the Department of Energy have set aside billions of dollars for REE technology, and a bipartisan bill introduced earlier this year would establish tax credits to support the production of MREEs like those found at the Brook Mine.
After Record 2022, Company Reported Better-Than-Expected Q1 
For the first quarter of 2023, Ramaco Resources reported that its revenues went up by seven percent year-over-year and 23% sequentially to $166.4 million. (Source: "Ramaco Resources Reports First Quarter 2023 Results," Ramaco Resources Inc, May 3, 2023.)
The company's first-quarter net income came in at $25.3 million, or $0.57 per share, up by 75% over its fourth-quarter 2022 net income of $14.4 million, or $0.32 per share. Its adjusted earnings before interest, taxes, depreciation, and amortization (EBITDA) were $48.3 million, up from $31.9 million in the fourth quarter of 2022.
During the quarter, the company achieved record production of 834,000 tons and record sales of 757,000 tons. And despite continued inflationary pressures, its adjusted cash cost of sales, which excludes transportation and idle mine costs, fell from $114.00 per ton in the fourth quarter of 2022 to $105.00 per ton in the first quarter of 2023.
Ramaco Resources Inc Increased Production & Sales Guidance
For full-year 2023, Ramaco's management increased their production guidance from 3.0–3.5 million tons to 3.1–3.6 million tons. They also hiked their full-year 2023 sales guidance from 3.2–3.7 million tons to 3.3–3.8 million tons, representing a 45% increase from the company's 2022 sales.
Ramaco Resources Inc's second-quarter 2023 sales are expected to increase modestly over its first-quarter 2023 sales of 757,000 tons. By the second half of 2023, the company expects to ramp up its production and sales to a run rate of roughly one million tons per quarter.
Meanwhile, the U.S. metallurgical coal spot price is currently down by almost 25% from its first-quarter average on the back of renewed concerns about the global economy. If indices remain at their current levels for the duration of the second quarter, Ramaco anticipates that its second-quarter average realized price for company-produced coal, excluding transportation charges, will fall by roughly nine percent to 11% from its first-quarter level of $185.00 per ton.
Ramaco Resources Inc's management also noted that 2.7 million tons, or 81% of the company's predicted production for 2023, is now contracted. Of this amount, 1.9 million tons (70%) is fixed-price business at an average of $197.00 per ton, with the balance priced against a floating index.
Management Raised Quarterly Dividend 10.6% to $0.125/Share
Ramaco Resources stock has only been paying dividends since December 2021, but the company has been raising them pretty regularly since then.
Ramaco Resources Inc increased its dividends from $0.570 per share in the fourth quarter of 2021 to $0.113 in the first quarter of 2022, $0.1133 in the third quarter of 2022, and $0.125 in the fourth quarter of that year. (Source: "METC Dividend History," Nasdaq, last accessed July 31, 2023.)
The company held METC stock's quarterly payout at $0.125 in the first quarter of 2023. That represents a 10.6% increase over the $0.113 it paid out in the same period of last year. It also translates to a yield of 5.6%.
Ramaco Resources Stock Ripping Higher
The price of Ramaco Resources Inc's shares has been edging higher. As of this writing, it's up by:
11% over the last month
37% over the last three months
11% over the last six months
Five percent year-to-date
Big gains, and Wall Street analysts expect METC stock to climb significantly over the coming quarters. They've provided a 12-month median share-price estimate of $10.00 and a high estimate of $12.00. This points to potential gains of 11.5% to roughly 34% from shares of Ramaco Resources Inc.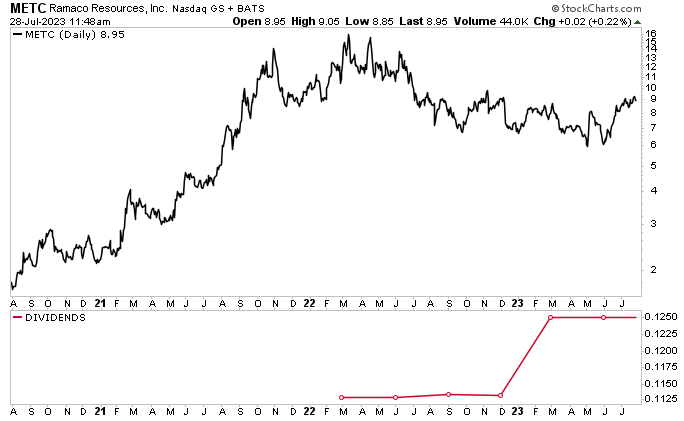 Chart courtesy of StockCharts.com
There Are Now 2 Ways to Play Ramaco Resources Inc
There are actually two ways that investors can play Ramaco Resources stock.
On June 22, Ramaco Resources launched its Class B common stock with the ticker NASDAQ:METCB. The launch of the new Class B stock is tied to the rare earth mineral deposit that was found at the company's Wyoming mine.
Whereas METC stock represents the interest of both metallurgical coal mining and REEs, METCB stock represents an interest in the financial performance of what the company calls carbon ore-rare earth (CORE) assets.
Ramaco Resources Inc has said it believes that its CORE non-cost-bearing coal royalties, coal infrastructure, REE royalties, and carbon product intellectual property (IP) licensing are forms of passive income that are fundamentally different from its metallurgical coal mining operations.
Management thinks the new Class B shares should be valued similarly to shares of other royalty companies, potentially increasing Ramaco Resources Inc's total share value and providing additional long-term capital returns.
METCB stock investors gain exposure to REE and carbon product opportunities, as well as a favorable quarterly dividend strategy. The company's board discussed the Class B shares' first dividend at their July meeting. Any dividends from the Class B common stock will be based on the revenues generated by the company's CORE assets.
METCB stockholders are eligible to receive dividends based on 20% of Ramaco Resources Inc's CORE income. The other 80% will be retained by the company.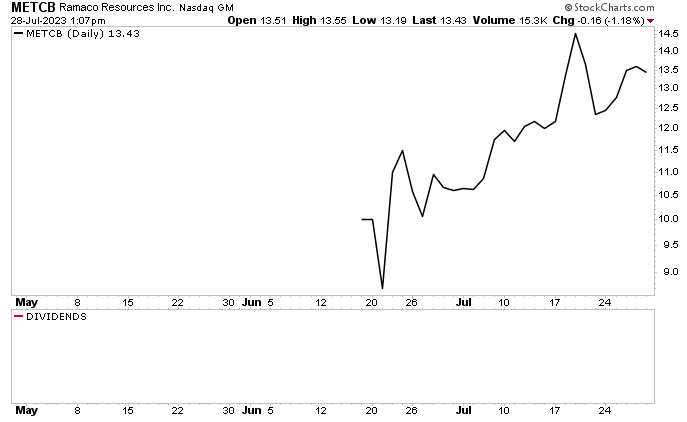 Chart courtesy of StockCharts.com
Ramaco Resources' addition of Class B common stock doesn't reduce its net income or adjusted EBITDA, nor does it reduce the dividends from its Class A common stock. The two dividend policies are separate, and the two different dividends aren't cumulative.
The company's management expects to continue increasing the Class A dividend by at least 10% each year. The amount of the Class B dividend will grow as the income from the company's CORE assets grows.
The Lowdown on Ramaco Resources Stock
Ramaco Resources Inc is a great way for investors to play the coking coal industry and REEs.
As mentioned earlier, the company has a strong growth trajectory in terms of coal production. Moreover, it has been reporting superb financial results, including record 2022 net income and better-than-expected first-quarter 2023 results. Thanks to the company's wonderful start to the year, management raised its full-year production and price guidance.
The company has a sizeable pipeline toward more than doubling its production. When combined with its recently discovered REE deposit, Ramaco Resources has the potential to be a major U.S. supplier of critical materials for many decades.
Since its initial production began in 2017, the company has consistently executed its plan to grow its production and generate high free cash flow conversion, which can be distributed to its shareholders.
Thanks to Ramaco Resources Inc's introduction of a new Class B stock, METCB stock, investors now have two ways to take advantage of the company's reliable dividends.