QTS Stock: A "Next Big Thing" Play That Also Yields 4%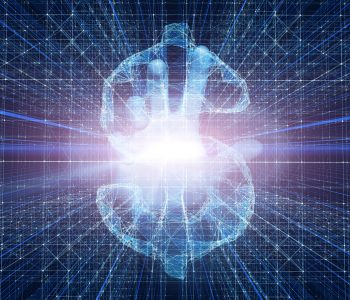 iStock.com/liulolo
Earn a 4% Yield Today, With More Payout Increases to Come
Today's chart highlights one of my favorite dividend plays for the 21st century: QTS Realty Trust Inc (NYSE:QTS).
As a risk-averse income investor, I like companies with established market positions in slow-changing industries. But that doesn't mean we should ignore up-and-coming businesses altogether. Just ask any early investor of Microsoft Corporation (NASDAQ:MSFT) and you'll see what I mean.
But of course, when a company is just starting out, it will likely want to focus on expanding its business rather than returning cash to investors. And resources are usually limited. That's why, if you are looking for companies that are building "the next big thing," chances are that most of them don't offer much in terms of dividends.
Does that mean income investors have to stick entirely with decades-old blue-chip stocks (although there's nothing wrong with that)?
Not really. There are exceptions, with QTS Realty Trust being a very notable one.
QTS Realty Trust: A Booming Business
Headquartered in Overland Park, Kansas, QTS is a leading provider of data center solutions. The company owns and operates 26 data centers with 2.7 million square feet of raised floor capacity and more than 670 megawatts of available utility power. These data centers are located in 14 markets across the United States. (Source: "Investor Presentation Second Quarter 2018," QTS Realty Trust Inc, last accessed July 19, 2018.)
Through these assets, the company provides data center solutions, hybrid cloud, and fully managed services. It currently has more than 1,000 customers—including technology companies, enterprises, and government entities.
Cloud computing is one of the fastest-growing industries right now. As more and more companies move from on-premise deployment to cloud-based solutions, QTS's business could get a solid boost.
Moreover, due to the rising demand for cloud services, existing data center owners and operators may not have enough capacity to meet the demand. When that happens, they are usually willing to pay a fee to companies like QTS to use their data center infrastructure.
In other words, the company is well positioned to capitalize on the booming cloud computing industry.
A New Dividend Giant on the Block
QTS Realty Trust went public in October 2013, so it is a relatively new name for stock market investors. However, this new player has already established a rather generous dividend policy.
Right now, the company pays quarterly dividends of $0.41 per share, which comes out to an annual yield of four percent.
To put it in perspective, the average dividend yield of all S&P 500 companies stands at less than two percent at the moment. (Source: "S&P 500 Dividend Yield," Multpl.com, last accessed July 19, 2018.)
One of the reasons for the company's oversized payout is that it is structured as a real estate investment trust (REIT). To qualify as a REIT, the company must return at least 90% of its profits to shareholders through dividends.
That means, if QTS manages to grow its business, it will have to pay out an increasing stream of dividends too.
And that's indeed what happened. The chart below shows QTS stock's per-share dividend history declared in each full year after its initial public offering (IPO).
QTS Realty Trust Inc Dividend History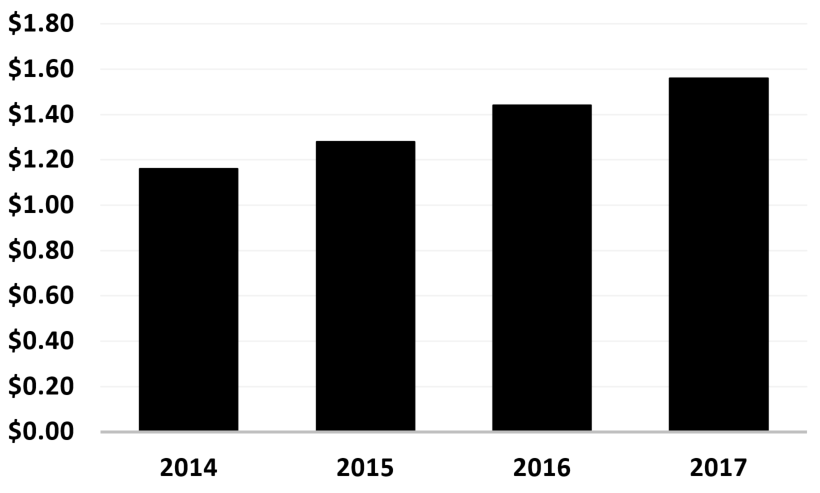 (Source: "QTS Realty Trust, Inc. Dividend Date & History," Nasdaq, last accessed July 19, 2018.)
In 2014, QTS Realty Trust declared total dividends of $1.16 per share. By 2017, the amount had grown to $1.56 per share. That's an increase of 34.5%.
In fact, since its IPO, QTS Realty Trust has raised its payout every single year.
The latest dividend hike came in in February 2018, when the company's board of directors declared a quarterly dividend of $0.41 per share, which is a 5.1% increase over the previous payout.
The best part is, QTS's business has been growing at a much faster pace than its dividend payments. In the first quarter of 2018, the company's core revenue grew 15.6% year-over-year to $100.4 million. (Source: "QTS Reports First Quarter 2018 Operating Results," QTS Realty Trust Inc, April 25, 2018.)
Like most real estate investment trusts, QTS also reports something called funds from operations (FFO). Comparing a REIT's FFO to its dividends will reveal whether the company generated enough cash to cover its payout.
In the first quarter, QTS Realty Trust's core operating FFO came in at $0.64 per share, marking a 15% increase from a year ago. Since the company declared total dividends of $0.41 per share in the quarter, it achieved a rather safe payout ratio of 64.1%.
With a booming "next big thing" business and a safe, generous dividend policy, QTS stock is a rare find in today's market.