QSR Stock: This Warren Buffett Dividend Stock Doubled Its Payout in Less than Three Years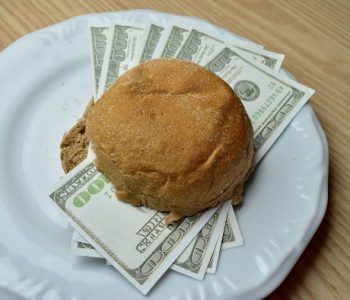 iStock.com/GutoSantos
Warren Buffett Loaded Up on This Dividend Stock: Should You Too?
Restaurant Brands International Inc (NYSE:QSR) may not sound like a familiar name, but you will likely have seen some of its famous brands, such as Burger King and Popeyes.
Oh, the stock also happens to be in the portfolio of Warren Buffet's company Berkshire Hathaway Inc. (NYSE:BRK.B).
If you take a look at Berkshire's latest 13F filing to the Securities and Exchange Commission (SEC), you'll see that Buffett owns 8.4 million shares of Restaurant Brands. The position has a current value of approximately $539.0 million. (Source: "Form 13F Information Table," United States Securities and Exchange Commission, November 14, 2017.)
However, the "Oracle of Omaha" actually has a lot more control over the restaurant giant than what Berkshire's 13F filing suggests. This is because National Indemnity Company, a subsidiary of Berkshire Hathaway, is currently the second-largest shareholder of Restaurant Brands; National Indemnity owns approximately 11.6% of the company.
But, to be honest, Buffett's stake in Restaurant Brands shouldn't come as a surprise. The company has exactly what Buffett looks for in his investments: wide economic moats.
Also Read:
Warren Buffett Net Worth: 5 Things You Need to Know
Restaurant Brands was created from the merger between Burger King and Canadian coffee shop/restaurant chain Tim Hortons Inc. in 2014. Earlier this year, it acquired another fast food restaurant chain, Popeyes Louisiana Kitchen Inc.
Restaurant Brands currently has over 23,000 restaurants located in more than 100 countries, making it the third-largest operator of quick-service restaurants in the world. (Source: "About Us," Restaurant Brands International Inc, last accessed November 14, 2017.)
Brand strength and economies of scale allow Restaurant Brands to run a lucrative business. Tim Hortons was founded in 1964, Popeyes in 1972, and Burger King in 1953. Each of these brands has thousands of locations and a loyal following. People have been going to these restaurants for decades, providing the company with a recurring stream of revenue and profits.
Moreover, the quick service restaurant business tends to be recession-proof. When the economy enters a downturn and people's disposable income shrinks, consumers may not buy as many new cars as before, but a "Whopper" sandwich at Burger King or a two-piece "Bonafide Chicken" meal at Popeyes would still be affordable to most people.
Solid Financials Provide Growing Dividends
With a solid business model, Restaurant Brands can afford to pay regular dividends. Right now, the company has a quarterly distribution rate of $0.21 per share, giving QSR stock an annual yield of 1.29%.
While the dividend yield is nothing to brag about, note that the amount has been consistently growing. Since Restaurant Brands stock began trading on the New York Stock Exchange in December 2014, the company has raised its common share dividend every single quarter. From its first dividend of $0.09 per share to today's $0.21 per share, Restaurant Brands' payout has increased by 133%. (Source: "Restaurant Brands International Inc. Dividend Date & History," NASDAQ, last accessed November 14, 2017.)
The neat thing is, even with these sizable dividend hikes, the company still has plenty of room to further increase its payout. In the first nine months of 2017, Restaurant Brands generated earnings of $0.95 per share while declaring cash dividends of $0.57 per share. That translated to a payout ratio of just 60%, leaving a wide margin of safety. (Source: "Restaurant Brands International Inc. Reports Third Quarter 2017 Results," Restaurant Brands International Inc, October 26, 2017.)
Bottom line: the current payout of Restaurant Brands may not seem like much, but the company is well positioned to deliver increasing dividends for years to come.