Prospect Capital Corporation: Reliable 8.1% Dividend Paid Monthly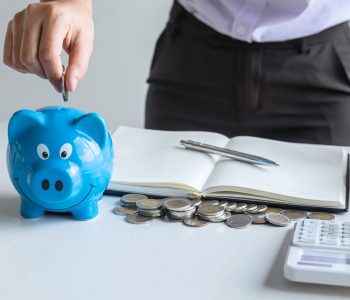 Prospect Capital Stock: Stable, High-Yield Dividend & Rising Share Price
With interest rates still hovering near zero, the best thing income-starved investors can do is hunt down reliable, high-yield dividends. Getting quarterly dividends is a great way to supplement your income, but waiting to receive payouts just four times a year can test anyone's patience.
Investors who hope to juice their bottom lines more quickly should look at companies that pay dividends monthly. The list isn't massive, but there are some great stocks with monthly payouts. One dividend stock that investors have been able to rely on for a steady, monthly income stream is Prospect Capital Corporation (NASDAQ:PSEC).
Prospect Capital is a financial services company that my colleague Jing Pan calls an "alternative bank." It's a business development corporation (BDC) that borrows money from lenders at low interest rates (which is pretty easy to do right now) and lends it out to borrowers at higher interest rates.
Wall Street is awash with profitable BDCs. The key is finding one that operates in a niche area. That's what helps separate Prospect Capital Corporation from the herd. It provides private debt and equity to middle-market companies in the U.S. that have sound balance sheets.
And there's a surprisingly large number of mid-sized U.S. companies that can't get financing from big banks. That's where Prospect Capital comes in.
Since its initial public offering (IPO) in 2004, Prospect Capital has made more than 365 investments totaling more than $16.0 billion.
Its portfolio is currently made up of 123 companies spanning 39 separate industries. With $6.4 billion under management, the company's diversification means it has had low exposure to coronavirus-impacted sectors. This includes low exposure to energy (1.3%), hospitality and leisure (0.4%), and retail (0.0%).(Source: "Corporate Presentation," Prospect Capital Corporation, last accessed June 22, 2021.)
Real estate makes up 16.7% of its portfolio, followed by subordinate structured notes (12.8%), consumer finance (12.6%), and health care providers and services (11.6%).
Monthly Dividends Paid Like Clockwork Since 2004
Prospect Capital Corporation's diverse portfolio helps generate a lot of cash flow, which helps fuel its monthly dividends.
Right now, the company pays an annual dividend of $0.72 per share, or $0.06 monthly. At the current price of PSEC stock, this represents a dividend yield of 8.1%.
And you don't need to worry about missing a monthly dividend payment. The company's payout ratio is just 30.9%. That's far, far below the 90% threshold I like to see. Prospect Capital Corporation has declared 157 consecutive dividends, totaling more than $3.4 billion.
Prospect Capital stock has a history of paying high yields. The five-year average dividend yield is 12.1%, so you know the high yield is intentional, not the result of a tanking share price.
Moreover, buy-and-hold investors have certainly benefitted from the company's bullish share price, which has been on fire since the broader market bottomed in March 2020.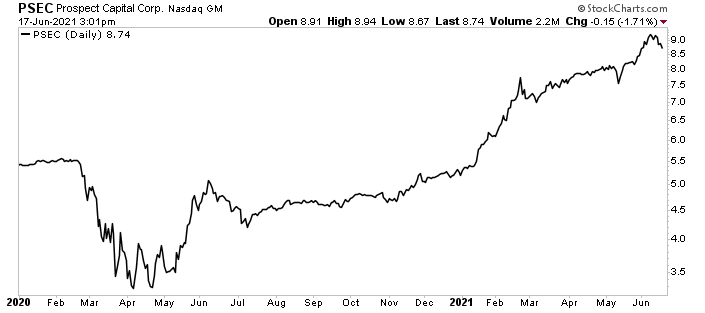 Chart courtesy of StockCharts.com
As of the time of this writing, this dividend stock is up by:
66% over the last six months
83% year-over-year
67% year-to-date
175% since April 2020
The Lowdown on Prospect Capital Corporation
Prospect Capital Corporation is one of the oldest and largest BDCs.
Since its IPO in 2004, PSEC stock has provided investors with consistent returns due to its disciplined approach to investing in the U.S. middle market. Most significantly, this has allowed the company to provide Prospect Capital stock investors with reliable, high-yield dividends for decades.