Prologis Inc: Hedge Funds Swarming Over This Top Dividend Stock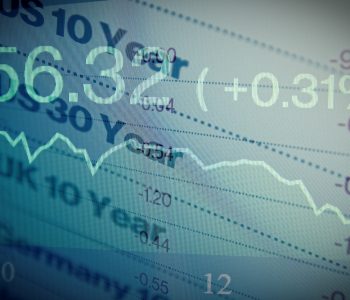 iStock.com/G0d4ather
Billionaire Investor Quietly Buying Prologis, Inc.
Cliff Asness is one of the best stock pickers on the planet.
The billionaire investor founded AQR Capital Management LLC in 1998. Today, it's one of the largest hedge funds in the world, with over $208.0 billion in assets under management.
Since its inception, Asness has delivered double-digit annual returns for his clients. Those type of numbers put him in the same class of investing legends like Warren Buffett, George Soros, and Peter Lynch. For that reason, I always pay attention to what stocks Asness is buying. And lately, he has made some interesting bets in the real estate sector.
In recent quarters, Asness has quietly started buying industrial real estate investment trusts (REITs). New Securities and Exchange Commission (SEC) filings have revealed that he holds big stakes in names like First Industrial Realty Trust, Inc. (NYSE:FR), Industrial Logistics Properties Trust (NASDAQ:ILPT), and PS Business Parks Inc (NYSE:PSB). These large-cap companies are great plays on the huge production boom taking place in the clean fuel sector. (Source: "Form 13F," U.S. Securities and Exchange Commission, last accessed April 9, 2019.)
Asness also just picked up a new position. Last quarter, he disclosed a stake in Prologis Inc (NYSE:PLD), one of the holdings discussed in my paid Automated Income advisory. As of the time of his SEC filing, he owned more than 1.1 million shares of the warehouse landlord.
Prologis is the largest owner of industrial land in the country. The company owns over 3,700 buildings, totaling more than 768.0 million square feet. The portfolio mostly consists of warehouses, dull-gray buildings on the outskirts of cities where customers house their logistical operations.
But what Prologis Inc lacks in excitement, it more than makes up for in profitability. Last quarter, the trust saw rental income pop 23% year-over-year to $679.2 million. Net earnings came in at $0.94 per diluted share for the quarter, compared to $0.55 and $3.06 for the same periods in 2017.
Management also boosted their cash flow guidance for the upcoming year, thanks to a combination of rent increases, higher occupancy rates, and new property developments.
The reason? Virtual shopping requires a lot in the way of real-world infrastructure. Online retailers need three times more warehouse space than traditional brick-and-mortar stores—and more sophisticated logistical services.
This is great news for Prologis, as booming demand for space has pushed up rents and occupancy rates across the industry, padding the landlord's bottom line. E-commerce now accounts for about 10% of revenue income and 20% of new leases. Over the past five years, the company has spent $1.2 billion on new property developments.
That could trigger a surge in profits as those new warehouses start getting rented out. In the real estate business, analysts use a metric called "fund flows from operations per share" to estimate how much cash the business can return to shareholders. Over the next five years, Prologis Inc expects this metric to grow at a six-to-seven-percent compounded annual clip.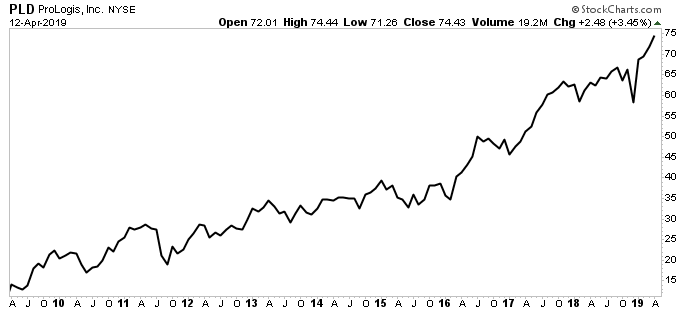 Chart courtesy of StockCharts.com
The Bottom Line on PLD Stock
Cliff Asness isn't the only one bullish on Prologis Inc. Last quarter, SEC filings revealed that billionaire Jim Simons accumulated a 789,000-share stake in the REIT. Other hedge fund managers, including David Harding, Ken Griffin, and Ray Dalio have also built large positions.
My thoughts on the matter: Wall Street has finally caught on to the boom taking place in industrial real estate. Prologis stock hasn't advanced that far from where it was when we originally recommended it last year. Investors still have time to scoop up this top dividend stock at a reasonable price, but I suspect that this opportunity won't last much longer.